This article appeared in the February 2010 ASX Investor Update email newsletter. To subscribe to this newsletter please register with the MyASX section or visit the About MyASX page for past editions and more details.
Learn how to combine fundamental analysis and charting.

By Julia Lee, Bell Direct
When looking at investing or trading in shares, using both technical and fundamental analysis can be a powerful combination. Each of these methods alone has pros and cons.
The problem with technical analysis is that although it is a good timing tool, it does not help you to choose healthy companies. Fundamental analysis, however, can be used to identify healthy companies but it does not help with timing to get the best price.
That is why using fundamental analysis to select healthy companies and technical analysis as a timing tool can be well utilised if you know what to look for.
In a way, it is a little like the property market. You can choose a great house, on the best street in a fantastic neighbourhood, but unless property prices are going up, the market may not realise the potential of your investment.
On the other hand, if property prices are rising but you choose a dud of a property, it could eat into your potential profit from your investment. Your best bet is to choose a fantastic property when the property market is rising to try to increase the likelihood of a return on investment.
With share trading, by combining both fundamental and technical analysis, you can get close to seeing a complete picture of your company.
Get the complete picture
If you are a trader, technical analysis is likely to be more important. But you can also use fundamentals. Why not use technical indicators as your first port of call and then use fundamentals to increase the likelihood of success?
If you are an investor, fundamental analysis is probably going to be more important for long-term investments. Why not use fundamental analysis as a first filter and then technical analysis to better time your investments?
If there is one thing that investors have learnt, hopefully, from the global financial crisis, it is that timing can be very important. In the same way, a lesson for traders is that fundamentals cannot be ignored and the health of an underlying business can be paramount.
Fundamental analysis
Share prices are not just movements up and down, but are a reflection of a company. If you were interested in buying your local corner shop you would look at things such as the management, if profits were improving, and if there were competitors taking away market share. Shares are essentially a share in a business. Fundamental analysis is all about trying to understand the underlying business.
The underlying drivers of the business are important. The famous sharemarket author and investor, Peter Lynch, has this to say to investors:
"Well, they should think about what's happening. I'm talking about economics as forecasting the future. If you own auto stocks you ought to be very interested in used car prices. If you own aluminium companies you ought to be interested in what's happened to inventories of aluminium. If your stocks are hotels, you ought to be interested in how many people are building hotels. These are facts."
The point is, investors should be aware of the underlying drivers that help or hinder a business.
In the long-term, share prices are usually a reflection of the value of the underlying business. Companies that are increasing profits are usually seeing an increase in their business value and share prices will eventually follow suit.
Technical analysis
Technical analysis is about understanding market forces. It analyses price and volume to find out whether there is support for prices, a balance or no support for prices.
The sharemarket is like any marketplace. If there are more buyers then sellers, prices will rise. If there are more sellers than buyers, prices will fall.
Take the seafood market as an example. Normally prawns sell for around $25 a kilo. But at Christmas they can sell for about double that. In the seafood market, like the sharemarket, buyers drive up the price and sellers drive down the price. In the same way, technical analysis is the study of prices, but on a much larger scale.
Different ways of looking at the same thing
In the end, no one method can give you the holy grail of profits. What good traders and investors can do is combine methods to provide a clearer picture of what is happening and how to take advantage of opportunities in the sharemarket.
The truth is that often fundamental analysis and technical analysis can tell you the same thing. The key is that when they tell you different things, it can be a sign that something is not quite right.
The graph below shows the price-earnings (PE) ratio of the All Ordinaries index from 1980 to early 2009 (the scale is from a PE of 8.5 to 23).
All Ordinaries PE ratio 1980 to 2009
You can see that using PE ratios showed the market was at the cheapest level since the 1980s.
The next chart shows average dividend yields (the scale is from a dividend yield of 2.8 per cent to 7 per cent).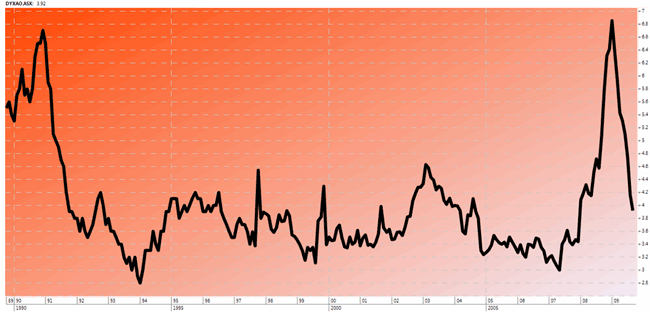 Average dividend yields 1980 to 2009
You can see that dividend yields peaked in early 2009, reaching the highest levels back in the 1990s.
Both the PE ratios and the dividend yields point to an interesting time on the market. Technical analysts would use technical indicators to get an idea of essentially the same thing.
Below is the ASX 200 with the 200-day moving average to show that a long-term buying opportunity may have surfaced in April 2009.
ASX 200 - 200-day moving average 1990 to 2009
What these graphs show is that you can combine quite different approaches to provide a more complete picture of what is happening on the sharemarket and make more informed decisions when you buy and sell shares.
But remember that no matter how you slice and dice the numbers, investing and trading is all about choosing companies that are likely to increase in value for two main reasons:
The underlying business shows potential
Market forces are acting in its favour.
About the author
Julia Lee is an equities analyst at Bell Direct. To trade from as little as $15 per trade and for more of her articles on investing and trading.
From ASX
The ASX website has a wealth of free education material on charting. Visit the ASX Charting Library to access stories that suit beginners through to advanced technical analysts. The ASX technical analysis course is especially useful for those who want to learn charting basics.
<!IoRedDot_txt_disclaimer>The views, opinions or recommendations of the author in this article are solely those of the author and do not in any way reflect the views, opinions, recommendations, of ASX Limited ABN 98 008 624 691 and its related bodies corporate ("ASX"). ASX makes no representation or warranty with respect to the accuracy, completeness or currency of the content. The content is for educational purposes only and does not constitute financial advice. Independent advice should be obtained from an Australian financial services licensee before making investment decisions. To the extent permitted by law, ASX excludes all liability for any loss or damage arising in any way including by way of negligence.

© Copyright 2018 ASX Limited ABN 98 008 624 691. All rights reserved 2018.