Benefits of index options
This article appeared in the March 2010 ASX Investor Update email newsletter. To subscribe to this newsletter please register with the MyASX section or visit the About MyASX page for past editions and more details.
See how ASX ETOs can overcome limitations of traditional products.
By Tim Moffat, Minc Trading
The rapid growth in the use of ASX Index Options is no surprise as traders and investors discover the many advantages and opportunities they provide.
Minc Trading uses ASX Index Options to hedge clients' portfolios against market falls, speculate on the market's direction, and as an easy and convenient way to trade the entire market. This article cover the benefits of using ASX Index Options, the strategies and opportunities available, and how to implement them into trading and investing strategies.
A market index is a number of shares (or other indices) grouped by certain characteristics. The most commonly used index in Australia is the S&P/ASX 200 (code: XJO), which incorporates the largest 200 Australian companies listed on the Australian Securities Exchange. It is considered the best indicator of the broader sharemarket.
Traders and investors now use many tools to gain exposure to the S&P/ASX 200 Index. Common methods used include:
Holding a diversified large-cap portfolio
Investing in an established, Listed Investment Company (i.e. ARG or AFI)
Holding an Exchange Traded Fund (ETF)
Holding S&P/ASX 200 Futures or ASX Listed CFDs
Using ASX Exchange Traded Options (ETOs).
Benefits of trading index options
Many traditional products used to trade an index have limitations that can be overcome by using ETOs. Here are five benefits of trading them:
1. Diversification
An index is made up of many shares and is usually highly diversified. Diversification has been proven to lower overall risk, because the influence of one component of an index has little effect on overall performance.
2. Strategies
Options give the ability to design a payoff for almost any market outcome. More commonly, index options are used to:
Profit when the index trades above or below a pre-determined level on a set date
Insure a portfolio against a fall in value
Speculate that the market will remain in a certain range for a certain period
Profit if the market moves up or down.
3. Liquidity
Liquidity is not an issue when trading Index Options. Market makers will provide quotes immediately while the market is open.
4. Leverage
Index Options enable traders to increase their exposure to a particular market move without necessarily taking on the associated risk. The trader can set a maximum risk on any particular trade, while leaving potential returns unlimited. Leverage on the S&P/ASX 200 Index Options is $10 per contract per index point.
5. Limiting losses
Most Option strategies are constructed to leverage gains and minimise losses. The purchaser of an Option can only lose their initial investment, but can still participate in significant upside should the underlying index move in its desired direction.
Index Options can also be used for overall portfolio protection and insure a portfolio against a fall in the market. This type of trading is often done when a trader or investor has a diversified portfolio they do not want to sell (possibly for taxation reasons) but has a view that in the short/medium-term the market is going to fall.
Example of portfolio protection using index options
An investor holds a portfolio of 10 shares to the value of $100,000. Instead of purchasing a put Option for each individual share (which would involve 10 separate trades, each incurring brokerage), the investor simply purchases index put options on the market to partially protect their portfolio.
An investor could purchase three S&P/ASX 200 puts with a strike price of 4000 and five months until expiry for $2000 in total ($660 per contract). If the market was to fall over the following five months, the S&P/ASX 200 puts would increase in value and offset losses on the individual shares. This is not a perfect hedge but it does significantly lower overall portfolio volatility and offer protection against seen or unforseen falls in the broader market.
Common index option strategies used by Minc Trading

Buy call strategy type - diagram 1

Buy put strategy type - diagram 2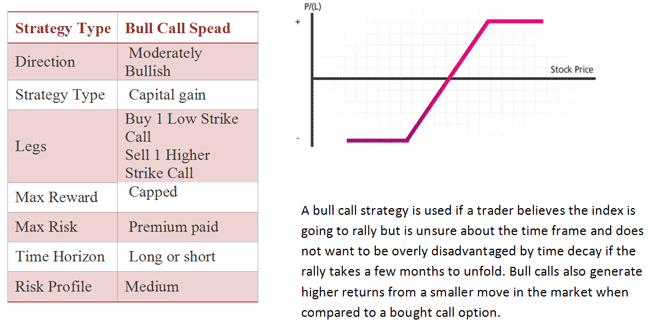 Buy call spread strategy type -  diagram 3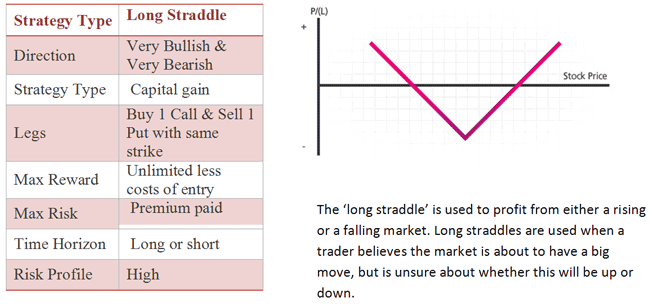 Long straddle strategy type - diagram 4
Risks of trading options
Options are a type of leveraged product, so gains and losses can be magnified when compared to traditional index trading/investing. It is highly recommended that investors educate themselves further about options and seek professional advice before implementing an options trade.
Minc Trading has a detailed education hub on its website, with a large section covering topics from 'Why trade options?' to 'Advanced options strategies'.
About the Author
Tim Moffatt is a Dealer Manager with Minc Trading (a division of Minc Financial Services Pty Ltd). To receive free recommendations on S&P/ASX 200 Index trades or Minc Trading's full trade note service (available via email and SMS alerts) visit and register your details, or contact the dealing desk on 1300 610 024. Minc Trading offers general advisory and recommendation services.
From ASX
The ASX website has a range of free calculators for ASX Exchange Traded Options. Calculators include:
Options profiler plots the payoff diagrams for your options strategies. 
Theoretical Option price calculator for an option's theoretical fair value. 
Covered call calculator for returns on covered-call writing.
Margin estimator to estimate the margin obligation of a particular option position. 
Strategy modelling tool to calculate theoretical option prices, plot payoff diagrams, compare ifferent strategies and pricing models, and more. 
Fair value strategy based calculator for buy-write valuation, strategy comparisons, diagrams, time decay and volatility.
<!IoRedDot_txt_disclaimer>The views, opinions or recommendations of the author in this article are solely those of the author and do not in any way reflect the views, opinions, recommendations, of ASX Limited ABN 98 008 624 691 and its related bodies corporate ("ASX"). ASX makes no representation or warranty with respect to the accuracy, completeness or currency of the content. The content is for educational purposes only and does not constitute financial advice. Independent advice should be obtained from an Australian financial services licensee before making investment decisions. To the extent permitted by law, ASX excludes all liability for any loss or damage arising in any way including by way of negligence.

© Copyright 2018 ASX Limited ABN 98 008 624 691. All rights reserved 2018.