This article appeared in the May 2010 ASX Investor Update email newsletter. To subscribe to this newsletter please register with the MyASX section or visit the About MyASX page for past editions and more details.
Learn how to pick the best listed property investments.
By Greg Hoffman, The Intelligent Investor
When GPT Group laid the foundations of the listed property trust sector in 1971, listing as General Property Trust, its worthy aim was to provide a steady stream of distributions from collecting rents. Much of the sector lost its way in recent years, however.
This article explains some of the financial ratios and other non-numerical factors our analysts use to assess listed property trusts (now called A-REITs - Australian Real Estate Investment Trusts). Each of these factors is designed to help us answer three key questions about any potential listed property investment:
Is the distribution yield attractive and sustainable? 
How much risk is involved (particularly through debt financing)? 
And does the market price provide today's buyer with a margin of safety?
We can use CFS Retail Property Trust - a multi-billion-dollar sector behemoth - to illustrate some of these points where appropriate. (Editor's note: Do not read this as a recommendation of CFS.)
1. Sector diversification
The three main sectors within the listed property sector are retail (shopping centres), commercial (office towers and buildings) and industrial (warehouses and distribution centres). When analysing any listed property entity, you must consider whether it is exposed to a single sector or offers a diversified portfolio within itself.
If you are looking for broad property exposure, probably you need to consider combining several investments. Also bear in mind that different sectors can have their own cycles and perform quite differently.
2. Geographic diversification
In the past decade many Australian property groups set off to conquer foreign lands. Many have returned with their tails between their legs, although some still have exposure to offshore markets.
Even within Australia, distinct geographic markets can offer widely diverging performances (a by-product of our famous 'two-speed' economy). If you are seeking adequate diversification, you need to ensure you do not buy three different property trusts that are all concentrated in one particular area.
3.  Occupancy rate
This is the percentage of the trust's floor-space that is occupied by tenants. CFS Retail's occupancy rate, for example, has coasted at more than 99.5 per cent for many years. That extraordinarily high percentage number is due to its prime real estate holdings, which include Chatswood Chase in Sydney and Chadstone Shopping Centre in Melbourne.
Despite the downturn, CFS Retail has barely suffered a storefront without a paying tenant. The flipside, however, is that a recovery in occupancy rates will not boost distributions as it will for Abacus Property, for example, which claims an occupancy rate closer to 90 per cent. Low occupancy rates also mean lower property values, because the earnings being assessed by the valuer are that much lower than they could be.
4. Capitalisation rate
The capitalisation rate, or 'cap rate', is industry jargon for the yield on an office tower, big shed or shopping centre. Cap rates move inversely to property values.
For example, property groups such as Westfield and CFS Retail, with several trophy assets, will boast lower cap rates because of superior locations, which enable them to extract higher rents from tenants. This educational article, All you need to know about cap rates, provides a more detailed explanation.
As seen from the red ink spilled across the sector last year, property values wax and wane with the business and interest rate cycles. You can see the recent cyclical swing in Chart 1, which also illustrates the high quality of CFS Retail's portfolio.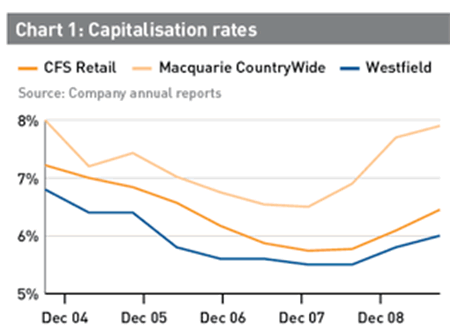 Chart of capitalisation rates (yield)
December 2004 to December 2008
5. Lease expiry profile
Most property groups publish a lease expiry profile showing how much of their floor-space matures each year under their existing leases. Ideally this profile would be long and smooth, with no particular year presenting too much of a risk to the portfolio.
As a general rule of thumb, anything more than 15 per cent in a given year would show up on our radar. At high rates, unit-holders are exposed to the risk of a market downturn where maturing leases cannot be replaced by new ones.
In addition, you might also find an 'average weighted lease expiry', which is typically expressed in years. Although the general rule is the longer, the better, we prefer to see a number greater than four years.
6. Debt ratio
Net debt-to-equity provides the most conservative measure of leverage, or 'gearing' ('net debt' is defined as total debt less cash). However, it is standard practice in the property industry to use debt-to-tangible assets, which measures the portion of assets funded by debt.
It is the same way you might describe a $500,000 property financed with a $400,000 mortgage as being 80 per cent geared (the corresponding net debt-to-equity ratio would be 400 per cent). The figures for CFS Retail are in Table 1 below.
Table 1
Debt ratio
Debt ($m)
1,957.3

Cash ($m)
4.3
Net debt ($m)
 1,953.1
Equity ($m)
 4,977.2
Net debt-to-equity (%)
 39
Total tangible assets ($m)
 7,321.8
Debt-to-tangible assets (%)
 27
The appropriate ratio depends on a number of factors, including a property trust's diversification (factors such as geography, tenant and sector) and the quality of its portfolio. The higher the quality and the more diversified it is, the higher the debt level it can reasonably be expected to shoulder.
Even for a high-quality, well-diversified portfolio we start to get a little nervous above 50 per cent debt to assets (that is, 100 per cent net debt-to-equity). For lower-quality or less-diversified portfolios, we would want to see a ratio below, perhaps, 30 per cent (around 45 per cent net debt-to-equity).
We would not rule out trusts with heavier debt burdens, but would demand a higher potential return for taking on the additional risk.
7. Interest cover
This is another financial safety ratio that measures the number of times the group's earnings, before interest and tax, cover its interest bill. You will find the numbers in the Income Statement. Suitable numbers will vary according to a trust's size and diversification, but we generally feel uncomfortable when the number is lower than three.
8. Cash interest cover
This is a similar calculation to the previous one but is calculated using the numbers in the cash flow statement. Sometimes the two can be markedly different. If they are, you should investigate why. Are there any accounting shenanigans going on? Our comfort level is the same as standard interest cover; no less than three, depending upon the trust's size and diversity.
9. Distribution yield
The yield represents the annual income return on your investment (before taking capital gains or losses into account). To calculate it, we add up the distributions paid in any given 12-month period and divide that figure by the current security price.
Table 2 below lays out CFS Retail's historical yield using 2009 distributions. We have also calculated the more important forecast yield based on management's aim of paying a 12.5 cents distribution in 2010.
| Table 2 | |
| --- | --- |
| Distribution yield | |
| Security price ($) | 1.855 |
| 2009 distribution (cents) | 12.5 |
| Historical yield (%) | 6.7 |
| 2010F distribution (cents)  | 12.5 |
| Forecast yield (%)  | 6.7 |
That the result is the same is not a mistake. CFS Retail is the only listed trust that expects to maintain its distribution in 2010, which partly explains its yield.
During the downturn, CFS Retail offered a haven for investors battered by highly geared property groups that were drowning in debt and slashing distributions. In stark contrast to the boom years, investors are currently prepared to sacrifice potentially high returns for relative safety.
It is also important to understand whether the distributions are being paid out of steady cash from property ownership, or more unpredictable earnings from, say, property development.
10. Net tangible assets (NTA)
The final piece in the puzzle is to establish whether there is a margin of safety in the price, which we do by comparing the trust's net tangible asset (NTA) value per security with the current price. Table 3 below shows the calculation.
| Table 3 | |
| --- | --- |
| NTA | |
| Total assets ($m) | 7,321.8 |
| Intangible assets ($m) | 0.0 |
| Tangible assets ($m)  | 7,321.8 |
| Total liabilities ($m) | (2,344.6) |
| Net tangible assets (%)  | 4,977.2 |
| Securities on issue (m) | 2,464.9 |
| NTA per security (%) | 2.02 |
| Security price ($)  |  1.855 |
| Discount to NTA (%) | 8.1 |
You can see that the current discount to NTA is a moderate 8.1 per cent, which will not provide a lot of protection should property values tumble. However, the comparatively small discount reflects CFS Retail's high-quality assets, and the fact that it's current developments, including a flagship Myer building in Melbourne, should add value when the doors open.
Conclusion
The listed property sector is among the easiest to analyse, but focusing on just a few ratios can blind you to some larger risks.
A trust's strategy is also important. CFS Retail, Bunnings Warehouse Property Trust and Commonwealth Property Office Fund have performed relatively well recently because they stuck to their knitting and avoided debt-fuelled overseas acquisitions.
You have to consider both the forest and the trees. I hope the analytical ratios covered in this article serve you as well through the next property cycle as they served us through the last one.
About the author
Greg Hoffman is research director of The Intelligent Investor. You can visit and register to enjoy a free trial offer.
From ASX
Investors who are new to A-REITs should watch the ASX A-REIT video where Anne Fulwood interviews ASX business development manager, Jonathan Morgan, on the sector.
<!IoRedDot_txt_disclaimer>The views, opinions or recommendations of the author in this article are solely those of the author and do not in any way reflect the views, opinions, recommendations, of ASX Limited ABN 98 008 624 691 and its related bodies corporate ("ASX"). ASX makes no representation or warranty with respect to the accuracy, completeness or currency of the content. The content is for educational purposes only and does not constitute financial advice. Independent advice should be obtained from an Australian financial services licensee before making investment decisions. To the extent permitted by law, ASX excludes all liability for any loss or damage arising in any way including by way of negligence.

© Copyright 2018 ASX Limited ABN 98 008 624 691. All rights reserved 2018.