This article appeared in the June 2010 ASX Investor Update email newsletter. To subscribe to this newsletter please register with the MyASX section or visit the About MyASX page for past editions and more details.
Learn some simple techniques to take profits and preserve capital.

By Gary Stone
Sharemarket investors are constantly bombarded with endless information and opinion about what shares to buy and when - countless newsletters, subscription services, newspaper columns, magazines and books. Internet chat rooms and other online sites are constantly abuzz with the latest 'hot stock'. On top of that is the stream of information from brokers and research analysts covering both fundamental and technical reports on various companies, and why they represent 'great buying at these levels'.
Timing the buying of shares is important, but I believe the far more important decision is when to sell. Unfortunately, the vast majority of those offering opinions on when to buy shares hardly ever offer advice and opinion on timing the decision to sell. And investors seldom, for whatever reason, have a real plan or idea of when to exit if the overall market turns sour or individual shares begin performing poorly.
Roger and Rio
I spoke to just such an investor a while ago. Roger had invested steadily in Rio Tinto over many years and built a holding that at the peak in Rio's share price in May 2008 was worth more than $2 million. Without an exit strategy, he watched frozen as the price fell to a low in December 2008 of 19 per cent of the high ($124 to $24 at adjusted prices), reducing the value of his holding to around $390,000.
The price of Rio is now back around $60 but imagine what else could have been done with the funds had Roger sold his Rio shares at even 30 per cent below their high (around $87) and held cash until he felt confident to re-enter the market. Alternatively he could have reinvested in Rio at $30 or $40 a share and be miles in front of his buy-and-hold strategy. Needless to say, Roger now has a well-defined exit strategy in place.
Simple rules for selling
Active investors as well as passive investors with a long-term outlook or a buy-and-hold approach need a way to exit positions that roll over and begin trending down. I understand that long-term investors may be looking at the fundamental strength of individual shares within a portfolio, the overall market, or both. But an exit strategy is still vitally important to successful portfolio management. It can be done simply and quickly on a monthly basis, using monthly price charts and a couple of simple indicators.
The examples below show some simple rules for exiting shares when they start a downward trend.
Monthly indicators
Exit strategies can be determined by using one of the following three indicators:
An ATR (average true range) trailing stop
The SIROC indicator (smoothed indexed rate of change)
The MACD indicator (moving average convergence divergence).
To make a hold or sell decision, inactive or near-passive investors should look at charts of the shares in their portfolio only at the end of each month. Obviously weekly and/or daily charts can also be used but would provide more regular entries and exits. These indicators can also be used on the All Ordinaries index or the GICS sector indices (global industry classification standard) although slightly different parameter settings should be used than for shares.
Individual shares
Any one of the following three simple yet very effective strategies can be used to cull any shares from a portfolio that are falling in price. Let's look at Rio Tinto first (chart taken in early May).
Rio Tinto chart - taken early May 2010
Using an ATR trailing stop (blue line on the first window of the Rio chart above)
This indicator measures volatility over 12 months and maintains capital in a long-term rising trend. If the price falls below the ATR trailing stop, exit the position. Using this method there would have been five long-term trades in Rio over 20 years, with each exit protecting the possibility of what happened in 2008.
A position can also be re-entered using the indicator, although it is suggested that other entry criteria are used. A multiple of 2.5 of the monthly ATR is suggested for shares, and a multiple of 2.0 for indices and sectors.
Using the SIROC Indicator (blue line in the middle window of Rio chart)
The SIROC measures the trend direction of a share and is my personal favourite. It can be more sensitive than the ATR trailing stop and hence will produce more exits and re-entries on a monthly chart. Timing should be based on the 21-month SIROC (blue line on the middle chart) crossing below its five-month exponential moving average (green line on the same chart). Alternatively, for a more sensitive signal look for a direction change in the monthly SIROC.
Using the MACD indicator (blue line in the bottom window of Rio chart)
The MACD is used in a similar fashion to the SIROC but is not as accurate. Not all charting packages have the SIROC indicator, so the MACD is a good substitute. It does, however, have one flaw compared to the SIROC - the MACD will rise when a share's price is falling, whereas the SIROC will not start rising until the share price starts rising. Similarly, the MACD can also start falling while the price is still rising, whereas the SIROC will not. You can note this in the MACD indicator shown beneath the Rio price chart above.
Other examples
The charts of Macquarie Group (MQG) and Centro Properties (CNP) below are further examples of how these simple yet effective indicators could have been used on a monthly basis to significantly reduce portfolio losses by adhering to these exit signals. Most of the listed property trusts experienced similar price action to CNP so holders in other trusts could have saved themselves much pain by using such simple methods. Needless to say, shareholders in Babcock & Brown, Allco, MFS and ABC Learning would also be way ahead.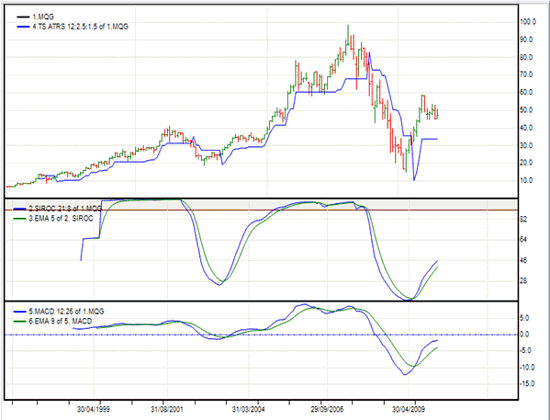 Macquarie Group chart - taken early May 2010
 
Centro Properties chart - taken early May 2010
About the author
Gary Stone is the founder and lead research analyst of the 15-year-old business Share Wealth Systems. To understand the fundamental principles behind his techniques and systems, you can watch a 27-minute online video he calls a Discovery Session.
From ASX
The ASX website has a wealth of free education material on charting. Visit the ASX charting library to find stories that suit beginners through to advanced technical analysts.
The ASX online technical analysis course is especially useful for those who want to learn charting basics.
<!IoRedDot_txt_disclaimer>The views, opinions or recommendations of the author in this article are solely those of the author and do not in any way reflect the views, opinions, recommendations, of ASX Limited ABN 98 008 624 691 and its related bodies corporate ("ASX"). ASX makes no representation or warranty with respect to the accuracy, completeness or currency of the content. The content is for educational purposes only and does not constitute financial advice. Independent advice should be obtained from an Australian financial services licensee before making investment decisions. To the extent permitted by law, ASX excludes all liability for any loss or damage arising in any way including by way of negligence.

© Copyright 2018 ASX Limited ABN 98 008 624 691. All rights reserved 2018.