This article appeared in the September 2010 ASX Investor Update email newsletter. To subscribe to this newsletter please register with the MyASX section or visit the About MyASX page for past editions and more details.
Commentators called the latest profit-reporting season 'lacklustre' with results just meeting expectations. But look beneath the headlines and some companies are doing a good job growing revenues and profits. Here are the companies that meet Lincoln's criteria of strong 'financial health', during the profit season, reports TIM LINCOLN.

By Photo of Tim Lincoln
Company earnings came in largely as expected this reporting period, confirming most analysts' forecasts and painting a picture of slow but steady recovery from the global financial crisis. Industries that were expecting poor results delivered poor results; outlooks that were expected to be good were good. Not many surprises there.
Understandably, commentators have called these results "lacklustre", especially in contrast to the much more interesting news of the election or macroeconomic events in the United States, Europe and China. But that's absolutely fine with us. Obviously for financial journalists, the more surprises the better, but for sharemarket investors who like to sleep at night, certainty of earnings is one of the best sedatives.
However, what this has also meant is that we have not seen the S&P/ASX 200 or the All Ordinaries index move out of their recent ranges, as otherwise might have been hoped for. These trading ranges have somewhat frustratingly capped overall market gains for the past 12 months and notwithstanding a moderate global recovery, continue on a moderately downward trend.
Markets: sideways shuffle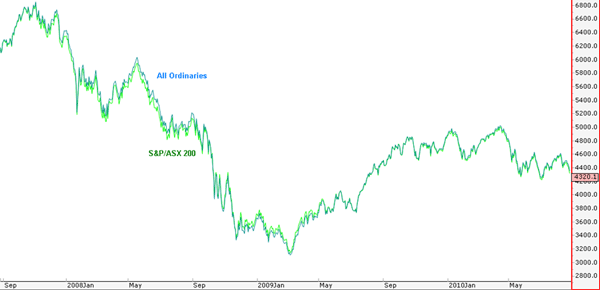 Source: Lincoln Stock Doctor 25/08/2010
For the patient investor, this is a good thing. Australian companies with strong earnings and outlooks are still cheap on a forward price-earnings (PE) basis, unlike the United States, which is trading at higher valuations despite muted earnings growth figures from its latest reporting season. But that is not all. Many Australian companies reporting strong bottom-line earnings growth are also driven by better sales, or top-line revenue growth. This is in contrast to many of their US peers, which are still eking profits out of cost cuts, rather than actual demand.
Good news lost on inside pages
Of the Australian companies that have reported (50 per cent, when this story was written) earnings growth has been 20 per cent, on average. But the bears have been focusing on foggy outlooks and revised earnings expectations. Some of the biggest names have reported weak results, adding to the bear story. Like the proverbial bad apple in the barrel, this has tarnished the season for everyone, notwithstanding strength elsewhere.
While poorer performers such as Telstra Corporation, Downer EDI, OneSteel and Primary Health Care have disappointed, that does not mean you should exit the market completely. Instead you should embrace the valuation opportunities that may seem frustrating at first, but from a fundamental perspective should actually be welcomed.
Take Telstra as the example. The frustrating thing about its result was what it did for the rest of the telecommunications sector. Telstra's earnings per share fell 4.95 per cent and the forecast is for a flat year ahead. Other, unrelated telcos fell as well, but for no other reason!
This was obviously frustrating for investors in companies with strong Financial Health such as TPG Telecom, iiNet or Amcom Telecommunications. In the case of TPG, if you bought on the irrational, Telstra-caused dip when TPG hit a low of $1.38 on Friday August 13, you would have made more than 20 per cent a week or so later when the company reached $1.67 on Monday August 23. Market efficiency at work.
Value at the top and the bottom
In this range-bound market, it is therefore not surprising that a number of larger-cap companies that posted strong earnings growth and exceptional return on assets in the June reporting season, are still trading well below their consensus valuations - thanks in part to the flow-on from their underperforming peers - and these shares also look attractive on a forward PE basis relative to their trading history.
(Editor's note: Do not read companies in the table below as recommendations, but rather as examples that meet Lincoln's criteria. Talk to your financial adviser or do research before acting on the ideas below.)
Some of these companies, such as Coca-Cola Amatil, Woodside Petroleum Limited, Rio Tinto Limited and Cochlear, are larger companies that most investors would be familiar with. Others, such as Carsales.com Limited and Monadelphous Group, are much smaller but still display superior fundamentals. All these companies meet Lincoln's criteria of strong Financial Health, a series of metrics we have developed that incorporate key balance sheet, profit and loss and cash flow ratios that measure performance and resilience. And several of them, highlighted in the table below, are Lincoln Stock Doctor Star Stocks - the 'best of the best' in terms of strong or satisfactory Financial Health and financial performance.
Companies: good earnings, good health, good value
| Code  | Name  | Capitalisation ($m) | Price ($) | Consensus Target | Earnings per share growth | Return on assets (%) | Forward PE |
| --- | --- | --- | --- | --- | --- | --- | --- |
| BKN | Bradken Limited | 992 | 7.15  | 9.00  | 32.57%  | 10.75%  | 10.64 |
| CCL | Coca-Cola Amatil Ltd (Star) | 8776  | 11.63  | 12.42  | 10.20%  | 11.43%  | 17.33 |
| CMJ | Consolidated Media Holdings  | 1939  | 3.25  | 3.55  | 11.05%  | 18.39%  | 20.44 |
| COH | Cochlear Limited (Star)  | 3848  | 68.03  | 71.00  | 17.58%  | 27.85%  | 21.76 |
| CRZ | Carsales.com Limited  | 1151  | 4.95  | 5.30  | 42.31%  | 54.40%  | 22.4 |
| CSL | CSL Limited (Star) | 17266 | 31.41 | 36.88 | 8.52% | 24.15% | 16.01 |
| EQN | Equinox Minerals Ltd (Star) | 3326  | 4.70  | 5.11  | 129.97%  | 21.16%  | 12.8 |
| JBH | JB Hi-Fi Limited (Star)  | 2161  | 19.90  | 22.00  | 23.72%  | 23.74%  | 14.76 |
| MGX | Mount Gibson Iron Limited  | 1873  | 1.735  | 1.92  | 60.13%  | 14.21%  | 5.15 |
| MIN | Mineral Resources Limited | 1387 | 8.30 | 10.63 | 90.60% | 9.67% | 11.4 |
| MND | Monadelphous Group (Star)   | 1271 | 14.70 | 15.24 | 10.58% | 27.37% | 14.85 |
| NCM | Newcrest Mining Limited  | 17159 | 35.49 | 41.54 | 52.97% | 17.47% | 18.68 |
| NVT | Navitas Limited (Star)  | 1547 | 4.52 | 4.84 | 30.89% | 24.54% | 21.94 |
| REA | REA Group Limited (Star)  | 1309 | 10.19 | 11.70 | 52.73% | 39.01% | 20.75 |
| RIO | Rio Tinto Limited  | 42144 | 69.45 | 93.62 | 118.05% | 19.28% | 8.93 |
| RMD | ResMed Inc. (Star)  | 2635 | 3.41 | 4.27 | 22.62% | 16.02% | 19.64 |
| TPM | TPG Telecom Limited (Star)  | 1290 | 1.68 | 2.21 | 448.57% | 15.11% | 18.88 |
| WPL | Woodside Petroleum Limited  | 32976 | 42.27 | 51.00 | 57.89% | 12.09% | 23.23 |
 Source: Lincoln Stock Doctor 25/08/2010  
Investors who have not yet bought into these companies are advantaged by the market's lack of recognition of their excellent results. That is expected to change once certainty returns to the political and macroeconomic environment.
All shall be revealed…but not yet
A window of opportunity exists to buy strong companies when the market is otherwise on the lookout for weakness. Now is the time to add quality shares to your portfolio before they are rightfully recognised and their wonderful results are priced in. Obviously, one has to be comfortable with the bigger picture as well, but fundamental indicators such as Australia's GDP growth, workforce participation, consumer confidence and business investment suggest we are moving out of a downturn, not towards one, even though the market is still moving with a slightly downwards bias.
The only thing we are waiting for is a price catalyst and although the reporting season was never going to provide that amidst a national election and macroeconomic uncertainty, the good news is that several catalysts are just around the corner.
Market left hanging, too
Markets never rally over hung parliaments - thankfully very rare in Australia - but they always rally on the certainty that any newly elected government brings. The second probable price catalyst will be better news from the United States. Lower house sales, higher unemployment and a continued drag in consumer confidence are all keeping sharemarket investors nervous. Other indicators, however, suggest a gradual recovery in the US, and even in the supposed sick continent of Europe we have seen broad-based GDP growth figures in Germany.
With a range of strong companies that remain underpriced, and a global macroeconomic situation that is half full, not half empty, now is a great time to look at your portfolio and consider what companies are underpriced and overpriced in relation to the earnings data that has just been released.
About the author
Tim Lincoln is Managing Director of Lincoln, Australia's premier fundamental analysis research house and fund manager, offering intelligent sharemarket solutions for the conscientious investor.
From ASX
ASX Online Shares Courses are a great way to access free education about share investing. There are 11 courses to complete online, each taking about 10 minutes on average. Topics include:
What is a share?
Why and how to invest
Risks and benefits of shares
What to consider in an investment
How to buy and sell shares.
<!IoRedDot_txt_disclaimer>The views, opinions or recommendations of the author in this article are solely those of the author and do not in any way reflect the views, opinions, recommendations, of ASX Limited ABN 98 008 624 691 and its related bodies corporate ("ASX"). ASX makes no representation or warranty with respect to the accuracy, completeness or currency of the content. The content is for educational purposes only and does not constitute financial advice. Independent advice should be obtained from an Australian financial services licensee before making investment decisions. To the extent permitted by law, ASX excludes all liability for any loss or damage arising in any way including by way of negligence.

© Copyright 2018 ASX Limited ABN 98 008 624 691. All rights reserved 2018.