This article appeared in the October 2010 ASX Investor Update email newsletter. To subscribe to this newsletter please register with the MyASX section or visit the About MyASX page for past editions and more details.
Know the difference between outstanding value and 'value traps'.

By Roger Montgomery, rogermontgomery.com
A common error made in the sharemarket is to believe that falling prices mean better value and therefore better investments. What seems like a bargain may turn out to be anything but - and the difference between "value" and a "value trap" may be easier to discern than you think.
It is not hard to see how, if a well-known company's shares fall to half the price someone else was willing to pay previously, it might be concluded that they must be cheap. After a few days of convincing yourself that the price could not possibly fall any further and that you are smarter than the investor who paid the recent high price, you decide it is good buying and must be a bargain. You look at the historically high dividend yield and historically low price-earnings (PE) ratio - it has got to be good value.
A little while later, the shares are lower still. They used to be $13, you paid $4 and now they are trading at $2. What happened?
Know the true value
The mistake is a common one and probably made every day by thousands of investors. Taking your cues from share prices is dangerous. Price and anything with price in it (P/E ratios and dividend yields) tell you little about whether shares are truly value and worth buying.
A simple truth is that the business's underlying economics will determine how your investment turns out - not the price. Ultimately, the share price will follow the value of the business and that value will be determined by performance. If the company's performance declines, any subsequent price recovery will be temporary. And if the price fall is because of a deterioration in the business's prospects, the fall will be probably be permanent, languishing for many years and resulting in death by a thousand cuts.
The initial step to avoid value traps is to resist being influenced by price alone. The price is merely what others are prepared to buy and sell at. It contains no information about value. Your job as an investor is to pay a lower price than the value you receive. This means it is incumbent on you to know what the true or intrinsic value of a business is.
Common themes
With experience, you will also learn there are some common themes that run through value traps. Many of them relate to poor management.
Management who do not treat shareholders equally and enrich themselves instead, are on borrowed time because without management truly acting in your best interests, no one will. Another example is management's pursuit of growth in revenue and profit at any price. Paying too much for even the most synergistic acquisition does not stack up and will have disastrous effects on the business and its value. With this in mind, look at four simple things to improve your success rate in avoiding the traps.
1. Return on equity (ROE)
A negative ROE will tell you it is a loss-making enterprise. Businesses making a loss should be avoided. At the very least, wait until profitability returns, if it ever does. You will miss a few opportunities but that is the price of avoiding the traps. Businesses that make losses are generally not great long-term investments, and a price rebound may never occur if the business continues to lose money. Always look for profits.
Be sure to avoid businesses that generate low rates of return on equity. What is low? Anything less than the rate of return you want for the risk of being in the sharemarket. I think a return after corporate tax of no less than 10 per cent is appropriate; if less than 5 per cent you could do better with your money in a bank account.
As a guide, go for the extraordinary businesses, with returns on equity in excess of 25 per cent and driven by sustainable competitive advantages. These are returns well in excess of what you can normally achieve. Make sure any business on your radar is able to invest its money better than you. If not, why would you want shares in it?
2. Positive cash flows are a must
If operating cash flow is not positive, something is very wrong and the business is paying out more cash than it is receiving. It may run out of cash and have to turn to capital and debt raisings to stay afloat. The former is dilutionary, the second increases risk. Neither is desirable.
3. No debt
A debt-free business will have greater financial flexibility and more accommodating bankers to see it through any short-term pain. On the other hand, if a business already has some gearing or excessive gearing, nervous bankers may or may not be willing to help. At times they may even ask to be repaid in full, which can cause significant damage to a business under stress. It is surprising how frequently companies are put into administration by their banking syndicates.
I go through this process for every single listed company and developed a procedure for scoring companies based on their quality and the probability of going broke. I call it the MQR Score (Montgomery Quality Rating) and you can find out more on blog.rogermontgomery.com
4. Value
As mentioned earlier, the share price has little to do with what a business is actually worth. It is therefore important to take your cues from your own estimate of a business's value, not its price. I have dedicated several chapters of my new book to help investors further understand the relationship.
Avoiding value traps in practice
Theory is of little use without real-world application and I can immediately recall three businesses that have suffered large share price declines over the past 12 months: Nufarm, iSoft and Wotif.com. To invest at any price point, four tests must be passed.
Four 'Value trap' Tests data for NUF,  ISF and WTF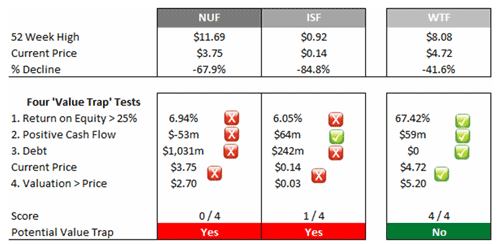 As you can see, only Wotif.com (WTF) passes all four of my fundamental stress tests.
Do not panic if you miss out on a few percentage points should a company that fails to score four out of four manages to turn itself around in short order. Capital preservation should be your first consideration, not whether you missed a share price bounce.
If the business is not a top-tier performer or has management who are focused on working for their own pay packets instead of yours, you could find yourself in a situation where you are forced to wait years for the share price to rebound or your investment to turn into a profit.
It is best to avoid value traps in the first place by focusing on businesses with extraordinary prospects, competitive advantages, no debt and strong cash flows, and which are trading below a conservative valuation.
About the author
Roger Montgomery is a fund manager, independent analyst and value investor. He has been described by Alan Kohler as "One of the nation's smartest and most successful value investors".  Discover a revolutionary way to invest at his blog and read his book Value.able.
From ASX
ASX documents and books are a good starting point for investors who want more information about share investing. Key publications include:
<!IoRedDot_txt_disclaimer>The views, opinions or recommendations of the author in this article are solely those of the author and do not in any way reflect the views, opinions, recommendations, of ASX Limited ABN 98 008 624 691 and its related bodies corporate ("ASX"). ASX makes no representation or warranty with respect to the accuracy, completeness or currency of the content. The content is for educational purposes only and does not constitute financial advice. Independent advice should be obtained from an Australian financial services licensee before making investment decisions. To the extent permitted by law, ASX excludes all liability for any loss or damage arising in any way including by way of negligence.

© Copyright 2018 ASX Limited ABN 98 008 624 691. All rights reserved 2018.