Best sectors and stocks in 2011
This article appeared in the January 2011 ASX Investor Update email newsletter. To subscribe to this newsletter please register with the MyASX section or visit the About MyASX page for past editions and more details.
2010 was a year of consolidation and strengthening of underlying business fundamentals, providing a solid platform for shares to perform well this year, writes ROSS BIRD. Read this article to learn about Morningstar's sector outlook and 35 best share recommendations for 2011.
By Ross Bird, Morningstar
The outlook for the Australian sharemarket in 2011 is generally positive: a sound domestic economy, enduring robust economic growth of major Asian trading partners, and companies with sound balance sheets and cash flow provide an attractive setting for market performance.
2010 was a year of consolidation for Australian equities, the ASX200 Accumulation index advancing 1.8 per cent by late December. That followed the 30.8 per cent "recovery" gain in 2009 after the disastrous GFC-induced 41.3 per cent decline in 2008.
Despite the modest overall market performance in 2010, it was an important period for Australian businesses. In many instances balance sheets continued to be restored after large equity capital raisings the previous year, operating cash flows stabilised, and profitability and dividend profiles became clearer. It added up to investors regaining confidence.
The opportunity for investment gains in 2011 is promising. The forecast pointers include an undemanding but not dirt-cheap market price-earnings ratio (P/E) of 13.1 times, earning-per-share growth of 14.2 per cent and dividend yield of 4.4 per cent.
And the psychology of 2010 being a year of consolidation and stronger underlying business fundamentals adds to a very solid platform for equities to perform well.
Risks are mainly outside Australia
The risks to this scenario, both direct and indirect, lie largely beyond our shores. Although domestic economic conditions are sound, investors will remain reliant on overseas economies and selective global events and outcomes to capitalise on the strong footings established locally. Some factors to consider are:
The magnitude and distribution of global economic growth driving commodity prices, currency stability and general investor confidence.Specific levels of economic growth in China driving commodity prices and the Australian dollar. An overheated Chinese economy creating a bubble in asset values is potentially more damaging to our resources sector than sustainable Chinese growth slightly below expectations. We welcome the recent series of tightening in monetary policy by Chinese authorities.
The pace of recovery in the United States dictating monetary policy and the impact upon the Australian dollar, global economic growth and investor confidence. Significant challenges remain in the US to lift housing out of the doldrums and to generate meaningful employment growth to buoy household expenditure.
The effect of inflationary trends in the developing world and deflationary influences in the Western world on interest rates, asset pricing and pace of economic growth.
The economic health of distressed European nations and the remedies deemed necessary to rescue them. Although there is little direct impact on Australia, it may affect capital flows, currency volatility, interest rate spreads, investor confidence and global interest rates.
The main domestic issues
Domestically, the main issues facing Australia's economy and corporate sector in 2011 are:
The pace of wages inflation and the commensurate need for the RBA to continue monetary policy tightening as this flows into broad inflationary measures.
Strong employment trends and a low unemployment rate, and high levels of capacity utilisation in some industries.
The degree to which consumers relax their current conservative spending behaviour despite a strong consumer sentiment reading. While rising utility, mortgage, petrol and other costs have chewed into disposable income, the current household saving ratio of 10.1 per cent is near its highest level in 14 years, assisted by net disposable income increasing by 7.6 per cent over the year to September 30.
Weather events are affecting rural and mining industries, related service providers and retail spending.
The extent to which bank lending volumes improve, driving profitability in the banking sector. With corporates and households undertaking a deleveraging process (by paying off debt), combined with a weak commercial property market, lending volume growth was minimal in 2010. Credit growth across the financial system remains soft but there are positive signs the downward trend is stabilising.
Forecasts for the 2011 financial year growth in earnings per share (EPS) are strong for these sectors (see chart below):
Consumer Staples (24.5 per cent growth in EPS)
Utilities (19.8 per cent)
Materials (15.7 per cent)
Energy (15.1 per cent)
Financials (13.2 per cent)
For the universe of companies researched by Morningstar in the ASX200 index, overall EPS growth of 14.2 per cent in FY2011 is followed by 9.2 per cent growth in FY2012.
Chart 1: EPS Growth Forecasts FY2011, FY2012 (%)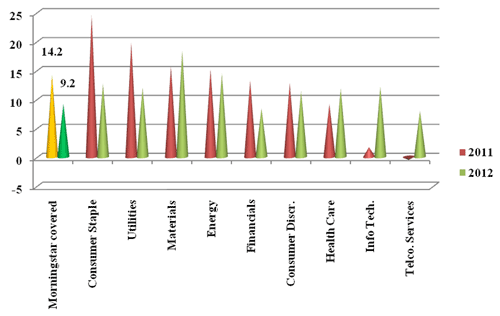 Source: Morningstar
Chart 2 below illustrates sector dividend yield profiles for FY2011 and FY2012, with no great surprises to relative rankings. With an overall forecast universe yield of 4.4 per cent in FY2011, rising to 5.4 per cent in FY2012, major sector contributors to dividend yield in FY2011 are:
Telco (7.5 per cent)
Utilities (7.1 per cent)
Financials (6.1 per cent)
Consumer Staples (4.9 per cent)
A-REITs (5.6 per cent).
Interestingly, strong earnings growth projected for the Materials sector puts its forecast FY2012 dividend yield at a useful 3.0 per cent.
Chart 2: Dividend Yield Forecasts FY2011, FY2012 (%)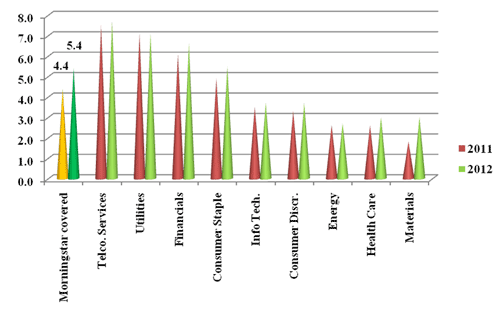 Source: Morningstar
Preferred sectors and recommended companies
Our preferred sectors for 2011 include Energy, Financials (Banks and Insurance), Materials (Resource companies), and Information Technology.
While we have neutral weighting (a hold) for Consumer Staples, Morningstar has several positive stock recommendations within this sector. Healthcare is also neutral and most shares are in the 'hold' zone. Utilities and Telecommunications are both neutral weight but also contain positive recommendations based on longer-term valuations.
There is a diverse range of business types within the Industrials sector and we emphasise a favorable view to the mining-linked Construction & Engineering sub-sector.
From a top-down perspective, we have a favorable view of the Healthcare sector and the Construction & Engineering sub-sector within the broader Industrials sector. Healthcare is a strongly growing industry over the long term, allied with an ageing local population, increased community expectation of improving medical care standards, a sound economic footing to fund these requirements. The Construction and Engineering sub-sector is expected to participate in the very large capital expenditure program forecast for 2011 and beyond.
At current levels, we believe 'hold' recommendations are appropriate, however we encourage investors to adopt a 'buy on weakness' approach to selected companies, given our favorable top-down view of their industries.
Table 1: Sector weightings and recommendations
Sector
Weighting
Recommended companies with Morningstar Moat rating (in brackets). Ed's note: the moat rating refers to the strength of a company's sustainable competitive advantage).
Energy
Overweight
New Hope Corporation (none), Origin Energy (none), Woodside Petroleum (narrow)
Financials - Banks/Insurance
Overweight
ANZ (narrow), National Australia Bank (narrow), Westpac (narrow), QBE (narrow)
Financials
- A-REITs/Property
Neutral
Charter Hall Office REIT (none), Commonwealth Property Office Fund (none), Dexus Property Group (narrow), Mirvac Group (none), Lend Lease Group (none)
Information Technology
Overweight
Computershare (narrow), Calesales.com (none)
Materials
Overweight
BHP Billiton (narrow), Kingsgate Consolidated (none), Panoramic Resources (none), RIO (narrow)
Consumer Staples
Neutral
Woolworths (wide), Wesfarmers (narrow), Coca-Cola Amatil (narrow)
Healthcare
Neutral
Ramsay Health Care (narrow), Sonic Healthcare (none), Cochlear (narrow)
Utilities
Neutral
AGL Energy (narrow), APA Group (narrow), SP AusNet (narrow)
Telecommunication Services
Neutral
Telstra (narrow), TPG Telecom (none)
Industrials
Underweight
Leighton Holdings (narrow), Transfield Services (none), Toll Holdings (narrow)
Consumer Discretionary
Underweight
Billabong International (narrow), Crown (narrow), Pacific Brands (none)
Source: Morningstar
About the author
Ross Bird is head of equities strategy, Morningstar. This article was based on research from Morningstar's 17-page sector outlook report for 2011, available to Morningstar website and Huntleys' Your Money Weekly subscribers. To learn more about this report, visit www.morningstar.com.au
From ASX
ASX online courses cover shares, interest rate securities, warrants and instalments, options and futures. There are 11 share courses each taking 10 to 15 minutes to complete.  They will provide you with the basic information to understand and get started.
After doing the shares courses, consider the new ASX interest rate securities courses, which are especially popular with long-term investors who want more predictable income through ASX Listed bonds or hybrid securities that have fixed or floating interest rates. More companies are expected to launch interest-rate securities in 2011, so it is a good time to learn about this market.
<!IoRedDot_txt_disclaimer>The views, opinions or recommendations of the author in this article are solely those of the author and do not in any way reflect the views, opinions, recommendations, of ASX Limited ABN 98 008 624 691 and its related bodies corporate ("ASX"). ASX makes no representation or warranty with respect to the accuracy, completeness or currency of the content. The content is for educational purposes only and does not constitute financial advice. Independent advice should be obtained from an Australian financial services licensee before making investment decisions. To the extent permitted by law, ASX excludes all liability for any loss or damage arising in any way including by way of negligence.

© Copyright 2018 ASX Limited ABN 98 008 624 691. All rights reserved 2018.