Hidden gems: best small stocks
This article appeared in the February 2011 ASX Investor Update email newsletter. To subscribe to this newsletter please register with the MyASX section or visit the About MyASX page for past editions and more details.
With more than 2000 ASX Listed companies, it can be hard to spot the most-promising small and micro-cap stocks. BOYD PETERS from well-performed listed investment company Contango MicroCap considers the outlook for small stocks in 2011 and outlines his fund's main small-stock holdings.

By Boyd Peters, Contango MicroCap
Most investors love to find that potential goldmine share whose price multiplies quickly. Typically these tend to be listed smaller and microcap companies that in good economic times lead the way and grow the fastest.
Table 1 below shows the performance of the Australian equity sectors over the past 10 years. Small companies have outperformed larger ones, and the microcap sector has consistently been the standout performer.
Table 1: Sector Returns

Source: Contango Asset Management Ltd/ S&P. As at 31.12.2010
If you were purely chasing returns, a portfolio of only microcaps clearly would have given the greatest return. But diversification across and within asset classes is important to manage risk and maximise returns.
It must be recognised that the strongest performing shares and sectors can be the most volatile. Also, smaller companies tend to be more cyclical in nature and often take longer to recover after periods of loss.
Nevertheless, it is often asked how much exposure to smaller companies a portfolio should have; it may be equally prudent to ask, how much large-cap exposure?
Table 2 below shows the structure of some well-known ASX indices. The S&P/ASX Small Ordinaries Index (which provides a benchmark for small-cap investments) is made up of companies included in the S&P/ASX 300 index, but not in the S&P/ASX 100 index.
The world of small companies includes those with unique growth characteristics that are not linked to broad macro-economic cycles. Set within their own industries, they are often market leaders and can generate returns above their peers.
Microcap companies, in particular, have always been an important part of the Australian economy and can be loosely defined as companies outside the ASX 300. There are about 1600 ASX Listed companies with market capitalisation under $500 million.
Data provided by just over half of these shows they alone directly employ more than 120,000 people. With combined market capitalisation of about $70 billion and total assets of $111 billion, they are sitting on more than $11 billion in cash and reported net profit after tax of more than $5.5 billion. (At August 26, 2010. Source: Morningstar.)
Research on these companies is extremely limited. The quality of management is a critical factor in success or failure in the small and microcap sectors. On the other hand, their small size also means they are more flexible and better able to adapt to change - a reason for their desirability as an investment.
Table 2 takes a closer look at some of the well-known indices and shows the aggregate market capitalisation in billions. What is clear is that notwithstanding long-term performance, the market is skewed against smaller companies and the bulk of money is invested in larger companies.
Table 2: Index Compositions
Source: Contango Asset Management Ltd/ S&P. As at 31.12.2010
Some contend that fund managers are as concerned about not "underperforming" their benchmarks as they are about beating them. If so, it would be understandable that large-cap funds are mainly invested in the largest 50 companies and explain why their performance tends to closely match the index performance.
Most actively managed large-cap funds could theoretically invest across the sharemarket, but many have neither the internal resources nor interest in undertaking the extensive and expensive research required. Limited liquidity also prevents them investing in the sharemarket shallows inhabited by relative minnows, where directors often control large blocks of shares between them.
Table 3 shows just how skewed the market is in favour of large-caps. The largest 15 companies listed on ASX are larger than the rest of the entire market. BHP alone is larger than every company outside the ASX200 combined.
Table 3: Size by Comparison



Source: Contango Asset Management Ltd. As at 17.01.2011
At present there is a heavy weighting to resources within the small-caps sector, largely because of the boom market driven by the demand for commodities by China.
One problem associated with being invested along market capitalisation lines is that investors can miss some of the best opportunities. Although smaller companies can have higher investment risk, increases in revenue often have greater impact on profit for smaller and microcap companies. Investors generally need to detach themselves from benchmark weightings if they are looking for additional performance.
These structural issues are why many smaller companies are not always accurately priced by the market and provide investment opportunities.
Where did the performance come from, and is that a clue for the future?
A process called "blending" is often used within portfolios. The aim is to match "Value" shares or funds with "Growth" ones, to smooth returns through traditional market cycles.
Table 4 is interesting because it challenges the widely held consensus that "Value" shares always outperform "Growth"; indeed, for smaller Australian companies, it abolishes this.
Table 4: Small vs Large. Value vs Growth

Source: Contango Asset Management Ltd/Mercer. As at 31.12.2010
Table 5 shows the driver of strong returns by smaller companies has consistently and overwhelmingly been the resource sector.
Table 5: Small Industrials vs Small Resources

Source: Contango Asset Management Ltd/ Mercer
This performance differential is astounding and highlights the effect globalisation, in particular increasing wealth in India and China, has had on the Australian economy.
Australian resources exposure has a very international flavour, with the mining services sector also driven by these cross currents. The strength of the Australian dollar in 2010 has been very negative for exporters who cannot raise their price against import-competing companies. In the case of miners, the price of the commodity has risen in line with the strength of our currency, giving protection to revenue that an industrial exporter has not had.
Breaking this down further, the materials and energy sectors have performed strongest while other sectors, in particular telcos, have been a drag on sector performance.
Table 6: Small-Sector Returns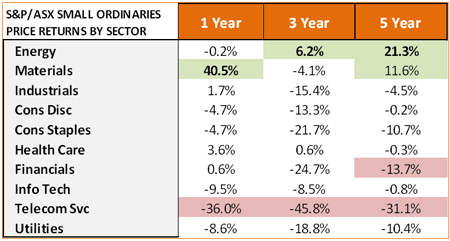 Source: Contango Asset Management Ltd/S&P. As at 31.12.2010
The boxes in Table 6 have been highlighted to identify a very important consideration: past performance may be a guide, but cannot be used to predict future performance. Some investors choose to invest in the best-performing shares or sectors; others may apply a contrarian approach and determine that underperformers are poised to deliver.
Investors must recognise that it is the forward outlook they must consider when structuring allocations and making decisions between value and growth, industrials and resources, sectors and shares.
The outlook for 2011
Contango's outlook for smaller companies remains positive. Alongside continued monetary and fiscal accommodation in the US, the global economic recovery looks to be gaining momentum and provides a firmer economic backdrop for 2011.
Global uncertainties remain that could create a challenging year ahead, including residual concerns about European sovereign debt and the strength and durability of the US recovery.
Several factors should underpin the Australian sharemarket in 2011: robust Chinese economic growth, firmer US equities, supportive domestic economic growth, and solid mergers and acquisitions activity. The timing of further interest rate movements in China and Australia provides some uncertainty.
Although we expect continued volatility in equity markets we expect the microcaps will be assisted by improving global and domestic conditions.
Commodities
Contango has a favourable view on bulk commodities, given the underlying supply constraints in the global market.  In addition, the soft outlook for the US dollar, together with sovereign debt risk in Europe, supports a stronger gold sector. And structural undersupply for copper underlines our view that prices will strengthen.
We are also confident that ancillary industries that service bulk commodity producers and the oil and gas market will prosper.
In addition, non-discretionary government spending through construction in schools, roads, rail and infrastructure remains an important consideration in our portfolios; we expect investment to continue to provide strong underlying support for companies servicing this sector.
Generally, small companies provide leverage to global growth, yet as has been observed in recent times, the recovery will be volatile and drawn out. From this perspective, investors' focus should be on fundamental valuations and earnings certainty, to generate above market returns.
Fundamentals
When we look at market fundamentals, there has been a significant shares valuation gap between large-caps and small-caps, with the strong performance by smaller companies driven by the closing of this gap.
Our estimates put 2011 price-earnings (PE) multiples at around 12.5 times for both the ASX 100 and Small Ordinaries indices. The earnings-per-share (EPS) growth for the ASX 100 is 21.6 per cent and small-caps sector 28.1 per cent. Table 7 show a significant part of that earnings growth is from the resources sector.
Table 7: Fundamentals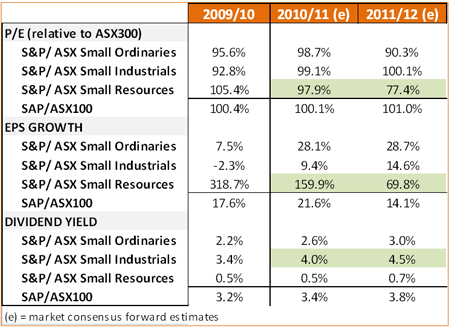 Source: Contango Asset Management Ltd. As at 31.12.2010
Investors wanting dividends income should strongly consider their asset allocation in equities. Typically, smaller companies pay lower dividends than larger ones and that appears set to continue through 2011 and 2012.
Resource companies in particular are not a dividend play. Investors may prefer a company that retains cash for operations, as it is a far cheaper source of capital than debt or diluting shareholders through capital issues.
Companies in focus
(Editor's note: Do not read the companies mentioned below as recommendations. Do further research of your own or talk to an adviser before buying small-cap shares.)
Companies that provided positive contribution to the smaller companies sector in the second half of 2010 include Sundance Resources, Intrepid Mines, Arafura Resources, Aurora Oil & Gas and Regis Resources. Recent drags on performance included Isoft Group, Valad Properties, Murchison Metals, PaperlinX, and Customers Ltd.
Recent additions to the Contango Small Companies Fund portfolio include: Atlas Iron (given its strategy of growing production rapidly); Anvil Mining (a desire for direct copper price/cash leverage); WPG Resources (cheap valuations for this soon-to-be-in-production iron ore miner); and Western Areas (we believe nickel production will surpass market expectations).
Some of the larger holdings in Contango small and microcap portfolios include:
Intrepid Mines (IAU)
The 80 per cent owner of the exciting Tujuh Bukit project in East Java. it is at an advanced exploration stage and believed to host a number of copper-gold-molybdenum porphyrys.
Northern Energy Corporation (NEC)
A coal exploration company whose current focus is the 0.5 million tonnes per annum Maryborough hard coking coal project in southern Queensland. In our view, NEC is one of the more promising junior ASX Listed coal plays.
Orocobre (ORE)
The company has a number of lithium brine projects in the Argentinean Andes. It has recently listed in Canada; the Toronto Stock Exchange is better versed in investing in South American and lithium plays. Recent news that Toyota is buying 25 per cent of the Olaroz development will provide much needed cash for Orocobre to fund its share.
Aurora Oil & Gas (AUT)
An oil and gas exploration, development and production company with operations in North America. We expect the company to generate $15 million profit in the current financial year, growing to $100 million in 2012.
Citadel Resource Group (CGG)
The company is in the process of completing a feasibility study on its 50 per cent-owned Jabal Sayid copper-gold sulphide deposit in Saudi Arabia. It has several other potential projects, such as the fully owned Jabalshayban/Baydan gold deposits.
Managing your portfolio
With a view of the past and an eye to the future, investors are better placed to negotiate their small-caps exposure. There are three typical means investors can use to manage allocation, shown in Chart 1, which also identifies some familiar managers that provide products under that structure.
Chart 1: Sample Investment Options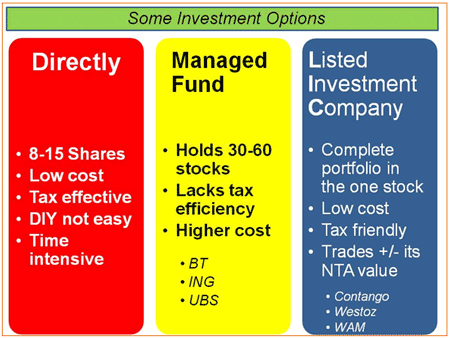 Source: Contango MicroCap Limited
Many investors use a hybrid of these options to provide diversification and access to professional stock-pickers. One potential structure is in Chart 2 below: someone may choose to hold four companies (that they know well) directly, possibly at 5 per cent weighting each, and have a 40 per cent allocation to one Listed Investment Company (LIC) and one managed fund.
Chart 2: Potential Allocation Option for Small-Cap Exposure
Source: Contango MicroCap Limited
Unfortunately, there is no optimal way to allocate funds to any investment class. Investors should consider each option along with their particular investment needs. And always use a diversified approach to manage portfolio risk.
About the author
Boyd Peters is national distribution manager at Contango MicroCap (ASX Code: CTN).
CNT is an investment company first listed on the Australian Securities Exchange on 25 March 2004. It manages a diversified portfolio of 60-120 Australian microcap companies listed on the ASX with a market capitalization generally between $10m & $350m. There are over 1,000 stocks in this universe with a total market capitalisation of approximately $110 billion.
Since inception the investment portfolio has provided a compound return of 26.1 per cent annually compared with the All Ordinaries Index of 9.8 per cent annually over the same period.
CTN produces a Quarterly MicroCap Investment commentary, email Contango.
From ASX
Listed Investment Companies provides a wealth of information on LICs.
Use ASX Market Update information to reviews LIC premium and discounts to NTA since 2004
View the monthly sector update to see overall LIC performance
Examine quarterly Performance Returns to gauge an LIC's investment performance against others.
<!IoRedDot_txt_disclaimer>The views, opinions or recommendations of the author in this article are solely those of the author and do not in any way reflect the views, opinions, recommendations, of ASX Limited ABN 98 008 624 691 and its related bodies corporate ("ASX"). ASX makes no representation or warranty with respect to the accuracy, completeness or currency of the content. The content is for educational purposes only and does not constitute financial advice. Independent advice should be obtained from an Australian financial services licensee before making investment decisions. To the extent permitted by law, ASX excludes all liability for any loss or damage arising in any way including by way of negligence.

© Copyright 2018 ASX Limited ABN 98 008 624 691. All rights reserved 2018.