This article appeared in the February 2011 ASX Investor Update email newsletter. To subscribe to this newsletter please register with the MyASX section or visit the About MyASX page for past editions and more details.
Corporate bonds can offer the same returns as shares - with less risk.

By Mike Saba, Evans & Partners
Bonds were a popular asset class in Australia in 2010 as investors retreated from a volatile sharemarket created by the global financial crisis. The performance of bonds and shares has been very similar over the past 10 years, but shares have been much more volatile.
(Editor's note: Try one of ASX's free online interest rate securities courses to learn about the features, benefits and risks of this market.)
Bonds are a traditional asset class and should form part of all diversified investment portfolios. Plain-vanilla bonds offer holders a defined regular income profile and repayment date.
Therefore, investors should be able to rely on the issuer for a defined stable return, especially high-grade issuers such as governments or highly rated companies issuing corporate bonds. These bonds are viewed as a defensive asset class, in that they rank ahead of equity or equity-style instruments in the company structure and should still pay in times of stress.
Below we describe bonds and how corporate bonds are available on ASX.
Bond structure
A corporate bond is no different to a plain-vanilla bond. A bond typically represents a loan by the investor to the issuing company, the investor receiving regular interest payments and repayment of the principal at maturity. To offer some uniformity, most bonds have a $100 issue and repayment price, with the regular distributions (often termed coupons) paid as a percentage of this $100 "face value".
Bonds are often referred to as fixed interest because their regular payment style is "fixed". For example, a 6 per cent bond will pay $6 interest annually (or $3 twice yearly, termed semi-annual). However, rather than pay a fixed rate, many bonds will pay a rate above a reference rate such as the 90-day bank bill rate. These bonds with variable payments are termed floating rate bonds or floating rate notes (FRNs).
Investors in FRNs receive the income component in line with movements in short-term rates. For example, an FRN paying 2 per cent above the bill rate (currently 5 per cent) will pay 7 per cent for one year. Typically these bonds pay interest quarterly with the coupon reset at that time, given they are aiming to pay investors a rate in line with interest rate movement.
FRNs overcome one of the risks with fixed-rate bonds, in that the price of a fixed bond is inversely correlated to interest rate movement. With a fixed bond, investors only receive the fixed rate. If interest rates rise, the relative value of their return decreases and the price must fall to increase the yield relative to the level of comparative rates.
Corporate bonds
Bonds are a popular form of funding for companies and there may be several classes of corporate bonds from one company. They may differ in seniority for payment (some bonds rank behind others and are termed "subordinated", the highest ranking are generally termed "senior") and may also differ in security; some have specific assets pledged by the company to support their repayment and may be termed "secured".
Like all asset classes there are a range of risk profiles within the bond spectrum, with the usual assumption holding true that higher return is accompanied by higher risk. Risks for bonds are that the regular payments continue to be paid and that the issuer can repay the bond as promised.
Bonds with a greater default risk will generally have a greater spread over market rates to account for that. Corporate bonds also have a risk/return profile. Large companies are often rated by rating agencies as to their ability to make payments.
The chart below compares the average annual yield of bonds where the issuer has an AAA/AA, A or BBB credit rating, with the spreads over swap rates (in basis points). Issuers with a higher credit rating have a lower risk of default. Investors need to carefully consider how much risk they are willing to accept in order to obtain a better yield. 
Average annual bond yields compared to spreads over swap rates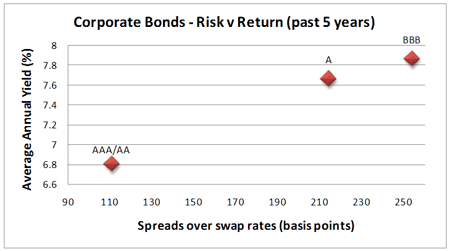 Corporate bonds rank above equity in the capital structure of a company. If a company becomes insolvent its assets may be liquidated, with the proceeds distributed to stakeholders in the company. Corporate bond holders are generally considered to be a creditor of the company, so are ranked ahead of equity holders. Therefore, corporate bonds are a more secure form of investment than equities because an investor is less likely to lose their principal.
CBA's senior-ranking example
Corporate bonds offer either the fixed or floating style of interest payment and are either traded in large volumes between trading banks or on ASX in smaller parcels. Many corporate bonds are listed on ASX and some are senior ranked.
A recent example is the senior-ranking CommBank Retail Bonds issued by CBA. They are akin to senior-ranking bonds issued into the wholesale markets and pay a margin of 1.05 per cent over the 90-day bank bill rate. For example, a bank bill rate of 5.0 per cent would give an annual yield of 6.05 per cent on CommBank Retail Bonds. Repayment is set for December 24, 2015. Interest is paid quarterly with the next payment set at each interest payment date.
The low margin range reflects the quality of the issuer and the CommBank Bonds' ranking in the bank's capital structure, which is the key to their use - as high-quality bonds with high security of interest payments and capital repayment. Interest payments and repayment of the bond are made ahead of any CBA subordinated debt, hybrids or equity.
Investors can look for a higher margin from CBA hybrids, but the hybrids are ranked lower in the capital structure. In this example of a senior-ranking corporate bond, some of the uses we find for CBA's ASX Listed Retail Bonds are:
To receive a secure floating interest rate return in a portfolio. This will give excellent exposure to rising interest rates.
As an alternative to cash trust returns or term deposit rates with ease of liquidation due to the outstanding credit quality.
As a cornerstone security in a high-grade interest rate portfolio, listed or unlisted.
The ability to trade corporate bonds just like shares on ASX cannot be underestimated. This ease of transaction enables investors to use the bonds for a range of investment purposes or as a short-term place to park cash. Note that for listed bonds, as for listed hybrids, interest is paid at particular dates, not per number of days held. However, the market price should move daily to reflect accruing interest.
Corporate bonds are a relatively conservative asset class, particularly in Australia where the default rate is extremely low. They can be a defensive asset that preserves capital in a portfolio while generally offering more stable returns than other assets classes.
Now that corporate bonds are being issued to the general public and can be bought or sold on ASX, they can become a significant part of a balanced investment portfolio. Investors can diversify between different maturities, interest rates (fixed and floating) and credit ratings in order to mitigate risk and maximise return.
About the author
Michael Saba has covered Australian hybrid securities for more than 15 years at a number of Australian broking houses. He specialises in analysis and sales of derivatives to institutional clients, and was polled No. 2 in this sector in the 2009 BRW East Coles survey. He is Head of Derivatives at Evans & Partners in Melbourne.
From ASX
ASX Interest Rate Securities provides good information for those who want to learn more about fixed-income products, such as:
Corporate bonds

Floating notes

Convertible notes

Hybrid debt securities.
<!IoRedDot_txt_disclaimer>The views, opinions or recommendations of the author in this article are solely those of the author and do not in any way reflect the views, opinions, recommendations, of ASX Limited ABN 98 008 624 691 and its related bodies corporate ("ASX"). ASX makes no representation or warranty with respect to the accuracy, completeness or currency of the content. The content is for educational purposes only and does not constitute financial advice. Independent advice should be obtained from an Australian financial services licensee before making investment decisions. To the extent permitted by law, ASX excludes all liability for any loss or damage arising in any way including by way of negligence.

© Copyright 2018 ASX Limited ABN 98 008 624 691. All rights reserved 2018.