Set to Surge?
This article appeared in the March 2011 ASX Investor Update email newsletter. To subscribe to this newsletter please register with the MyASX section or visit the About MyASX page for past editions and more details.
What the charts say for Woodside, Santos, Origin and Oil Search.

By Daryl Guppy, author
Qantas has done it, your local service station has done it, and the freight companies are about to do it. Jetstar has done it increasing some fees. They are all adding a surcharge because of the higher price of oil.
Forget for the moment that the Australian dollar is trading at about parity with the US dollar and, unlike in 2008, the impact of any increase in the oil price is not exacerbated by a weak Australian dollar.
Analysis of the NYMEX oil chart shows the change in the oil price trend is a long-term market condition. From October 2009 to November 2010, oil was trading in a wide sideways pattern, the lower edge of which was near US$68. The upper edge of the trading band was near US$87 and the price oscillated around the central support and resistance level near US$78.
The move above resistance near US$87 was the first indication of a significant change in price activity. The breakout above this level has a target near US$98, just below the psychologically important level of US$100.
(Editor's note: At time of publication, oil prices were rallying due to conflicts in the Middle East. Check latest oil price-information before making any investment decisions about energy stocks.)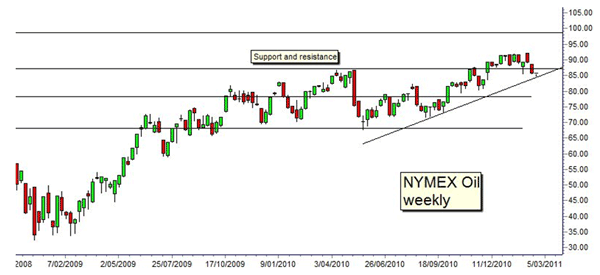 Nymex oil weekly chart
from 2008 to 2011
Source: Guppy Traders
When the technical resistance target of US$98 was reached in 2007, the price quickly moved above it. The most important feature is that when the price moves above US$100, an area of strong resistance, the next price move is very rapid – higher target levels are near US$110 and US$122.
The oil price increase is attracting more speculative trading activity because many traders expect it to move quickly once the US$100 level is broken.
Analysis of Australia's oil majors
If oil is going up, what does it mean for major oil companies?
(Editors' note: Do not read the analysis below as share recommendations. Do further research of your own or talk to your financial adviser before acting on this information).
Woodside Petroleum
Let's start with Woodside Petroleum and a weekly share chart below. The starting point for analysis is the 160 per cent rise in the oil price between 2007 and 2011. Woodside delivered an 80 per cent increase in its share price during the same period. More recent history shows an interesting divergence.
Woodside has developed a long-term down sloping triangle with support near $41. The oil price has developed an up-sloping trend channel, and more recently a new price breakout. Woodside does not reflect these changes in the marketplace. Failure of support near $41 has a technical downside target near $33 but there is historical support near $35. An upside breakout has a target near $51. The Woodside chart shows this trend.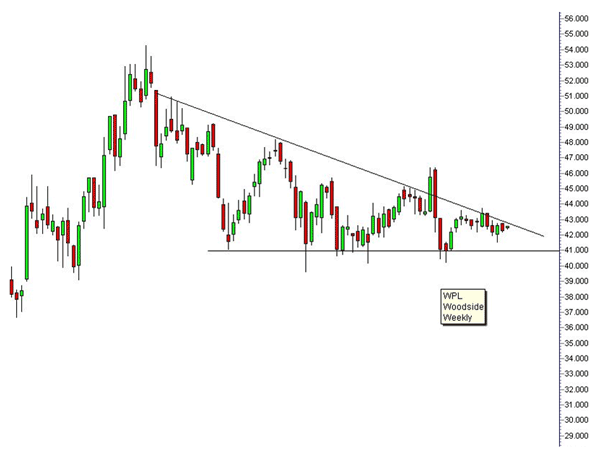 Woodside weekly chart
from 2009 to 2011
Source: Guppy Traders
Santos
Santos shares added 122 per cent during the 2007 oil price rise, better than Woodside but still not as effective as directly trading the oil price.
More recently, Santos has been trading in a well-established down-sloping trading channel. Oil has been in an up sloping channel so this is not a good situation if traders follow Santos as a way of capturing the rise in the oil price. The Santos chart below shows this trend.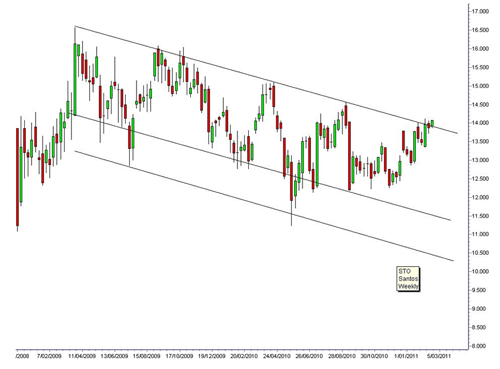 Santos weekly chart
from 2008 to 2011
Source: Guppy Traders
There have been two bearish dips below the main section of the trading channel, and this creates a third lower line below the main trend channel. A trading channel break (on the upside) has a price target near $16.30.
Oil Search
The Oil Search chart below shows a share marching to its own tune.
The price trend behaviour is loosely related to the oil price. The sudden two-week drop of 33 per cent in October 2008 had little to do with oil price, which had been falling for the three previous months. It is tempting to look at the 26 per cent rise starting in September 2010 and say this follows the oil price, but it is a loose connection.
Oil Search weekly chart
from 2009 to 2011
Source: Guppy Traders
Oil Search is a trend rebound trading opportunity. The long-term Guppy Multiple Moving Average (GMMA) shows good investor support so traders follow the rising trend and take short-term profits as pullbacks develop.
Oil Search is more reactive to oil price changes than the other shares in this article. There are no charting measures that can be applied to set upside targets, so this is a trend trade managed using stop-loss exit conditions. This means investors cannot use normal charting techniques to identify a price target, so should instead follow the trend and have a stop-loss mechanism in place to exit the trade if the trend breaks down.
Origin Energy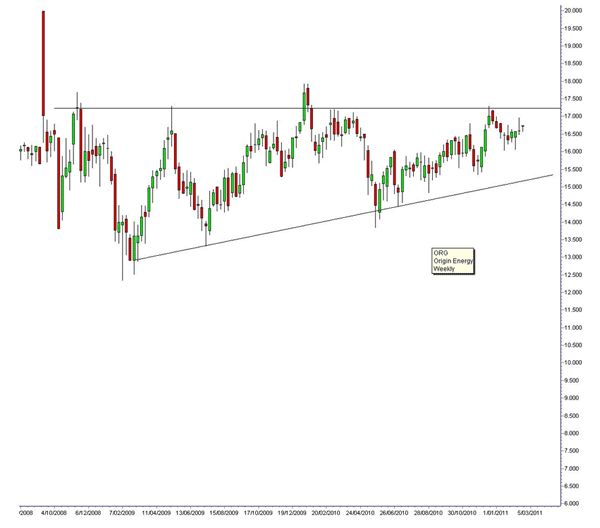 Origin weekly chart
from 2008 to 2011
Source: Guppy Traders
There is no defined trend in this chart, although there are prolonged slow rises followed by an equally slow destruction of share price profits.
Broadly speaking, we can place an uptrend line and a resistance level near $17.30. This is a very long-term up sloping triangle but caution is required in using this to set upside targets. The pattern has taken two years to develop and any breakout may take a similar time to achieve the pattern projection target around $21.50.
More importantly, the chart shows almost no relationship to the movement or the trend behaviour of the NYMEX oil chart. Limited trade opportunities exist between the trend line near $15.50 and resistance near $17.30.
There is little indication that the oil price will propel Origin Energy into a strong breakout above $17.30.
About the author
Daryl Guppy is a well-known international financial technical analysis expert. He appears regularly on CNBCAsia and is known as 'The Chart Man'. He is an equity and derivatives trader and author of books, including Share Trading, Trend Trading and The 36 Strategies of The Chinese For Financial Traders. His new book, Guppy Trading, is due in April. He has developed several leading technical indicators used by investors in many markets. His weekly analysis newsletters receive favourable comment in Asia and Australia.
From ASX
A new way to gain exposure to energy stocks is through the exchange traded fund (ETF) offered by Australian Index Investments over the energy sector. View details on the Aii S&P/ASX 200 Energy ETF (ASX code: ENY).
<!IoRedDot_txt_disclaimer>The views, opinions or recommendations of the author in this article are solely those of the author and do not in any way reflect the views, opinions, recommendations, of ASX Limited ABN 98 008 624 691 and its related bodies corporate ("ASX"). ASX makes no representation or warranty with respect to the accuracy, completeness or currency of the content. The content is for educational purposes only and does not constitute financial advice. Independent advice should be obtained from an Australian financial services licensee before making investment decisions. To the extent permitted by law, ASX excludes all liability for any loss or damage arising in any way including by way of negligence.

© Copyright 2018 ASX Limited ABN 98 008 624 691. All rights reserved 2018.