10 healthy stocks to beat the bears
This article appeared in the June 2011 ASX Investor Update email newsletter. To subscribe to this newsletter please register with the MyASX section or visit the About MyASX page for past editions and more details.
Despite the poor financial health of the market in recent months, investment opportunities exist. Quality companies that are profitable, have good operating cash flow and a sound balance sheet, and can grow even within a challenging environment, can still be found. Here are some to consider.

By Tim Lincoln, Lincoln
The Australian sharemarket does not always follow a clear path, even when the underlying Australian economy is in good shape. Although the All Ordinaries Index is up 6.8 per cent over the past 12 months, most of this performance was achieved through the latter half of 2010.
Global events such as the Australian floods, political unrest in North Africa and the Middle East, the earthquakes in New Zealand and Japan, and the tsunami that led to a nuclear crisis, have all contributed to great uncertainty in the market. In addition, a strong Australian dollar has made life harder for many ASX Listed companies that export or earn revenue from overseas operations.
In times of such uncertainty it is essential, for successful investing over the long term, to focus on companies that are financially healthy
More than 70 per cent of companies on the sharemarket are exposed to higher-than-acceptable levels of financial risk, according to Lincoln's ratings - partly due to the large number of speculative exploration companies listed. On face value, looking at the longer-term market trend in 'financial health' rating, things appear bad. Over the past 10 years, the percentage of 'strong' or 'satisfactory' companies has been steadily declining, while those with 'marginal' or 'distressed' financial health have risen from 44 per cent to 63 per cent.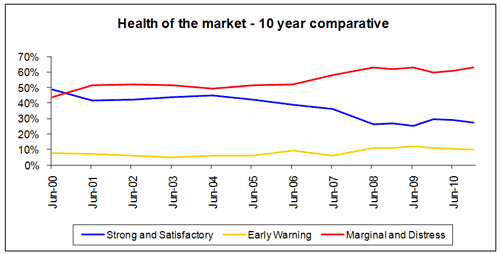 Source: Lincoln
However, closer analysis indicates that this has been a result of a large number of new ASX listings, particularly in the mining sector where proven performers with earnings are scarce. Since 2008, with the peak of the financial crisis and the total number of companies on the ASX stabilising, the overall change in financial health has been less dramatic. Financial health over this time has been fairly consistent, falling substantially just before the GFC and subsequently recovering.
Financial health of the market
Between June and December 2010 the overall financial health of the market deteriorated slightly; the percentage of Australian listed companies considered either 'strong' or 'satisfactory' fell by 2 per cent to 27 per cent. However, this remains above the lows during the GFC. Over the same period, the percentage of companies with financial health scores considered either 'marginal' or 'distressed' increased 3 per cent to 63 per cent, and companies with 'early warning' remained unchanged at 10 per cent.
These changes can be explained, in part, by broader economic forces such as weak consumer spending, force majeure conditions, the strong Australian dollar and higher input costs, particularly for industrial companies. In addition, companies that over-capitalised during the GFC have since taken action to negate possible lazy balance sheets.
The impact of an increase in ASX Listed companies on financial health is evident in the Energy and Materials sectors. Following the most recent company reporting season, these sectors were the least financially healthy, with the proportion of 'strong' or 'satisfactory' companies being 11 per cent and 14 per cent respectively, according to Lincoln ratings. A large number of companies in these sectors are either explorers or have yet to begin production, and therefore are less financially healthy, particularly in terms of cash flow.
The sectors with the highest percentage of companies rated 'strong' or 'satisfactory' (and therefore considered the most financially healthy) were Consumer Discretionary and Financials, with 55 per cent and 49 per cent respectively. Companies in the Consumer Discretionary sector generally carry fairly conservative balance sheets and hold large cash balances to manage inventory cycles. The Financial sector (including banks and insurance companies) is monitored by the Australian Prudential Regulation Authority (APRA), with companies required to meet strict liquidity hurdles.
This table shows 10 sectors and the number of companies in each that Lincoln rates Strong and Satisfactory, showing an Early Warning, or Marginal & Distress.
| Sector  | Market Weighting  | Strong & Satisfactory  | Early Warning  | Marginal & Distress  |
| --- | --- | --- | --- | --- |
| Consumer Discretionary | 6% | 55% | 12% | 33% |
| Financials | 33% | 49% | 17% | 34% |
| Telecommunication Services | 3% | 48% | 3% | 48% |
| Industrials | 8% | 47% | 8% | 45% |
| Utilities | 1% | 34% | 9% | 56% |
| Information Technology | 1% | 28% | 18% | 54% |
| Consumer Staples | 7% | 28% | 21% | 51% |
| Healthcare | 4% | 21% | 7% | 72% |
| Materials | 28% | 14% | 5% | 81% |
| Energy | 10% | 11% | 11% | 78% |
Remain cautious and vigilant
Lincoln reiterates the importance of remaining cautious and vigilant when investing in the sharemarket, because the majority of companies continue to be exposed to unacceptable levels of financial risk. The recent deterioration in the market's financial health highlights the importance of using financial health indicators when assessing companies.
Despite the generally poor financial health of the market, opportunities exist. Quality companies that are profitable, have good operating cash flow and a sound balance sheet, and can grow even within a challenging environment, can still be found. Lincoln continues to highlight the fact that these companies should form the cornerstone of any portfolio, to minimise risk and maximise long-term growth.
Lincoln's top 10 'conservative' companies
Below are 10 companies that have higher levels of safety (both operationally and financially) with relatively stable share price performance, based on Lincoln's ratings. As such, they may be suitable for more conservative investors who are concerned about market volatility. However, investors should be aware of their own risk profiles when making decisions.
(Editor's note: do not read the ideas below as share recommendations. Do further research of your own or talk to a financial adviser before acting on the themes in this article).
BHP Billiton (BHP). Materials/energy sector. Market capitalisation $145 billion: BHP is the world's largest diversified mining and energy group. It has a very strong balance sheet, with impressive earnings per share (EPS) growth and return on assets. BHP is the safest exposure to the commodities sector because of its size and highly diversified business (geographically and operationally). It offers good leverage to commodities prices: iron ore, base metals, oil and gas, and metallurgical coal are its main drivers of growth.
Australia and New Zealand Banking Group (ANZ). Financials sector. Market capitalisation $60 billion: ANZ has maintained its 'strong' financial position following the release of its interim results. Current APRA regulations will ensure financial institutions such as ANZ remain well capitalised. We expect ANZ to offer good growth potential through its strong Asian presence. At current prices, ANZ offers an attractive fully franked dividend yield.
Coca-Cola Amatil (CCL). Consumer Staples sector. Market capitalisation $9 billion: This is one of the best-managed industrial companies in Australia, in one of the most defensive sectors: beverages. CCL has strong brand awareness, consistent demand for its core products, stable cash flow and, most importantly, highly predicable earnings growth. Historically low share price volatility also makes it suitable for conservative investors.
Wesfarmers (WES). Consumer Staples/Industrials sector. Market capitalisation $34 billion: Wesfarmers is a diversified conglomerate with operations in supermarkets, retailing, industrial supplies distribution, coal mining, fertilisers, chemicals and general insurance. As such, the company has both defensive and growth characteristics, which significantly reduces sector-specific risks and makes it suitable for conservative investors. The Coles turnaround is also on track, which is expected to deliver long-term value for investors.
SEEK (SEK). Industrials sector. Market capitalisation $2.4 billion: The leading online employment classifieds and training business provider in Australia and New Zealand also has exposure to recruitment websites in China, South-East Asia and Latin America. The company has a strong market position, a conservative balance sheet and solid cash flows, and will be a key beneficiary of the economic recovery. Strategic exposure in key emerging markets diversifies its business risks while providing exposure to high-growth revenue streams in the future.
Cochlear (COH). Healthcare sector. Market capitalisation $4.6 billion: Cochlear manufactures and markets implants used to stimulate impaired hearing. The company is financially healthy, with strong profit and cash flows and a sound balance sheet. It has achieved strong earnings growth and a dominant market position, and is now market leader in its niche field. It is earning a good reputation for delivering reliable, FDA-compliant products..
Ramsay Health Care (RHC). Healthcare sector. Market capitalisation $3.7 billion: Australia's largest private hospital operator also has operations in the UK, France and Indonesia. RHC has maintained its 'strong' financial health, with strong earnings and cash flows offsetting some weakness in the balance sheet.
JB Hi-Fi (JBH). Consumer Discretionary sector. Market capitalisation $2.1 billion: A leading speciality discount retailer with a proven business model and strong balance sheet, the company has managed to achieve impressive earnings growth despite a tough macro-economic backdrop and competition from online retailers. JBH has a solid long-term growth outlook in our view.
Medusa Mining (MML). Materials sector. Market capitalisation $1.5 billion: Predominantly a gold producer/explorer with operations in the Philippines, the company is financially healthy, showing strength across its financial statements. In addition, MML is one of the lowest-cost gold producers worldwide and offers significant leverage to gold prices.
Carsales.com (CRZ). Information Technology sector. Market capitalisation $1.2 billion): An Australian business offering online access to automotive classifieds, CRZ has strong earnings growth, solid cash flow and low gearing levels. It has a dominant market position and the ability to pass on increased costs to dealers.
About the author
Tim Lincoln is managing director of Lincoln, Australia's premier fundamental analysis research house and fund manager, offering intelligent sharemarket solutions for the conscientious investor.
From ASX
Check out Tim presenting at Melbourne's Investor Hour earlier this month.
<!IoRedDot_txt_disclaimer>The views, opinions or recommendations of the author in this article are solely those of the author and do not in any way reflect the views, opinions, recommendations, of ASX Limited ABN 98 008 624 691 and its related bodies corporate ("ASX"). ASX makes no representation or warranty with respect to the accuracy, completeness or currency of the content. The content is for educational purposes only and does not constitute financial advice. Independent advice should be obtained from an Australian financial services licensee before making investment decisions. To the extent permitted by law, ASX excludes all liability for any loss or damage arising in any way including by way of negligence.

© Copyright 2018 ASX Limited ABN 98 008 624 691. All rights reserved 2018.