This article appeared in the June 2011 ASX Investor Update email newsletter. To subscribe to this newsletter please register with the MyASX section or visit the About MyASX page for past editions and more details.
What the charts say about ANZ, CBA, NAB, and WBC.

By Dale Gillham, Wealth Within
Australia's Big Four banks are among the most widely held shares on our market and as such draw a lot of media attention, particularly around reporting season.
Back in the 1990s when the Federal Government undertook the massive privatisation of the Commonwealth Bank, many retail investors bought the shares and have since taken a 'buy and hold' approach. They were told by the financial industry that to properly diversify they needed a bank in their portfolio. Many retail investors have more than one bank and a share such as Telstra tucked under their pillow.
If your portfolio goal is capital growth rather than income from dividends, I would argue that a strategy of 'buy and hold' will not necessarily get the best result out of the Big Four.
Looking at the top 20 companies on ASX over the 12-year period between January 1999 and December 2010, the Big Four were in the bottom half in terms of generating capital growth. The worst performer was National Australia Bank with an average annual capital gain of minus 0.33 per cent over 12 years. I acknowledge that the banks all appreciate over time, but I believe higher growth can be achieved if these shares are traded at the right time.
When is that time and how do I assess it? One way is to follow what is referred to as the top-down approach, where you begin by considering what the overall market is doing before moving down to smaller segments and then individual shares within each sector. In this case, after looking at the market we would analyse the performance of the Financial sector (ASX code XFL), which represents the performance of all companies within the sector, including banks.
Note on the sector chart below how the index has been struggling to move higher and appears to have been locked in a holding pattern for about 12 months above 50 per cent of the all-time high (ATH at A) and below 50 per cent of the range AB. As the banks have a heavy weighting in this index their charts may look similar to the XFL at times. What the chart really shows is how this sector is not generating growth for portfolios and in my opinion needs to trade back above 4643 points before confirming it is more likely to rise than fall. 
S&P/ASX200 Financials chart - 2008 to 2011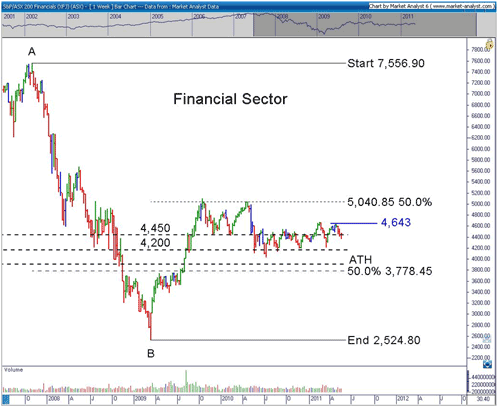 Source: Market Analyst
Let us take the top-down approach and look at the Big Four. As you will see below, it is no surprise that these shares have been moving sideways.
ANZ
The chart below shows how ANZ has been battling resistance around $24.00 and $25.00 for some time. Note how it traded above $25.00 on four occasions (marked 1,2,3,4), once in 2009, twice in 2010 and in February this year. ANZ made a final attempt at breaking through this level before falling away to confirm a new downtrend is in place. The trend line shown is likely to provide resistance and act like a ceiling on the share price as ANZ falls away. Given that ANZ has taken out the low in November 2010 and March 2011, important support at around $22.00 has been broken. Therefore, the probability has increased for a further decline this year to an important level of support between $19.00 and $20.00.
ANZ weekly chart - 1984 to 2011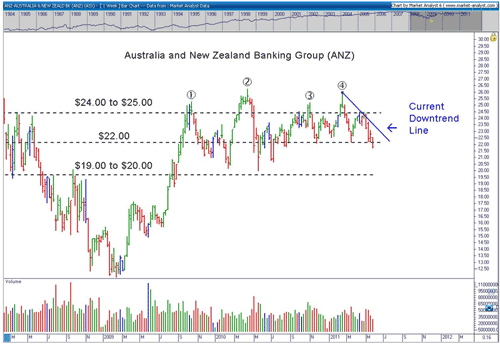 Source: Market Analyst
CBA
The last time I talked about CBA in this newsletter was in November 2010 while discussing company floats. Since then the shares confirmed an uptrend, from the low at A to the high at B. This rise saw the price break through resistance at around $53.00. But instead of continuing the rise, CBA reversed and fell away to an important level of support at around $49.50.
Although the share price has, on a number of occasions, found support at around this level, the question remains as to whether the resistance at $53.00 is stronger than the support at $49.50. If this turns out to be the case, CBA is likely to take out the March 2011 low of $49.25. Should this happen, CBA shares will then be trading in a confirmed downtrend, which would indicate with high probability that a further decline could be expected to between $42.50 and $46.00.
CBA weekly chart - 1991 to 2011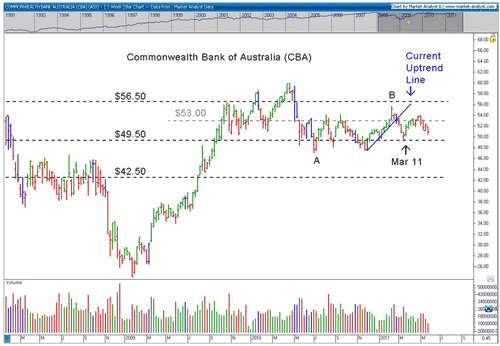 Source: Market Analyst
NAB
NAB is interesting because it recently found support from 50 per cent ($22.42) of the all-time-high price before it continued up to an important Fibonacci level at 38.2 per cent ($27.71) of the ATH, as shown in the chart below. Since then the sellers have come in again and pushed the price back below $26.00, with this level being the top of the prior sideways range traded in 2010. Note on the chart that the bottom end of this sideways range at around $23.00 has supported the recent rise, and may continue to provide support to prevent NAB from falling away. That said, if this level is broken in future, NAB is likely to continue to decline.
You may have noticed how well price analysis depicts the movements of the banks, as they seem to resonate around important predictable levels. In saying that, the best analysts do not limit themselves to a strategy based on price alone and combine this with both pattern and time. This combination is best when forecasting the future direction of a share or market.  
NAB weekly chart - 1984 to 2011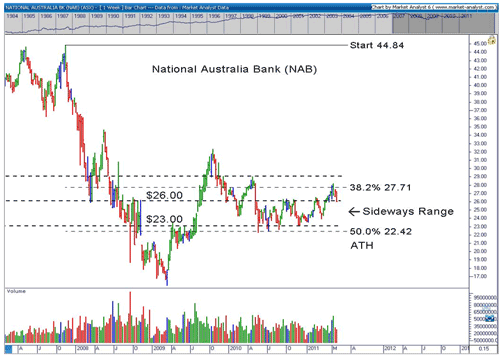 Source: Market Analyst
Westpac
WBC is similar to CBA and NAB in form, in that it recently broke up and out of the sideways move before pulling back. However, over the week ending May 26, it began to look more bearish than neutral. Note the important level of support at $23.00 and how this sits in the centre of the sideways action between the upper and lower bounds of support and resistance between $25.50 and $20.50. Often you see shares move back to the mid-point of a sideways move after hitting the extremes.
Like CBA, WBC is coming back to the lower bound as a final test to see if this level will continue to hold the price up. However, until it makes the move we will not know whether it will hold. Looking at the chart, I believe it is more likely to break below this level.
There is a noticeable difference between the chart of WBC and the other banks. I refer to the gap down in price recorded when WBC went ex-dividend in May. This occurred from the close on Friday, May 13 to opening on May 16 (the day NAB went ex-dividend). The price fell $1.13, just $0.01 less than the 1.5 times calculation mentioned above, which suggested it would fall $1.14. This strong move down shows how buyers did not come back in to support the shares, and creates a marker to which WBC may attempt to trade up to, so as to 'fill the gap'.
That said, if it continues down, watch the support level at $20.50 as it has supported price for the past 12 months. My analysis suggests it is likely this level will be broken and we must consider the downside risk. There is support not far below at the Fibonacci level of 38.2 per cent ($19.36) of the all-time high, as well as a natural level of price support at $18.00.
Westpac chart - 1984 to 2011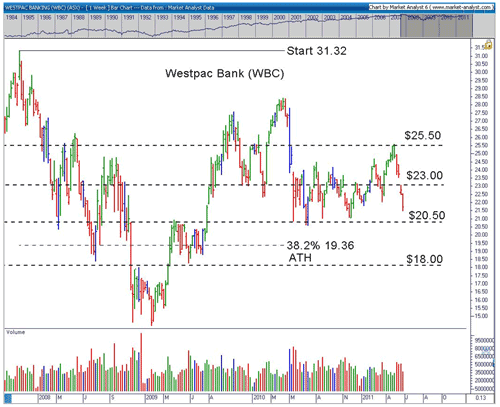 Source: Market Analyst
Given that all Big Four banks look weak, I suggest investors do the wise thing and set stop-losses to protect capital. As anyone who practices the proper use of stop-losses will tell you, it is far safer and more profitable to protect your capital than to hang on hoping for the best.
About the author
Dale Gillham is author of How to Beat the Managed Funds by 20%, and Director/Chief Analyst of Wealth Within.
From ASX
ASX Charting Library provides a wealth of free material for beginners through to advanced chartists.
<!IoRedDot_txt_disclaimer>The views, opinions or recommendations of the author in this article are solely those of the author and do not in any way reflect the views, opinions, recommendations, of ASX Limited ABN 98 008 624 691 and its related bodies corporate ("ASX"). ASX makes no representation or warranty with respect to the accuracy, completeness or currency of the content. The content is for educational purposes only and does not constitute financial advice. Independent advice should be obtained from an Australian financial services licensee before making investment decisions. To the extent permitted by law, ASX excludes all liability for any loss or damage arising in any way including by way of negligence.

© Copyright 2018 ASX Limited ABN 98 008 624 691. All rights reserved 2018.