Secret to great investing
This article appeared in the July 2011 ASX Investor Update email newsletter. To subscribe to this newsletter please register with the MyASX section or visit the About MyASX page for past editions and more details.
Learn why asset allocation is the most critical driver of portfolio returns.

By Robin Bowerman, Vanguard
There is one investment decision that affects your portfolio's volatility and performance more than any other, yet it is an area some investors pay scant attention to.
(Editor's note: The ASX Webinar, "Taking Control of Your Retirement Savings" gives useful information on asset allocation strategies for Self-Managed Super Funds).
The asset allocation decision, many academic studies have shown, is a critical driver of your portfolio's behavior. It is also one of the key differences between how professional investors such as trustee boards of super funds, and individual investors, go about making investment decisions. Investment committees of super funds spend considerable time and resources deciding on changes to allocations to particular asset classes.
The asset allocation decision - the percentage you have in local shares versus international shares versus property versus fixed interest and cash - sets the portfolio's investment framework and its risk tolerance.
Newsagents' shelves and trading websites are full of new ideas for the next 'hot stock' or boom sector. Performance is what grabs the attention. But investing is as much about managing risk as performance, and as many people found during the global financial crisis, you ignore risk at your peril because unexpected shocks will occur from time to time.
Landmark research by US academics Brinson, Hood and Beebower in 1986 and Brinson, Singer and Beebower  in 1991 found that 94 per cent of a portfolio's volatility could be attributed to its asset allocation. Subsequent studies have expanded on that work and although the detailed findings have varied, the importance of the asset allocation decision has been emphatically reinforced.
To put this in real-world context, in September 2008 after the US investment bank Lehman Brothers collapsed, the world's sharemarkets were sold off heavily. It did not matter how good a share investor you were, your portfolio was hammered - even the great Warren Buffett's portfolio had billions wiped off it.
What really mattered in 2008 was how much of your portfolio was exposed to shares compared with fixed interest and cash. Although the Australian sharemarket was down 38 per cent in 2008, the counterpoint was that a high-quality, defensive Australian fixed-interest portfolio gave investors a 14.5 per cent positive return.
Diversity gives protection
Asset allocation refers to the spread your money across different asset classes, for example, shares, property, bonds and cash, with the objective being to create a diversified portfolio of investments. The key benefit of spreading investments across different asset classes is better protection from the downside risk of being exposed to only one asset class.
Fundamentally, how you allocate assets depends on how much risk you are willing to take for an expected return. And that depends on why you are investing, and when you might need access to your money.
All investors received a lesson in diversification in the global financial crisis. But for retirees - particularly those running a self-managed super fund (SMSF) - the GFC truly demonstrated the power and value of devoting time to take a portfolio view and understand the asset allocation decision.
This is not to play down the challenge of researching and valuing specific companies, but rather to separate the two decisions: first set the asset allocation based on your risk tolerance, investment goals and age; then go about selecting investments within the specific asset class.
This is far from a 'set and forget' strategy. As markets move around, the process of staying the course with a long-term strategic asset allocation plan takes discipline and the ability to rebalance regularly. Sometimes markets move around dramatically, and over time portfolios may drift away from their allocations and need rebalancing in order to manage risk.
Investors can be captive to the dominant emotions of the day. This is demonstrated by research into US fund management industry cash flows undertaken by the US Investment Company Institute. It shows, quite dramatically, that investors as a group follow three-to-five-year performance numbers, hence people were piling into technology shares in 1999-2000 after five years of 20 per cent or more returns.
The converse happened in 2001-02 when cash flowed heavily into bonds just before the sharemarket rally began. More recently, as the US sharemarket recovered strongly in 2010, investors in the US were still pulling money out of shares and piling it into fixed interest. So investor returns inevitably lagged the market returns.
Discipline a powerful strategy
One of the challenges of an investment strategy is the ability to block out noise and interruptions. This is where having the discipline to keep your portfolio within predetermined asset allocation levels is a powerful strategy.
Trying to pick the next 'hot stock' is something even the most seasoned professional investors struggle to get right, and the odds are stacked against you. Adopting a more strategic long-term asset allocation plan may mean trading off the chance that a speculative gamble pays off, for a more measured wealth accumulation path that has a core aim of avoiding the minefields that can destroy wealth.
Three basic questions cover most of the decisions needed to compile an effective and tailored portfolio allocation plan:
What are your goals and timeframe?
How well do you sleep at night (how much risk are you willing to take on)?
Are all your eggs in one basket?
You can reduce your investment risk through diversification. That means spreading assets across different asset classes, market sectors, capitalisation levels, and countries. Just bear in mind that no amount of diversification can guarantee you will turn a profit, or protect you from losses in a declining market.
'Core and satellite' approach
If your portfolio is anything like the majority of Self-Managed Super Fund portfolios in Australia, you probably will have a fairly even split of assets in cash and direct shares.
A good way to augment a portfolio to improve its diversification is to employ a more focused approach to the construction of the portfolio. An example of such a strategy is the 'core and satellite' approach that involves investing the core of the portfolio investment in a way that locks in the market returns, for example via an exchange-traded fund (ETF) covering the Australian or overseas sharemarkets.
You can then devote time to selecting the specific share 'satellites' where you have a high level of confidence that there is potential for outperformance. The overriding objective is to control risk and lock in market returns while maintaining the flexibility to invest where you are confident of strong performance.
The chart below shows what a 'core and satellite' asset allocation might look like with a mix of investments across asset classes.
Core and satellite asset allocation image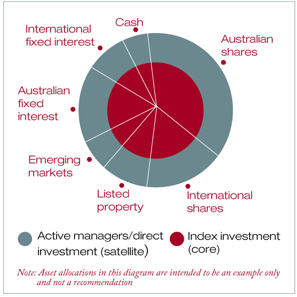 Source: Vanguard
Stay focused and rebalanced
Having implemented an asset mix you are comfortable with, movements on sharemarkets will change your portfolio over time even if you never make another transaction.
In a long bull market, the relative value of your funds in shares might grow to dwarf your holdings in bonds and cash. As a result, you may be taking significantly more risk than you originally intended, or need to. It is wise to periodically rebalance the portfolio to prevent it drifting too far from your asset allocation targets.
Maintaining an asset allocation requires the discipline to rebalance regularly, something that is easier said than done when it comes to selling off winning investments and rebalancing the portfolio by investing in the (typically) underperforming asset class.
And it can come with a tax bill, so advice is important to understand the full picture.
One thing to think about when rebalancing your portfolio is the concept of refining, as distinct from reinventing. When conducting an ongoing strategic asset allocation review, do not seek to rework your initial allocation unless there is a good reason. Moving into retirement is an example of a life transition where reweighting may be entirely appropriate. In general, knee-jerk responses to short-term market moves can lead to bad investment outcomes.
The focus in reviewing the strategic asset allocation is long-term stability and robustness of actual allocations. In addition, the process aims to balance this objective with evolving structural change in financial markets.
The 'does it make sense?' test
It may seem trivial, but any change to your strategic asset allocation should first be considered from a 'does this make sense?' perspective. Does it make sense given your risk profile and does it make sense in relation to your end game? For example, if you need to create income, then too much in growth assets may not make sense.
Asset allocation levels should be reviewed at least annually. But a review may also be prompted if there are major legislative (e.g. tax) reforms or there is an assessment of structural change in relative expected returns, or when sector-level offerings may enable either a refinement or broader asset class diversification of the strategic asset allocations.
In the end, some enduring principles may help to steer your investment on the right course: keep costs low, ensure adequate diversification to achieve a portfolio that fits your risk profile, and avoid timing the markets.
About the author
Robin Bowerman is Head of Retail at index fund manager Vanguard Investments Australia. To receive his column by email each week, register with Smart Investing.
From ASX
ASX SMSFs provides useful information about the basics of establishing a Self-Managed Super Fund.
<!IoRedDot_txt_disclaimer>The views, opinions or recommendations of the author in this article are solely those of the author and do not in any way reflect the views, opinions, recommendations, of ASX Limited ABN 98 008 624 691 and its related bodies corporate ("ASX"). ASX makes no representation or warranty with respect to the accuracy, completeness or currency of the content. The content is for educational purposes only and does not constitute financial advice. Independent advice should be obtained from an Australian financial services licensee before making investment decisions. To the extent permitted by law, ASX excludes all liability for any loss or damage arising in any way including by way of negligence.

© Copyright 2018 ASX Limited ABN 98 008 624 691. All rights reserved 2018.