How the free ASX iPhone App works for you
This article appeared in the August 2011 ASX Investor Update email newsletter. To subscribe to this newsletter please register with the MyASX section or visit the About MyASX page for past editions and more details.
New interactive tool keeps the sharemarket in your pocket.
From ASX
About 60,000 investors have downloaded the ASX iPhone Application since its release in late June, making it one of Australia's most popular finance and investment Apps. You can preview and download the ASX iPhone App, via iTunes.
ASX launched the free App to help people access sharemarket data via their iPhone, extend the ASX website's reach, and provide another useful information service for share investors, with real time alerts delivered to investors - effectively providing a way of keeping the sharemarket in your pocket.
ASX has been at the forefront of using new technology to deliver free sharemarket information and education to investors. Tens of thousands of investors each year use ASX Online Courses to learn about ASX Listed products in an interactive, convenient e-learning format.
ASX has also introduced Webinars to provide a live interactive educational opportunity via the internet, added new video features to ASX Podcasts, and updated its Website homepage last year.
ASX Investor Update asked Mary Ramsay, Manager of ASX Interactive Services, about the new ASX iPhone App, screenshots of which are below: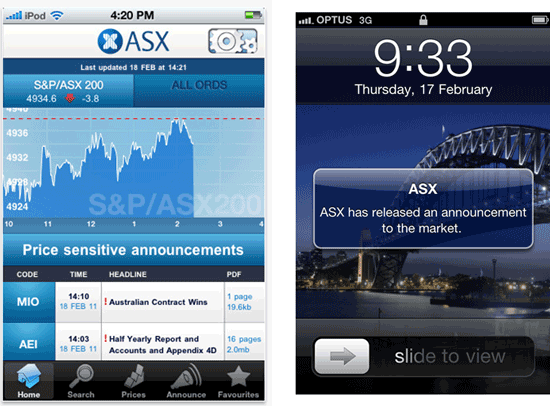 ASX Investor Update: Mary, how does the App work?
Mary Ramsay: The ASX iPhone App has been developed to help iPhone users keep up-to-date with the market, wherever they are. It enables users to closely monitor up to 20 listed companies by setting these up in their Favourites for easy future reference. The Favourites tab in the application provides 20-minute delayed prices and all company announcements released in the past 30 days. Users can also choose to receive real-time alerts when their Favourite companies release an announcement to the market.
ASX Investor Update: What do you mean by alerts?
Mary Ramsay: The App utilises Apple's push notification functionality to send an alert to your iPhone when one of your Favourite companies releases an announcement to the market - just like an SMS. The alerts functionality is free and can be turned on and off for each company, or can be filtered to only send alerts for price-sensitive announcements.
ASX Investor Update: What are the App's other main features?
Mary Ramsay: Other features include a search function for prices of all equity securities, such as shares and exchange traded funds (ETFs). The price results display 20-minute delayed prices during market trading, and users can also enter up to 10 codes at once to get all 10 results in the one view.
ASX Investor Update: Who does the App suit?
Mary Ramsay: Anyone with an iPhone who is interested in the sharemarket will benefit from using this App. Those just starting out will be able to get a snapshot of the general direction of the sharemarket during the day. Regular investors will be able to track specific listed companies they hold shares in, or may hold in the future, using the Favourites functionality.
ASX Investor Update: How does it differ from the ASX website?
Mary Ramsay: Our research shows us that prices and announcements are one of the main reasons more than 1.5 million visitors access our website each month, so ASX has created the application to extend the website's reach. The application not only offers the same popular features of the ASX website, but also has the added benefit of being available in an application with alerts that allow users to be notified immediately when one of their chosen listed companies releases an announcement.
ASX Investor Update: So you can obviously monitor specific listed companies with the App, but what about general market performance?
Mary Ramsay: Users can view the performance of the current trading day by monitoring broad market benchmarks, such as the S&P/ASX 200 and All Ords indices, in real-time. You can also review the day's top gains and declines for the S&P/ASX 200 index to get a sense of the top movers for the trading day.
ASX Investor Update: Does the App cost anything?
Mary Ramsay: No, the application is free to download and can be downloaded from the App Store. (Editor's note: If you have not already installed iTunes on your computer, you can find it here.)
ASX Investor Update: Finally Mary, where can people go to find more information?
Mary Ramsay: ASX has a dedicated page on its website that provides more on the App's features and how to download it.
From ASX
If you have any questions or comments about the App, email ASX at info@asx.com.au or phone 131 ASX (131 279).
<!IoRedDot_txt_disclaimer>The views, opinions or recommendations of the author in this article are solely those of the author and do not in any way reflect the views, opinions, recommendations, of ASX Limited ABN 98 008 624 691 and its related bodies corporate ("ASX"). ASX makes no representation or warranty with respect to the accuracy, completeness or currency of the content. The content is for educational purposes only and does not constitute financial advice. Independent advice should be obtained from an Australian financial services licensee before making investment decisions. To the extent permitted by law, ASX excludes all liability for any loss or damage arising in any way including by way of negligence.

© Copyright 2018 ASX Limited ABN 98 008 624 691. All rights reserved 2018.