This article appeared in the August 2011 ASX Investor Update email newsletter. To subscribe to this newsletter please register with the MyASX section or visit the About MyASX page for past editions and more details.
Coverage of ETFs expands choice in warrants market.

By Donahue D'Souza, Macquarie
MINIs, a type of ASX Listed warrant, are being launched over commodity and emerging market exchange traded funds (ETFs) for the first time. MINIs provide leveraged exposure to a range of assets. They were launched in Australia in 2007 and initially marketed as an alternative to other leveraged products, such as contracts for difference (CFDs), but with a number of key differences.
MINIs were initially launched in Europe about 10 years ago and introduced in Australia by ABN Amro (now Royal Bank of Scotland). Despite being a leveraged product introduced just before the Global Financial Crisis, MINIs have been one of few investment products to grow.
The ASX MINIs market has continued to gather momentum and today MINIs account for approximately 25 per cent of all turnover in the warrants market, ASX data shows.
(Editor's note: Learn about the features, benefits and risk of warrants through the free ASX Warrants and Instalments Course.)
The mechanics of MINIs
MINIs do not have complicated options pricing and have grown in popularity because of their simple and transparent structure. The value of a Macquarie MINI is simple and easy to understand.
Value of MINI Long

= (Reference Asset Price - Strike Price)/Conversion Factor.

Value of MINI Short

= (Strike Price - Reference Asset Price)/Conversion Factor.

For example, if the current CBA share price is $50 and the Macquarie MINI strike is $40, the value of the Macquarie MINI is:

($50 - $40)/1 = $10
The strike reflects the amount of leverage and is adjusted daily for your interest cost and is also adjusted for any dividends paid on the underlying asset.
The risks
MINIs are still a leveraged instrument and as such investors should familiarise themselves with the risks and mechanics of MINIs. Investors should read the issuer's product disclosure statement (PDS) and refer to the daily pricing sheet before investing in a MINI. The PDS can be obtained from the ASX website or the issuer.
Here are the main risks when investing in MINIs:
Performance risk. The underlying investment may not perform well and consideration should be given to the performance required to breakeven and the impact of the funding cost adjustment on any breakeven.
Leverage risk. Losses and gains will be magnified.
Counterparty/issuer risk. Obligations are unsecured contractual obligations.
Stop-loss risk. Poor performance may cause a stop-loss event to terminate the MINI. There is no certainty that Macquarie will be able to achieve the stop-loss level when determining the stop-loss amount.
Liquidity risk. At certain times there may be limited or no liquidity; this is mainly influenced by the underlying asset.
Early termination. Macquarie may terminate a Macquarie MINI on the occurrence of an issuer call event or extraordinary event.
The benefits
The main attractions of MINIs are that they:
Offer similar leverage levels to margin lending but without margin calls or ongoing obligations to deposit further capital. This means the investor has only the initial invested capital at risk.
Generally move on a one-for-one basis with the underlying reference security. This makes cash flows and valuation simple and transparent so investors always know what their MINIs are worth, and with daily pricing can easily track returns.
Offer investors flexibility in that they can execute long and short positions, making them potentially suitable for a range of trading strategies.
Can be traded through an online brokerage account or existing broker.
Offer investors access to a range of investments, such as Share MINIs, ETF MINIs and Index MINIs.
MINIS over ETFs - best of both worlds
Also growing strongly in terms of dollar turnover, range of investments and number of issuers have been exchange traded funds (ETFs) and exchange traded commodities (ETCs).
An ETF is, generally, a trust or company that invests in baskets of shares with the intention of tracking a particular index. ETFs enable investors to gain exposure to a portfolio of shares, specific segments of equity, fixed income, and commodity markets with relative ease and at a lower cost than many other forms of investing. ETFs have opened a new world of investment opportunities and have fundamentally changed how institutional and retail investors construct their investment portfolios.
The chart and table below highlight the growth of ETF/ETCs on ASX.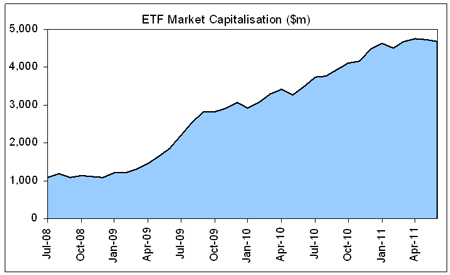 Source: ASX
According to ASX, at June 30, 2011 there were 55 ETFs/ETCs available to trade from eight issuers covering a range of asset classes. The total combined market capitalisation has grown to $5.3 billion.
ETF MINIs
Even though ETFs trade on ASX and despite their growth and popularity, there have been limited geared solutions or derivative instruments offered over them. There are exchange traded options, trading warrants, instalment warrants, margin lending, CFDs and MINIs offered over shares. But investors have generally had limited solutions when it comes to gearing ETFs without being subject to margin calls.
Macquarie intends to combine the growth and appeal of MINIs with that of ETFs. We believe investors like the features of MINIs and ETFs, as shown by the continued increase in volumes across both products. By using MINIs over ETFs, investors can gain a geared exposure into some of their favourite ETFs without being exposed to margin calls.
In addition, as MINIs have no expiry date, both short-term traders and long-term investors can use ETF MINIs as part of their trading or investment strategy.
How to identify a MINI
Macquarie will initially issue three ETF MINIs, including a MINI Long over the State Street Global Advisors SPDR S&P/ASX 200 Fund (ASX Code: STW). Others are over emerging markets and gold bullion ETFs.
ETF
Benchmark
ASX Code
Macquarie MINI code
SPDR S&P /ASX200 Fund
S&P /ASX200
STW
STWKMA
iShares MSCI Emerging Markets
MSCI Emerging Markets
IEM
IEMKMA
BetaShares Gold Bullion ETF (AU$ hedged)
Gold (hedged)
QAU
QAUKMA
Investors can obtain more information on MINIs by visiting ASX or Macquarie.
About the author
Donahue D'Souza works in derivative sales at Macquarie.
From ASX
Learn about the features, benefits and risk of warrants through the free online ASX Warrants and Instalments Course. This interactive course has been structured to cover all aspects of the warrants market and enables you to progress through all topics or select one of particular interest.
<!IoRedDot_txt_disclaimer>The views, opinions or recommendations of the author in this article are solely those of the author and do not in any way reflect the views, opinions, recommendations, of ASX Limited ABN 98 008 624 691 and its related bodies corporate ("ASX"). ASX makes no representation or warranty with respect to the accuracy, completeness or currency of the content. The content is for educational purposes only and does not constitute financial advice. Independent advice should be obtained from an Australian financial services licensee before making investment decisions. To the extent permitted by law, ASX excludes all liability for any loss or damage arising in any way including by way of negligence.

© Copyright 2018 ASX Limited ABN 98 008 624 691. All rights reserved 2018.