Charts give warning signals
This article appeared in the September 2011 ASX Investor Update email newsletter. To subscribe to this newsletter please register with the MyASX section or visit the About MyASX page for past editions and more details.
Market floors and ceilings don't just crumble overnight.

By Greg Tolpigin, Tradeideas.com.au
The recent volatility and sharemarket sell-off caught many investors off guard. You can lessen that by using some basic chart analysis and being disciplined to the signals that charts can create. A simple adoption of support and resistance levels can go a long way in ensuring you capture shares and/or asset classes on the move and, more importantly, avoid those that are in the midst of a prolonged bear market.
Support acts like a floor, holding prices up, and resistance acts as a ceiling, keeping a lid on prices. The assumption is that when support breaks and prices move below that point, selling momentum increases and prices fall even further. The reverse occurs when resistance is breached, triggering fresh buying. Naturally there are minor and major support and resistance levels, and the more significant the support or resistance level the greater the subsequent movement in price will be, once it is breached.
The recent equity market volatility was preceded by (and forecast) by crucial breaks of important support levels, not just across equity markets around the globe but also other asset classes such as bonds, which gave a very clear warning signal. Moreover, gold prices had also broken through key resistance levels before equity markets plummeted; suggesting markets were beginning to experience a shift away from riskier assets.
The first four charts below show resistance signals could have helped investors avoid the carnage; the fifth, on gold, shows how they could have profited from the precious metal's rally.
Crucial support highlighted on indices
First, a look at two major global indices. The DJ-Euro Stoxx 600 Index covers the top 600 companies across the entire European region, and the S&P 500 index in the US. Highlighted on the Stoxx 600 Index chart is the crucial support that exists across the 261 level (shown by the horizontal line drawn) which incorporates the lows of November 2010, March 2011 and June/July 2011.
Each time the index retreated back to that level, strong buying emerged and prices began to move higher, once more leaving behind an important low point. Clearly any failure to hold that level is a signal that the market dynamics are changing and that buying that had previously been able to maintain this support level either is absent or overwhelmed by selling pressure. Either way, with a support level stretching back nine months breaking, a warning signal emerged for investors that lower prices were now likely.
DJ-Euro Stoxx 600 Index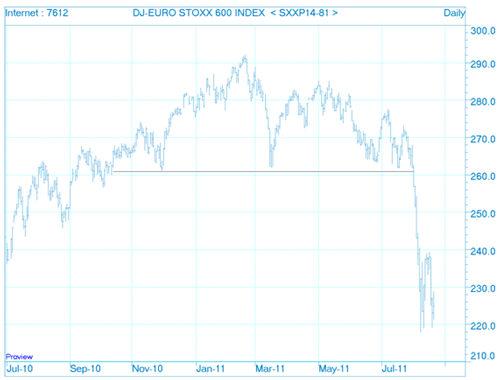 For the S&P 500, a similarly important support level existed across 1250. This level combined the post-Japanese earthquake low in March and the June lows. Any move below this would acknowledge that the many attempts over the previous months to break resistance and move to new multi-year highs, had failed.
These attempts to break through resistance of 1350/1370 are shown at (1), (2) and (3) on the chart, where buying demand and investor interest was not sufficient to overcome this resistance. As the buying became exhausted, prices weakened and once the crucial support level of 1250 was breached, investors rushed to sell and prices plummeted.
S&P 500 Index 
One of the more important aspects to forewarning the equity market sell-off was the movement in bond yields. (Editor's note: The ASX interest rate securities course explains the benefits, features and risks of fixed and floating-rate products. This free online course is a good place to start for those wanting to learn about the basics of bonds).
Similar to the equity market indices already shown, significant support levels existed across 4.15 per cent on the 30-year US Treasury bond yield. This support level in fact broke before the equivalent support levels did on the Euro Stoxx 600 and the S&P 500, giving a warning there was a genuine flow of funds out of riskier assets such as equities and into the safety of bonds (as bond prices rise/yields fall). Such shifts are often very powerful and create market-moving trends.
US 30-year bond yield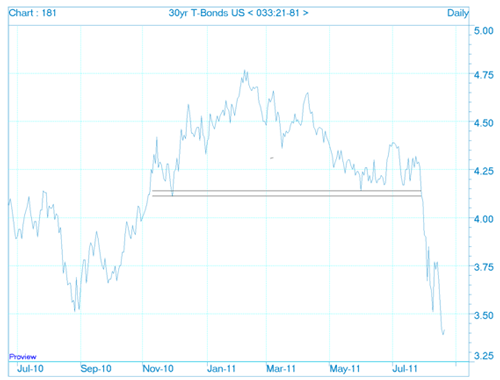 This relationship is best reflected in the comparison chart of the US 30-year bond yield and the S&P 500. The positive correlation between bond yields and equity markets exist because yields are a reflection of economic growth and prosperity. As bond yields fall, it reflects the outlook for a slowdown in economic growth and thus company earnings.
Investors are willing to purchase bonds (even at low yields) as they prefer the security of such a return over the risk associated with an equity investment. With this very strong relationship, it is important that investors keep a watchful eye on activity within the bond market, because this has direct influences over the direction and performance of equity markets.
As the economy improved in the latter half of 2010, bond yields moved higher in line with the S&P 500 as money flowed out of the bond market (bond prices falling, yields rising) and into equities. With the underlying improvement in the economy, earnings also improved and supported the ongoing rally. Unfortunately, as the signs began to emerge that the economy was stalling (combination of weakening economic data and the conclusion of the Federal Reserve's quantitative easing program) bond yields again began to head lower. Importantly, they did so before the S&P 500 peaked, giving a leading sign that the rally in equities was likely to falter.
US 30-year bond yield v.s. S&P 500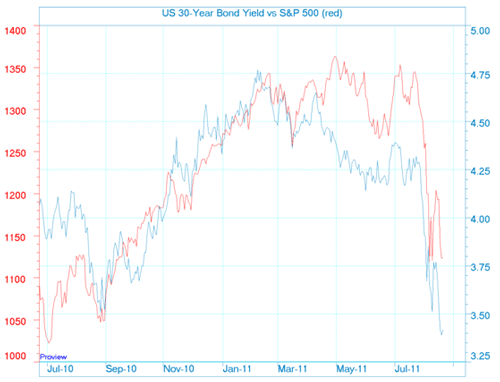 Finally, a look at gold prices shows the use of resistance levels in practice. Gold has been grinding its way higher for several years with several pauses along the way during its record-breaking rally. The gold chart below shows the performance of prices over the past 12 months, and the last key resistance level to break existed across the May peak of US$1577/ounce.
Gold had paused below this level, consolidating the gains seen in the first half of 2011. The break of resistance in mid-July signalled two key things: gold was embarking on another re-rating higher, and this renewed appetite for gold reflected concerns over equities. The break-out in gold above resistance at US$1577/ounce coincided with equity markets weakening and reflected investors de-risking their portfolios.
Gold chart
By following this flow of signals via support and resistance, as we have shown, investors using just this basic principle would have firstly moved more of their portfolio into holding gold when it broke through resistance levels. The breach of support levels across bond yields was a secondary sign to be more conservative with a higher cash component, and finally, when support levels eventually broke across equity indices around the world, it should have been the final signal to exit most, if not all, holdings, thus saving much pain and torture.
Another way of considering support and resistance levels is too view them as boundaries. Markets operate within one set of boundaries (support and resistance) and when that boundary is exceeded the market moves on to the next boundary and so forth. When there is a shift in market dynamics and behaviour, there will always be a break of this boundary, or support in this case, before the market collapse or correction occurs.
By adopting a disciplined approach to following market performances, even in a simple manner of just applying support and resistance, it can be seen that warning signals are given before impending market corrections. These signals can be used to adjust portfolio weightings and move into cash to protect capital.
As we have run through examples of how to use the basic principles of support and resistance to not only improve your investment returns, but to also protect capital, it is clearly visible that contrary to most people's memories, markets do not suddenly crash from record highs. They do not rally endlessly and then one random day, by total surprise, they crash. There is always a considerable period of weakness leading into the "crash".
That was the case in October 1987, the GFC of 2008 and even before the September 11, 2001 terrorist attacks. Casting back to the charts above, equity markets had peaked months before this latest correction and had been falling consistently into the large one-day falls that eventually made front-page news.
About the author
Greg Tolpigin is the founder of Tradeideas, a free educational website for traders.
From ASX
The ASX Charting Library provides a wealth of free material for beginners through to advanced chartists.
<!IoRedDot_txt_disclaimer>The views, opinions or recommendations of the author in this article are solely those of the author and do not in any way reflect the views, opinions, recommendations, of ASX Limited ABN 98 008 624 691 and its related bodies corporate ("ASX"). ASX makes no representation or warranty with respect to the accuracy, completeness or currency of the content. The content is for educational purposes only and does not constitute financial advice. Independent advice should be obtained from an Australian financial services licensee before making investment decisions. To the extent permitted by law, ASX excludes all liability for any loss or damage arising in any way including by way of negligence.

© Copyright 2018 ASX Limited ABN 98 008 624 691. All rights reserved 2018.