This article appeared in the September 2011 ASX Investor Update email newsletter. To subscribe to this newsletter please register with the MyASX section or visit the About MyASX page for past editions and more details.
Learn about ASX-listed companies in new ASX Corporate Profile video series.
From ASX
Want to learn more about West African-focused gold explorer Azumah Resources or clean-tech company Algae.Tec? How about the iron ore company Grange Resources? These are just a few of more than 60 ASX-listed companies that have signed up for ASX's new Corporate Profile series, which provides a short video interview to help companies inform investors.
Each three-minute video usually features a chief executive who explains their background and experience, and gives an overview of their company's business and growth plans. This helps investors put a "face" to companies and learn more about those running the company on a day-to-day basis, in a simple, user-friendly format.
Corporate Profile video example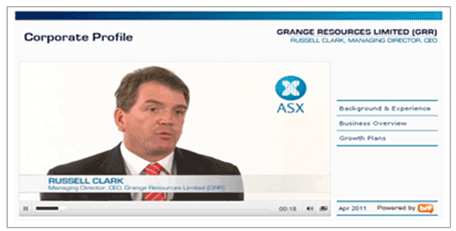 Source: ASX
Corporate Profile was initially launched to small and mid-cap companies that might not be widely researched by sharebroking firms or covered regularly in the financial media. However, all ASX-listed companies can record a video and bring their story to life through Corporate Profile.
Corporate Profile is a joint initiative between ASX and Boardroom Radio (BRR), and is part of ASX's broader efforts to help ASX-listed companies raise their profile in the Australian and overseas investment communities.
Each Corporate Profile video is distributed via the ASX website and through BRR's distribution network, which includes The Australian online. The video remains live for 12 months. Early data suggests the videos are receiving good traffic and proving popular with investors.
ASX expects more companies to take advantage of Corporate Profile over the next 12 months. So keep an eye out for a Corporate Profile video next time you enter an ASX code for an ASX-listed company on the ASX website. Below is an example of how Corporate Profile appears.
Corporate Profile example

Source: ASX
You can also view a list of all the companies that have recorded a Corporate Profile video.
Other videos are available through the popular ASX Spotlight Series, which showcases ASX-listed small and mid-cap companies at forums in Asia, London and the United States each year. You can download presentations from the ASX Small and Mid-caps Conference in Hong Kong and Singapore held earlier this year.
<!IoRedDot_txt_disclaimer>The views, opinions or recommendations of the author in this article are solely those of the author and do not in any way reflect the views, opinions, recommendations, of ASX Limited ABN 98 008 624 691 and its related bodies corporate ("ASX"). ASX makes no representation or warranty with respect to the accuracy, completeness or currency of the content. The content is for educational purposes only and does not constitute financial advice. Independent advice should be obtained from an Australian financial services licensee before making investment decisions. To the extent permitted by law, ASX excludes all liability for any loss or damage arising in any way including by way of negligence.

© Copyright 2018 ASX Limited ABN 98 008 624 691. All rights reserved 2018.