This article appeared in the October 2011 ASX Investor Update email newsletter. To subscribe to this newsletter please register with the MyASX section or visit the About MyASX page for past editions and more details.
What the charts say about fully franked shares that yield at least 10%.

By Alan Hull, author
How does someone get their hands on double-digit returns in such a weak sharemarket? Until late 2007 it was as easy as falling off a log with the Australian sharemarket powering along at well in excess of 10 per cent annually. Below is a chart of the All Ordinaries index showing the market's meteoric rise from early 2003 to late 2007.
All Ordinarires Index chart - 2000 to 2011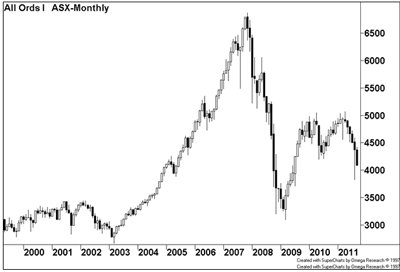 Alas, these good times are behind us and the Australian sharemarket has been in the doldrums since 2008. In fact it is currently forming a major low, which can be seen in the following chart of the All Ords that goes back to the 1987 crash.
All Ords chart trendline - 1987 to 2010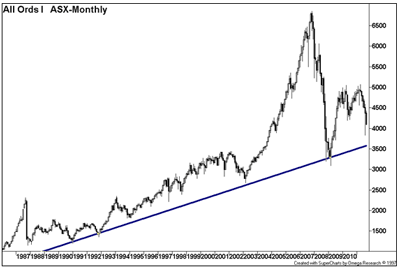 The chart above shows how the market is trending downwards and that there is still, potentially, a little distance to go before we hit the long-term trendline.
I would hope this trendline provides some support, but it is actually more than 10 per cent away from where the market is trading at the time of writing. So if you were thinking of buying shares right now in the hope of realising some capital growth in the near future, I would think again. There is a danger of our market falling further in the short term.
Warren Buffett would probably be happy
In my view, this is not a time to be buying shares for capital growth but rather a time to be focusing on income shares that pay reliable dividend yields. In other words, this is Warren Buffett's time and that is why we have been hearing and seeing so much of him in the financial news. Is it possible that, like him, we too can find shares yielding double-digit returns? The short answer is yes.
What is more, most of these high-yielding shares are to be found in the top 25 ASX-listed companies, based on market capitalisation at the time of writing. I'm not declaring that Buffett would be happy with the fundamentals of these companies, but he certainly has demonstrated through his own investment choices that he would be happy with their yields.
Let's take a closer look at these high-yielding blue chips, starting with the Big Four banks. (Editor's note: For a fundamental view on banks stocks, read the article by Clime's Matthew Koroi in this issue.) I don't think it is necessary, or helpful, to analyse them separately for the purpose of this exercise, so I'll list their vital statistics together).
| Code | Price | Div. yield | Franking |
| --- | --- | --- | --- |
| ANZ | $19.32 | 7.14% | 100% |
| CBA | $45.11 | 7.09% | 100% |
| NAB | $22.48 | 7.21% | 100% |
| WBC | $19.31 | 7.77% | 100% |
I have included franking (tax credits) because this must be taken into consideration when working out the true yield of these shares. For all the Big Four, the franking is 100 per cent, which means the banks have paid the full amount of company tax owing (at 30¢ in the dollar) on 100 per cent of their earnings.
To encourage investment in shares, the Federal Government many years ago decided that the tax paid by companies could be passed on to investors in the form of tax credits. So not only does ANZ Bank pay out an annual dividend yield of 7.14 per cent (at the time of writing) but it also comes with a tax credit of 30¢ in the dollar.
To compare apples with apples when it comes to dividend yields, it is necessary to "reverse out" the tax credits. In the case of 100 per cent franking this is achieved by simply dividing the dividend yield by 0.7.
Therefore ANZ's grossed-up dividend yield = 7.14%/0.7 = 10.2%
And bingo, ANZ is yielding just over 10 per cent per annum when we take the tax credit into account. In fact, any dividend yield equal to or greater than 7 per cent that comes with a tax credit of 100 per cent will gross up to 10 per cent or more. Hence, all the Big Four banks at the time of writing are yielding just over 10 per cent per annum when their franking credits are taken into account.
I will include a small caveat here, because not everyone can make full use of the tax credits received because they do not pay that much tax in the first place. This is particularly relevant to superannuation funds, where the tax being paid can often be very low and in many cases is well below 30¢ in the dollar. To find out if you can make full use tax credits, speak to your accountant and/or financial planner.
I should mention that the forward projections by the Big Four are for an increase in their dividend payments over the next couple of years. I am fairly comfortable with the idea of buying and holding their shares for the long term, given that the banks' long-term future prospects are generally very good, in my opinion. Our banks seem to have mastered the ability to prosper in both good times and bad, if the GFC is anything to go by.
If we take ANZ's share price to be reasonably indicative of all of the Big Four, which I believe it is, then we can employ it as a sort of charting proxy for this group. The following chart shows ANZ (red line) overlayed with the All Ordinaries index (black line), demonstrating how similar the behaviour of the four banks has been to the All Ords over the past 10 years.
ANZ bank chart overlaid with All Ords - 2001 to 2011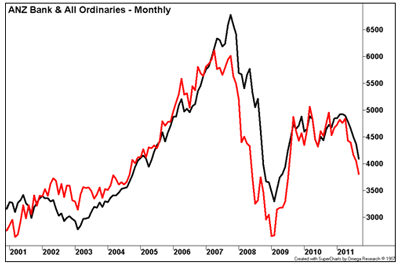 This is important, because it suggests the four banks will probably recover along with the broader share market. I'm not sure when that will happen, but it will. Therefore I believe these banks are currently an attractive proposition as income shares and their prices will ultimately recover from their current lows.
Telstra
I'm not so sure about Telstra, another stock in the top 25, even though it is currently yielding a very attractive 9.33 per cent plus 100 per cent tax credits: a grossed-up dividend yield of 13.33 per cent.
Telstra monthly chart - 2000 to 2011
Investors have moved away from Telstra shares over time; a very attractive dividend yield has been offset by a falling share price.
QBE Insurance
To the last share in the top 25 that is yielding double-digit returns, QBE, which has a grossed-up dividend yield of 10.15 per cent annually. But again, here is another share price that has been constantly on the decline for the past several years and therefore it has me a bit spooked as well.
QBE monthly chart - 2006 to 2011
What is the point in chasing high yields if they are just going to be gobbled up by a constantly falling share price? Mind you, I don't think QBE is in the same boat as Telstra in terms of its business model, but right now its share price is clearly in a very well-established downtrend.
I would be inclined to wait for signs of a reversal in QBE's long-term downtrend and then take another look at it. Hence, even when assessing and acquiring income shares, I still bring every skill I have to the table: fundamental and technical analysis, an understanding of the broader economy, and my business acumen.
About the author
Alan Hull is a share trader, fund manager and author of the investment books Blue Chip Investing and Active Investing-A Complete Answer. More information is available at www.alanhull.com.au. To request a copy of his PDF chapters on how to identify and manage asset class shares (income), emails to enquiries@alanhull.com
From ASX
The ASX website has a wealth of free education material on charting. Visit the ASX Charting Library for stories that suit beginners through to advanced technical analysts.
<!IoRedDot_txt_disclaimer>The views, opinions or recommendations of the author in this article are solely those of the author and do not in any way reflect the views, opinions, recommendations, of ASX Limited ABN 98 008 624 691 and its related bodies corporate ("ASX"). ASX makes no representation or warranty with respect to the accuracy, completeness or currency of the content. The content is for educational purposes only and does not constitute financial advice. Independent advice should be obtained from an Australian financial services licensee before making investment decisions. To the extent permitted by law, ASX excludes all liability for any loss or damage arising in any way including by way of negligence.

© Copyright 2018 ASX Limited ABN 98 008 624 691. All rights reserved 2018.