This article appeared in the November 2011 ASX Investor Update email newsletter. To subscribe to this newsletter please register with the MyASX section or visit the About MyASX page for past editions and more details.
Learn to understand different oil prices and different types of oil stocks.
By Andrew McLeod, Lime Street Capital
Many factors affect the oil price on a daily basis but, as with the price of anything, it comes back to economics 101- supply and demand. Earlier this year, oil pricing came sharply into focus after the rapid escalation of civil unrest throughout much of North Africa and the Middle East, both major oil-producing regions. The ripple effect of this unrest has far-reaching implications because possible supply disruptions are "priced in" to the spot market for oil (the immediate price quoted).
There are hundreds of different grades of tradeable crude oil, but only few really matter to investors. The Brent Crude contract is widely followed and represents a blend from 15 different oil fields in the Brent and Ninian systems in the North Sea, making it a "light" crude oil ideal for producing gasoline and middle distillates. Brent is typically refined in north-west Europe and is regarded as the oil price most relevant to European and Asian markets.
West Texas Intermediate is generally the most widely followed contract and has historically traded at a slight premium to Brent because it is lighter (lower density). Commentators often speak about the "sweet" or "sour" nature of oil, which refers to the sulphur content. Sweet crude oil will typically have a sulphur content of less than 0.5 per cent (both Brent and WTI are sweet). Sour refers to oil with a sulphur content greater than 0.5 per cent.
Sulphur is an impurity and needs to be removed before oil is refined into petrol. Oil with higher concentrations of impurities costs more to process and results in higher-priced petrol. Sour crudes are typically processed into heavy oil, such as diesel.
Historical oil price - WTI and Brent Crude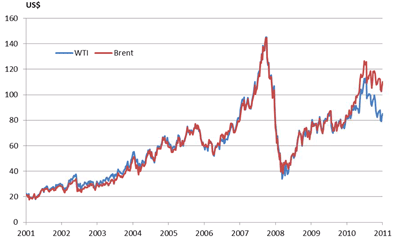 Source: Bloomberg data
The chart above highlights the volatility in the oil price over the past 10 years and indicates why trading in oil and oil-related companies is not for the feint-hearted. Since 2005 the oil markets have shown more volatility and overall price-range fluctuation than just about any time in the history of oil trading. Crude oil is the world's most actively traded commodity, and the NYMEX Division light, sweet crude futures contract is the world's most liquid forum for crude oil trading.
Interestingly, the price difference between oil traded on either side of the Atlantic has been widening in recent times amid a tug-of-war by differing economic forces. The Americas are currently experiencing a soft patch in oil demand as they battle with slowing industrial production. In Europe, the civil unrest in Libya (which supplies the European and Asian markets) has severely disrupted supply, exacerbated by falls in production from the North Sea and Nigeria. Furthermore, demand from the Asia-Pacific region (which buys its oil in London) is experiencing some of the fastest growth around the world.
So when you fill your car up for around $1.50 a litre, remember that the price at the bowser is related to Brent Crude, which is trading significantly higher than the American-based WTI price generally quoted by financial commentators.
Historically, WTI and Brent Crude prices have moved with a high degree of correlation and it is anticipated this will resume as Libyan production comes back on line, supported by "normal" North Sea and Nigerian supply.
The gold and oil relationship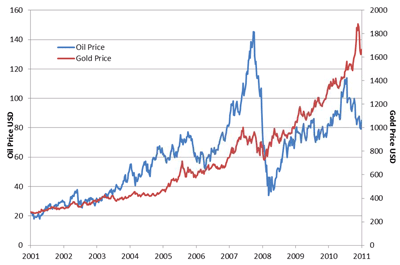 Source: Bloomberg data
Gold and crude oil have always appeared to have a close relationship. The simple explanation is that an increasing oil price is inflationary and gold has long been regarded as a hedge against inflation. Therefore, as the oil price rises, goods become more expensive to produce (extra transport, machinery costs, etc). You need more dollars to purchase the same amount of goods. Gold is the natural store of wealth and as the price of goods goes up, so should the price of gold. The chart above highlights this relationship; although the magnitude of price fluctuations differs, the directional movement of the commodities tends to be similar.
Investing in ASX-listed oil companies
There are many listed oil-focused companies, with pretty much all of them claiming they have the potential to discover the next significant oil reserve. In reality, oil exploration is high risk and typically only a small proportion of wells drilled will result in identifying an economic reserve. So what should you look for when seeking oil exposure in your portfolio?
The first step is to establish your appetite for risk. There are always a number of small-cap oil explorers with no current production and running a little low on cash in the bank. Their principal assets are typically high-risk, high-return exploration projects which, if successful, will deliver fantastic returns to shareholders. The downside is that many simply will not have enough cash to fund more than a couple of bites of the exploration cherry. In the event that these small-cap companies drill one or more dry wells, they face returning to the sharemarket to raise more funds, therefore diluting shareholders' equity (by issuing more shares), or in the worst case shutting up shop altogether.
These companies offer the greatest potential for share price appreciation, but also the greatest potential for depreciation.
Investors looking to take on some degree of exploration risk but wanting more "security" against dry wells may consider investing in oil producers (albeit with relatively small production) with an active exploration program. This allows investors to reap the rewards of exploration success, but in the event of exploration failure the company is still protected by the current production profile. These companies tend to fall within the mid-cap range between $100 million and $300 million market capitalisation.
Investors with little to no appetite for risk will naturally gravitate to the well-established producers with significant reserves already identified. These tend to offer earnings more closely aligned with the price of oil rather than exploration success, and inevitably there is less share price volatility.
One thing is certain: we live in an energy-hungry world and news of million-barrel-plus discoveries are becoming more infrequent. Demand for oil is likely to remain robust for many generations to come, driven by growth in the emerging Asian economies, and supply from conventional oil sources will struggle to match such growth- underpinning a robust outlook for the oil price.
About the author
Andrew McCleod is a senior analyst at Lime Street Capital, a well-performed specialist managed fund that invests in earlier-stage resource companies.
<!IoRedDot_txt_disclaimer>The views, opinions or recommendations of the author in this article are solely those of the author and do not in any way reflect the views, opinions, recommendations, of ASX Limited ABN 98 008 624 691 and its related bodies corporate ("ASX"). ASX makes no representation or warranty with respect to the accuracy, completeness or currency of the content. The content is for educational purposes only and does not constitute financial advice. Independent advice should be obtained from an Australian financial services licensee before making investment decisions. To the extent permitted by law, ASX excludes all liability for any loss or damage arising in any way including by way of negligence.

© Copyright 2018 ASX Limited ABN 98 008 624 691. All rights reserved 2018.