This article appeared in the November 2011 ASX Investor Update email newsletter. To subscribe to this newsletter please register with the MyASX section or visit the About MyASX page for past editions and more details.
There are fundamental reasons why this is not a traditional gold bubble.

By Greg Tolpigin, Tradeideas.com.au
Gold prices have been marching higher over the past decade, not just recently because of the European sovereign debt crisis. A combination of factors has taken their turn through various cycles in driving prices higher.
Gold prices are enjoying a strong and arguably unprecedented surge as central banks around the world pump liquidity into the financial system to avoid a collapse of the modern monetary system. They have pumped more than US$5 trillion into the system since the global financial crisis began in 2008, with more set to come from Europe, effectively diluting the value of wealth that already exists.
Against this background of continued printing of money, gold has increased in value as a store of wealth as central banks and consumers look to protect the relative values of their currency holdings. Something needs to be a stable value of wealth that can be transferred across any currency or region, and gold provides that.
This rise in gold, although at times reaching fever pitch and being speculative, is not a traditional bubble as seen with other bubbles in history, such as US housing or technology shares. There are real fundamental reasons, and although speculators do participate in all bull markets they are not the main source of demand for gold. Gold may have spiked to just over US$1900 an ounce but in my view this is unlikely to be the cycle's peak.
(Editor's note: Do not read this story as a recommendation to buy gold. Do further research of your own or talk to a financial adviser about the features, benefits and risks of investing in gold shares or products such as exchange-traded commodities over gold. The gold price can be volatile, and is affected by movements in the Australian dollar. Gold stocks typically suit more experienced investors.)
Relative values
Before analysing the actual potential of gold prices in their own right, we should consider the relative value of gold to other long-term traditional stores of wealth. One of the best comparisons is the Dow Jones Industrial Average (DJIA), which for decades has been the global benchmark for prosperity and wealth. The chart below shows that it, relative to gold, goes through huge boom-bust cycles. (Editor's note: the chart below shows the DJIA as a multiple of the US-dollar gold price).
During the boom cycles, an outperformance of the DJIA over gold is seen during 20 years between 1945 and 1965, and again in the 20-year period between 1980 and 2000. These were huge growth periods for the global economy and society enjoyed widespread prosperity. Following the 1965 peak, the outperformance of gold was quite substantial and the DJIA largely oscillated for 15 years until 1980, when the next bull sharemarket began.
During this 15-year oscillation in the DJIA, gold appreciated from levels of US$40/ounce to US$850/ounce at its peak in March 1980, marking the end of the great gold boom. Interestingly, it was in the final three months of that boom that gold experienced its largest gains, appreciating from US$300/ounce to US$850/ounce. That kind of acceleration and violent upward surges is typical in the final stages of a gold-price boom.
DJIA vs Gold Ratio - Mar-36 to Mar-08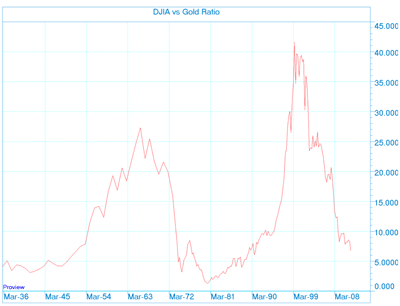 If a repeat of the prior boom-bust cycle is under way, and there is reason to believe it is, then from the peak of 2000, the DJIA to gold bust still has until about 2015 to go. Put another way, gold will still outperform for the next three or four years over returns from sharemarkets. The major US and European sharemarkets had their record peaks at the start of 2000, so a repeat of the 15-year oscillation is under way, with current indices still at the same levels as mid-2000.
With huge sovereign and consumer debt levels, an extended period of low growth and low returns is currently the norm, explaining gold's massive outperformance. Of course, during a 15-year oscillation there is no overall trend but many smaller boom-bust cycles, the most recent being the resources boom from 2003 to 2007. The chart below shows the S&P 500 on a log scale, extending back to 1950, and the similarities between the 1965-1980 period and the current post-2000 period are clear.
S&P 500 index extending back to 1950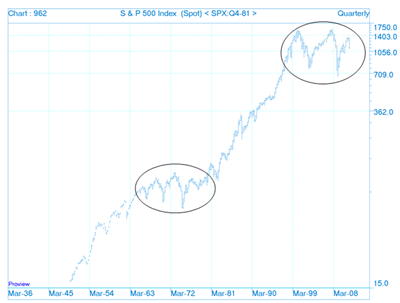 This is not a firm indication that, definitively, in 2015 the next bull market in shares will begin and will translate to an instant peak in the gold price in US dollars. There are far too many variables between now and then to make a precise forecast. Rather, we are finding clear evidence of:
Long-term equity bull markets typically last 20 years, during which gold is not an attractive investment.
After an equity bull market peak, gold becomes an outstanding investment as the bull market hangover proceeds.
This hangover can last up to 15 years.
In the final stages of this hangover gold experiences the biggest gains, a reflection of increasing speculation and a bubble developing.
With the world's problems of huge sovereign debt levels and central banks' intent on printing money to solve the problem, existing values of wealth are being eroded by this dilution. This creates the perfect opportunity for gold to continue its appreciation as central banks step up their liquidity pumping measures.
Fundamentals are bullish
Looking at US-dollar gold prices in their own right, the upward trajectory so far has arguably been very steady and orderly with the exception of the latest spike, which was quite violent. This is unlikely to mark the peak in gold but rather a mid-trend temporary high. The world's financial problems have not been solved so the underlying fundamentals are still bullish for gold.
US dollar gold prices - Jan-07 to Jan-11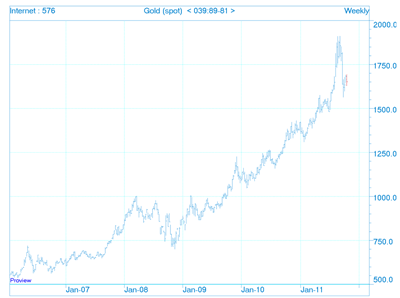 Since gold began to accelerate its upward trend in late 2005 there have been only minor pullbacks, with the exception of 2008 when gold corrected 30 per cent from peak to trough.
The chart below shows a standard deviation channel for gold, which effectively measures where extreme points are reached around a "normal" trend. That trend is currently up and each time gold touches the upper standard deviation resistance, prices invariably correct- all part of healthy and sustainable appreciation. Investors, therefore, want to avoid buying at such peaks and instead look to buy during weakness when prices touch or approach the lower end of the standard deviation channel. The latest pullback in the US-dollar gold price this year has provided that opportunity, in a similar way to late 2008.
Standard deviation channel for Gold - Jan 07 to Jan-11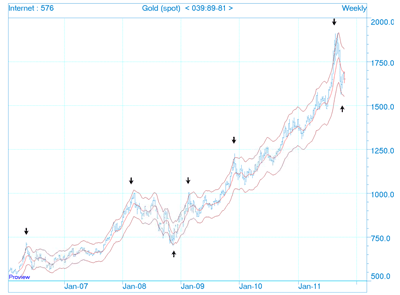 The gold shares correlation
Naturally, with the gold price having potential to rise further, gold producers could enjoy higher profits, but this has not yet flowed through to share price of most gold companies. The main reason is that buying shares in gold companies is buying equity, and when equity markets experience an extensive period of volatility, as seen in recent months, shares prices in most companies go down. This was seen from July to September when global sharemarkets fell, despite gold prices surging in term of both US and Australian dollars.
Over the past 12 months, gold prices have increased 32 per cent in US-dollar terms but just 15 per cent in Australian-dollar terms, and gold shares less than that. Indeed, Australia's largest gold producer, Newcrest Mining, has lost 4 per cent in the past year and is still at the same levels as 2007.
Other gold shares, such as Kingsgate (KCN), have fallen by 23 per cent. The biggest price appreciations have been in mid-cap gold producers where production expansion and leverage to the gold price increasing has had the biggest impact.
Implications for a portfolio strategy
First, have some gold in your portfolio. Exchange-traded funds provide an excellent avenue for direct gold exposure. The ASX-listed Gold ETF (ASX: GOLD) gives direct exposure to gold in Australian dollars. (Editor's note: A newer gold product is the BetaShares Gold Bullion ETF ($A hedged). It eliminates Australian/US dollar currency risk and provides pure gold exposure).
Second, we see potential for Newcrest Mining to be an attractive long-term investment considering its assets, gold production and current relatively cheap price. At some point and possibly soon, large overseas gold producers will recognise the extreme value available in Newcrest.
Finally, balance these two holdings with a mid-cap or junior explorer that will provide leverage to production expansion and exploration. (Editor's note: Smaller gold companies that are still in exploration phase may have higher risk than larger, established gold producers.)
 
About the author
Greg Tolpigin is the founder of Tradeideas a free website for traders and active investors.
<!IoRedDot_txt_disclaimer>The views, opinions or recommendations of the author in this article are solely those of the author and do not in any way reflect the views, opinions, recommendations, of ASX Limited ABN 98 008 624 691 and its related bodies corporate ("ASX"). ASX makes no representation or warranty with respect to the accuracy, completeness or currency of the content. The content is for educational purposes only and does not constitute financial advice. Independent advice should be obtained from an Australian financial services licensee before making investment decisions. To the extent permitted by law, ASX excludes all liability for any loss or damage arising in any way including by way of negligence.

© Copyright 2018 ASX Limited ABN 98 008 624 691. All rights reserved 2018.