This article appeared in the November 2011 ASX Investor Update email newsletter. To subscribe to this newsletter please register with the MyASX section or visit the About MyASX page for past editions and more details.
Signs of bottom in bear market.

By Dale Gillham, Wealth Within
We have all been on a car trip when inevitably someone asks, "Are we there yet?" The sharemarket has also been on a long frustrating journey over the past few years, during which investors' emotions have run hot and they have wondered many times if the market has bottomed.
On a car journey we have a map, road signs and predictable situations such as stopping for rest breaks. With the sharemarket these maps, signs and predictable events become evident in the study of market cycles and they can tell us if we are actually there yet or if there is further to go.
Cycles, whether economic, business or sharemarket, are caused by predictable human behaviour in the way we react to various circumstances. When a traffic light turns from green to red we react by applying the brakes and stopping. Human behaviour is sometimes programmed into us like that. At other times it is hard-wired into our DNA, such as how we react when subjected to fear or greed. What is clearly evident is that human behaviour is predictable, because we are all creatures of habit.
Let's look at cycles that relate to the Australian sharemarket and whether we have seen the end of the current bear market.
I will preface my comments by saying market cycles are a highly technical area for skilled and experienced traders, and I'll keep my explanations simple to help you gain a good understanding of the general principles. For example, like economic cycles, sharemarket cycles can run for centuries down to minutes within a day. Chart 1 below shows the Australian sharemarket from 1875 to October 2011. It shows the major cycles during that time, each spanning about 40 years.
Australian sharemarket from 1875 to October 2011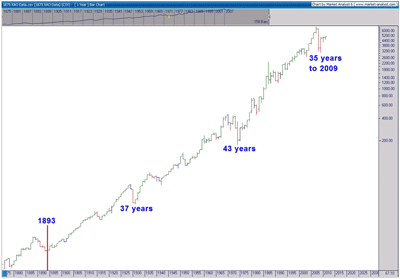 The first cycle starts after a five-year bear market from 1888 to 1893 and runs for 37 years to the great crash of 1929, with the eventual low in 1931. The second cycle unfolded over 43 years, from the low in 1931 to 1974. The last cycle, and more importantly the one we are attempting to determine, currently runs for 35 years from the low in 1974 until March 2009.
In essence, given the severity of the fall into 2009, it is reasonable to assume the sharemarket low has arrived. However, and this is where the technical bit starts to come into cycles, we cannot just measure time to formulate our conclusion.
To determine how a cycle is unfolding and more importantly if a cycle has finished, we must use all the information we have, including price, pattern and time. The market continually unfolds in price and time, and in doing so creates recognisable, repeatable patterns. I cannot go into all three areas here, but the thing to remember is that they are all important and the best traders in the world are experts in all three.
In Chart 2 below I have measured how far the market has fallen in price into the major lows from the prior high. There was a fall of 38.2 per cent into 1893, a fall of almost 50 per cent in 1931, just over 50 per cent into 1974 and in 2009. So probability suggests that a fall of around 50 per cent is more common and should be expected. Historically, this depth of fall is consistent with what you would expect on the Dow Jones, other world markets and, yes, many shares on our market.
Australian sharemarket falls from prior highs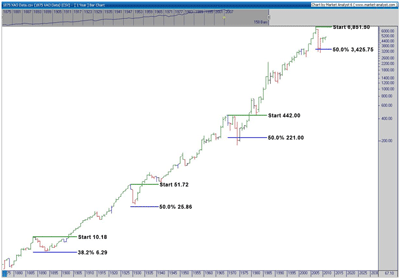 Studies by Russian economist Nikolai Kondratiev (or Kondratieff) in his book The Major Economic Cycles (1925) show the existence of cycles. A quote on Wikipedia says: "Averaging fifty and ranging from approximately forty to sixty years in length, the cycles consist of alternating periods between high sectoral growth and periods of relatively slow growth."
The unfolding of economic cycles affects the movement of all markets, and Chart 3 below shows three large grey boxes projecting the approximate 40-year cycles in our market. While the smaller grey boxes show the half cycle or 20-year lows, the three larger cycles average 38.33 years. I would prefer a larger sample size but this is not possible because of limited history, and therefore I use assumptions regarding cycle lengths from studies of the UK and US markets.
Cycles can come in early or late depending on the current economic climate and, dare I say, when governments try to stimulate or slow economies. The 40-year cycle has a timeframe from the target of plus or minus approximately 6.5 years (33.5 to 46.5 years) in which it can arrive. As seen on Chart 3, each 40-year cycle has larger falls in price than the half or 20-year cycle, and all cycles have fallen within an allowable timeframe.
Australian sharemarket 40-year cycle projections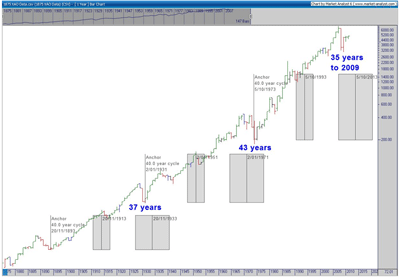 So has the market bottomed yet? The market fell in price by more than 50 per cent into 2009 and the low occurred within the allowable timeframe, so we could reasonably expect the low has occurred. That said, it happened very early and there is time for the market to unfold in a similar way to the declines into 1974 and 1893, when both bear markets unfolded over about five years.
The interesting thing is that these lows were 80 years apart, and in between was a bear market lasting only 18 months into the 1931 low. Note the low in 2009 was 78 years from 1931, and if the pattern is repeated it is conceivable that the low in 2009 was, in fact, the end of the bear market.
Erratic behaviour
There are a few reasons I cannot commit to the 2009 low just yet. First, it came in very early and apart from a six-to-nine-month bull run from March 2009, our market has remained essentially bearish, failing to rise back above 50 per cent of the distance it fell into March 2009.
Second, we would normally expect the market to be bullish after a long-term low and for the rise to continue for a lot longer than six to nine months. A further point is the very erratic behaviour the market has experienced over the past two years, which is also not consistent with what I would expect at the start of a bull market.
The good news is that past bear cycles have lasted only five years. If 2009 is not the low then probability suggests the market could very well fall away to make the final low next year. My price target for the fall is for the All Ordinaries index to fall back to or slightly below the March 2009 low, to around 3000 points. If, however, 2009 is the low then based on past history the market should settle down soon and the next bull market will ensue with a rise back above the all-important 5000-point mark in 2012.
Sectors to watch are just as predictable when markets pull up from being long-term bearish: Consumer Discretionary and Transport. Charles Dow, founder of the Dow Jones, argued that when the railroad index moved above the industrial index, a new bull market was under way. Simply, people start to spend when they feel safer about the economy. This is reflected in their discretionary spending, and those goods need to be delivered to shops. Another area to move early is media as businesses see the movement in spending and increase advertising to attract consumers.
Time will tell if the bottom has occurred, but the outlook seems promising.
About the author
Dale Gillham is author of How to Beat the Managed Funds by 20%, and is Director/Chief Analyst of Wealth Within.
From ASX
ASX Charting Library provides a wealth of free material for beginners through to advanced chartists.
<!IoRedDot_txt_disclaimer>The views, opinions or recommendations of the author in this article are solely those of the author and do not in any way reflect the views, opinions, recommendations, of ASX Limited ABN 98 008 624 691 and its related bodies corporate ("ASX"). ASX makes no representation or warranty with respect to the accuracy, completeness or currency of the content. The content is for educational purposes only and does not constitute financial advice. Independent advice should be obtained from an Australian financial services licensee before making investment decisions. To the extent permitted by law, ASX excludes all liability for any loss or damage arising in any way including by way of negligence.

© Copyright 2018 ASX Limited ABN 98 008 624 691. All rights reserved 2018.