This article appeared in the December 2011 ASX Investor Update email newsletter. To subscribe to this newsletter please register with the MyASX section or visit the About MyASX page for past editions and more details.
This simple charting technique can help you avoid heavy losses.

By Regina Meani, author
The stop-loss must be the most essential requirement of any trading or investing plan, whether it is based on fundamental or technical methods. Once a trader or investor enters a position, preservation of capital is paramount, with the catchcry being "maximize profits and minimize losses". The stop-loss is in some ways an insurance policy. If an investment position or trade fails to perform or begins to turn negative, you need a strategy in place to minimize risk. Regina is hosting a free online webinar on market and stock trends, on December 13, 2011 at 7.30pm. If you would like to register, email Regina.
There are many different ways to set stop-losses. The fundamental analyst may employ an array of statistical methods, one of the most common being when a percentage of the capital invested is lost, the investor closes out the position. However, for this exercise we will use only technical analysis methods.
Some of the most basic of those can be very useful in employing stop-losses. The trendline is one of the simplest and easiest techniques and can be used over any timeframe, and is therefore suitable for both trader and investor.
In the following example (Chart 1) on the monthly chart for Lend Lease (LLC), the long-term investor may have purchased the shares in the uptrend around $5.50 in mid-1989 and continued to ride the trend until the peak price at $23.19 in 1999. We would hope that as the top formed during 2000 the investor sold out, but we are only looking at what to do in case of unexplained circumstances; we have the trendline in place to halt the damage to our investment as the prices fall.
In March 2001 the trendline was broken with a possible exit price at $13.80. Although the potential profit was cut, the investor still enjoyed more than a 150 per cent increase over 11 years. The important point here is that selling on the break of trend stopped a further demise in profits as the price sank to $7.63 in mid-2003 and allowed the funds to be used elsewhere.
Chart 1 - The Trend Line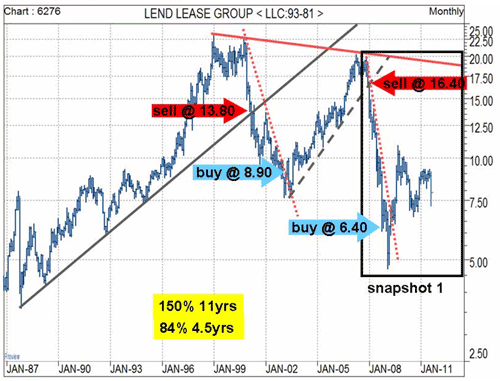 Source: Regina Meani, Your Technical Analyst
Following the break in the downward trend we would have been able to buy back into LLC at around $8.90 a bit later in 2003, with the uptrend carrying the price to $20.29 in 2007 before it halted and formed a top. Again passing up the potential to exit the position during the top formation, we look for the trend break to trigger our stop-loss. This occurred around $16.40 in January 2008. Profit in this instance was 84 per cent in four and half years and saved us from the plunge to $4.69 by February 2009, which would have wiped out the investment, sinking into a loss of nearly 50 per cent.
The next entry point (see Chart 2 below) would have been at $6.40 in April 2009 for a rise to $10.91 by the following September with the stop-loss kicking in at $9.10 on the trend break in October and preserving a gain of 42 per cent in seven months. The price fell to $6.70 by August 2010 and if we had not used our stop-loss it would not have left much in the black on our books.
After re-entry at $8.50 in December last year the price was buffered by resistance in the $9.20-$9.30 zone before breaking the trend at $8.35 on August 5 this year. In this instance the true meaning of the stop-loss comes into play. Despite a loss of around 1.8 per cent, the investment was saved from the market demise in which the shares dropped to $7.21, and a possible loss of 15 per cent.
Chart 2 - Snapshot 1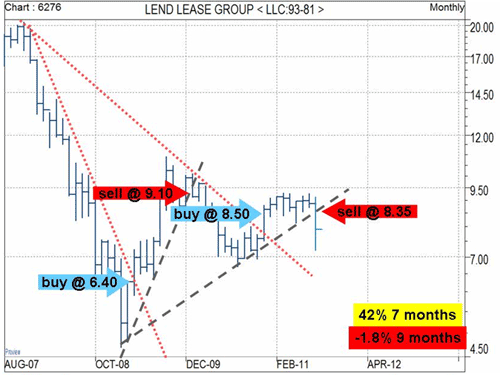 Source: Regina Meani, Your Technical Analyst
For the trader, drawing trendlines on the daily and intra-day charts can be just as effective for a stop-loss technique. In Chart 3, after finding a buy level around $7.55 on the daily chart in early November last year, the price rode higher along a steep trend to reach $9.08 before the trend was broken in January, our stop-loss level being $8.85. Zeroing in to a shorter timeframe highlights the tightening of the stop-loss and a decrease in the distance from the peak price obtainable. The trader would have enjoyed a 17 per cent gain in four months.
Chart 3 - The Daily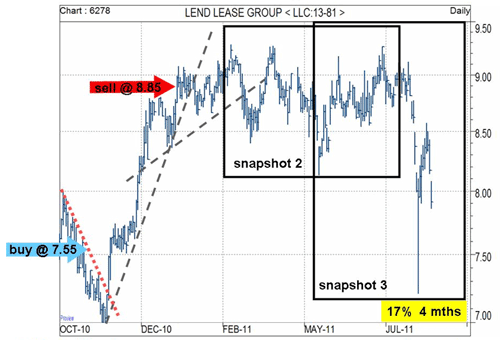 Source: Regina Meani, Your Technical Analyst
Following the break in trend the price entered a period of sideways volatility and Chart 4 takes a snapshot from March to August 1.
Finding our first entry at $8.90 on March 25, the price rose over several days to reach $9.27 before the trend break occurred at $9.18 on April 7, triggering our exit with a gain of 3.15 per cent in two weeks; and avoided the sell-off into May with the price dropping to $8.13, at which point we would have incurred a loss of 8.6 per cent. Following this we may have bought in again at $8.80 on May 31 only to have our trend stop-loss triggered at $8.93 two days later for a gain of 1.5 per cent, and we avoided the fall to $8.54 by mid-June and a loss.
Chart 4 - Snapshot 2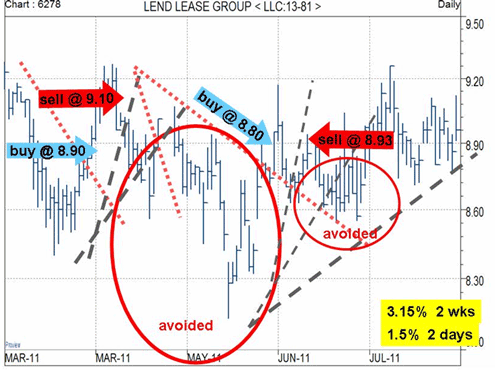 Source: Regina Meani, Your Technical Analyst
The final stop-loss trigger on the daily chart (Chart 5) was on August 2 at $8.85. If we had remained long from $8.80 on May 31 we would have exited the position at a slight profit and avoided the market sell-off and plunge to $7.21.
Chart 5 - Snapshot 3
Source: Regina Meani, Your Technical Analyst
About the author
Regina Meani is a freelance consultant in market analysis. She writes reports for research companies, broking houses and individual investors, with regular columns in the financial press, and often appears in other media forums. Her company, Your Technical Analyst, besides reports and individual stock analysis provides private tutoring and larger seminars, training investors and traders in market psychology, CFDs and shares, and technical analysis. Her webinars for traders and investors are held on the 2nd and 4th Tuesdays of the month @7.30pm.
From ASX
ASX Charting Library provides a wealth of free material for beginners through to advanced chartists.
<!IoRedDot_txt_disclaimer>The views, opinions or recommendations of the author in this article are solely those of the author and do not in any way reflect the views, opinions, recommendations, of ASX Limited ABN 98 008 624 691 and its related bodies corporate ("ASX"). ASX makes no representation or warranty with respect to the accuracy, completeness or currency of the content. The content is for educational purposes only and does not constitute financial advice. Independent advice should be obtained from an Australian financial services licensee before making investment decisions. To the extent permitted by law, ASX excludes all liability for any loss or damage arising in any way including by way of negligence.

© Copyright 2018 ASX Limited ABN 98 008 624 691. All rights reserved 2018.