This article appeared in the December 2011 ASX Investor Update email newsletter. To subscribe to this newsletter please register with the MyASX section or visit the About MyASX page for past editions and more details.
Use exchange traded funds to capitalise on foreign exchange movements.

By Drew Corbett, BetaShares
There has been a surge in investor demand for exchange-traded funds (ETFs) in Australia, with market capitalisation of ASX-listed ETFs more than doubling to over $5 billion in the past three years. The first ETF listed on ASX just over a decade ago and there are now 57, including currency ETFs that were launched in early 2011.
(Editor's note: To learn more about the features, benefits and risks of ETFs, do the free ASX online ETF course.)
Basically, an ETF is an investment vehicle built like a managed fund but which trades like a share, meaning units can be bought and sold throughout the trading day. ETFs aim to track the performance of a specific index or asset and are designed to be price transparent, liquid and cost-efficient investment tools for investors.
Investors may be familiar with equity ETFs, but in 2011 three currency ETFs were listed, which for the first time have given investors access to the currency markets through a simple structure, enabling them to buy and sell currency exposure on ASX through regular broking accounts.
Simple structure
The foreign exchange (FX) market is the world's most liquid market, with trading values in excess of $3 trillion a day. However, before the launch of currency ETFs, many Australian retail investors found it either too difficult or too costly to access the FX market. They could only access it by opening a foreign currency bank account which, because of poor exchange rates offered by banks, could be quite expensive, or by using an FX platform involving leverage and potential margin calls.
Currency ETFs work simply and cost-efficiently to track the change in value of the foreign currency relative to the Australian dollar, before fees and expenses.
The assets of the ETF are invested in bank deposit accounts denominated in the relevant foreign currency. Any interest earned on the deposits accrues to the benefit of the ETF and is distributed to the investor (if interest exceeds the fees and expenses of the ETF).
Taking the US-dollar ETF as an example (ASX Code: USD), if the US dollar goes up 10 per cent against the Australian dollar (that is, the A$ falls in value), the price of the ETF should go up 10 per cent too (before fees and expenses).
This simple structure provides investors with access to direct foreign currency performance and, because the ETF issuer is able to access wholesale exchange rates, retail investors obtain rates otherwise only available to the largest institutional investors.
There are currently three currency ETFs listed on ASX, which give investors access to the US dollar (ASX code: USD), euro (ASX code: EEU) and British pound (ASX code: POU) - relative to the Australian dollar.
Alternatives to currency ETFs
The table below compares the alternatives of accessing the foreign exchange market:
Currency access: Comparison of currency ETFs to alternative ways to obtain foreign exchange exposure
 
CURRENCY ETFs
CURRENCY BROKERS
CURRENCY TRADING PLATFORMS
DIRECT FROM FINANCIAL INSTITUTIONS
EASE OF ACCESS
YES
Purchased like a share on the ASX
NO
Limited to large clients
NO
Requires propietary platform and platform account, can include minimum balances
NO
Account opening and set up; may require minimum balances
EXPENSES AND FEES
LOW
Brokerage costs
Low management fees
VARIABLE
Buy/Sell spreads
VARIABLE
Buy/Sell spreads
Platform fees
Financing margin
HIGH
Buy/sell spreads
Monthly fees
LEVERAGE FACTOR
NONE
NONE
VARIABLE
Can be as high as 99x
NONE
EFFECTIVE FX RATE ON PURCHASE/SALE
VERY COMPETITIVE
0.05%-0.15% away from mid wholesale FX rate
VARIABLE
Depends on size of client
VARIABLE
Can be altered by platform provider
VARIABLE
Up to 3.90% away from mid wholesale FX rate
MARGIN CALLS
NO
NO
YES
NO
Source: BetaShares
It can be seen that ETFs have advantages over other methods of FX exposure for many retail investors: they are easily accessible, have low fees and trade closely to the spot price of the underlying currency. This makes currency ETFs arguably the simplest and most cost-effective way to access the FX markets.
Currency ETFs provide the advantages of low cost and simplicity. As mentioned, they can be bought and sold like any share on ASX. The fees associated with these ETFs include the small annual management fee of 0.45 per cent per annum, brokerage costs just like trading shares and the bid-offer spreads.
Profiting from a falling Australian dollar
The existing currency ETFs listed on ASX rise in value when the Australian dollar falls against the currency it is tracking, and vice versa. Currently, the ETFs listed on ASX do not allow investors to profit from the Australian dollar strengthening against a particular currency unless investors choose to short the units of the ETF. Investors interested in profiting from a view that the Australian dollar will rise in value relative to a foreign currency need to discuss shorting the ETF with their broker.
Most of the popular foreign currency trading platforms offer leveraged exposure. The existence of leverage (using debt) creates the possibility of margin calls and are typically appropriate for only sophisticated foreign currency traders.
ETFs, on the other hand, are not leveraged, providing flexibility to take short-term views as well as medium and long-term positions. For most investors, this would make them an attractive alternative to currency trading platforms accounts.
Investors should be aware that currency ETFs are not meant to compete with foreign currency platforms. ETFs may not be the most appropriate vehicle for FX traders looking to profit from minor movements in exchange rates. But for other investors, ETFs are a simple, transparent tool designed to accurately track the Australian dollar against another currency.
Currency ETF strategies
There are three main strategies for using currency ETFs in a portfolio.
1.    Profiting from a bearish view on the Australian dollar
This strategy can be used when an investor believes the Australian dollar will weaken against a specific currency. As a hypothetical example, assume that on January 1 the AUD/GBP exchange rate is at GBP 0.67. An investor decides to purchase A$15,000 worth of units in the British-pound ETF, expecting a fall in the strength of the AUD. Six months later the AUD has indeed fallen, with the exchange rate now being GBP 0.50. Assuming no fees and broking expenses, the units would be worth A$20,000 and a profit of A$5,000 would be made should the investor choose to sell the units.
With the Australian dollar trading well above the long-term average against the US dollar, euro and British pound, currency ETFs may represent an opportunity for medium to long-term investors. If they believe mean reversion (movement back to the historical average) will occur, then an ETF provides an efficient way to back that view.
(Editor's note: Do not read this as a recommendation that the Australian dollar will fall. Currency movements can be difficult to forecast. Do further research of your own or talk to your financial adviser before acting on themes in this article).
2.    Diversifying a portfolio
Currencies can be used to reduce the volatility of an investment portfolio, so the addition of currency ETFs to an investor's portfolio can diversify overall returns.
Comparing the performance of the AUD/select foreign currencies against the performance of major asset classes shows that, historically, currencies have had either negative or low correlation, and therefore have the potential to provide portfolio diversification benefits.
 
AUSTRALIAN EQUITIES (S&P/ASX 200 Index)
GLOBAL EQUITIES
(MSCI World Index in A$ Returns)
COMMODITIES
(S&P/GSCI Total Return Index)
GOLD
(Bullion Spot Price)
GLOBAL BONDS
(Morningstar Global Government Bond Index)
USD/AUD
-0.333
-0.670
-0.485
-0.308
0.213
GBP/AUD
-0.262
-0.539
-0.305
-0.111
0.168
EUR/AUD
-0.264
-0.590
-0.307
-0.062
0.244
Source: BetaShares. Past performance is not an indication of future performance
3. Portfolio protection
Many Australian investors are heavily exposed to the resources industry, either through direct equities holdings or managed funds. The chart below shows the USD/AUD exchange rate has typically moved inversely with the resources index, making the US-dollar ETF a potentially effective hedge (insurance) against commodities and resources exposures in investor portfolios.
Performance of S&P/ASX 200 Resources Index vs. USD/AUD - 16 Feb 2010 - 16 Feb 2011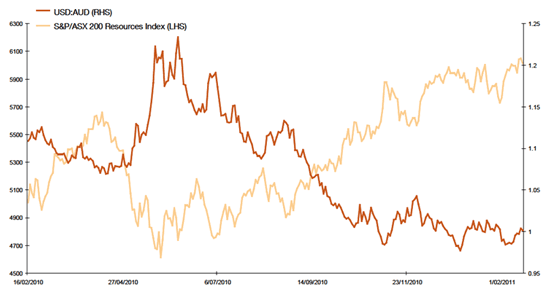 Source: IRESS. Past performance is not an indicator of future performance.
About the author
Drew Corbett is head of investment strategy at BetaShares. He is a pioneer in the global exchange-traded funds sector and has more than 25 years financial sector experience throughout Australia, Asia, Europe and the United States. BetaShares ETFs are Australian domiciled and trade on ASX.
From ASX
Exchange Traded Funds and Exchange Traded Commodities provides more information about the features, benefits and risks of these products.
<!IoRedDot_txt_disclaimer>The views, opinions or recommendations of the author in this article are solely those of the author and do not in any way reflect the views, opinions, recommendations, of ASX Limited ABN 98 008 624 691 and its related bodies corporate ("ASX"). ASX makes no representation or warranty with respect to the accuracy, completeness or currency of the content. The content is for educational purposes only and does not constitute financial advice. Independent advice should be obtained from an Australian financial services licensee before making investment decisions. To the extent permitted by law, ASX excludes all liability for any loss or damage arising in any way including by way of negligence.

© Copyright 2018 ASX Limited ABN 98 008 624 691. All rights reserved 2018.