This article appeared in the February 2012 ASX Investor Update email newsletter. To subscribe to this newsletter please register with the MyASX section or visit the About MyASX page for past editions and more details.
There's many pointers to better share returns this year.
By Mike Hawkins, Evans & Partners
It may well be a slow start, but 2012 should reward the patient equity investor. We believe the S&P/ASX 200 index will again lag offshore markets, but a total return (including dividends) of around 20 per cent is achievable as price-earnings (PE) multiples expand and capital flows out of low-yielding and/or expensive cash and fixed-interest markets, and into shares.
Outside a material pull-back in the Australian dollar, the profit environment facing the majority of S&P/ASX 200 companies will remain challenging this year. But market expectations are already subdued; earnings-per-share (EPS) forecasts for ASX 200 companies in the 2012-13 financial year still sit below the 2007 peak. (Editor's note: Listen to Mike's ASX Podcast on sharemarket trends.
As was the case in 2011, the primary driver of sharemarket performance will be the pricing of risk (that is, the premium for investing in shares). At the aggregate market level, earnings are secondary.
Apart from the strong relative and absolute valuation case in favour of shares over other asset classes, our contrarian instincts are sensing opportunity.
For the past six months, the marginal global investor has been anticipating a pending financial calamity. Although we are probably yet to pass the point of maximum stress in regard to this risk (i.e. Europe triggering a seizure in global banking and credit markets), the longer we have to wait, the greater the probability that the potentially damaging second and third round effects of a bank failure or a sovereign default will be identified and contained. The greatest damage to sharemarkets always comes from the genuine surprise
Part of the calamity scenario has been the demise of the US economy. For many pundits, the US has spent the past three years on the verge of slipping back into recession. The reality, however, has seen the US deliver the strongest post-GFC recovery across the major developed economies - underpinned by the most dynamic, ruthless and profitable corporate sector in the world. With the US housing sector gaining more supporters by the day, sentiment around the US economy, and sharemarket, is clearly improving. In 2012 the US economy will struggle to do much better than in 2011 in terms of economic growth (around 2 per cent), but the pending calamity scenario is rapidly dying. Ideally, US resilience will remain a counter to European vulnerability in the year ahead.
In Australia, the crowd has spoken. The marginal fair-weather investor has clearly deserted shares in favour of bank deposit, as the chart below shows.
Australia: Wisest Place to Save (Westpac Survey) chart - 1988 to 2009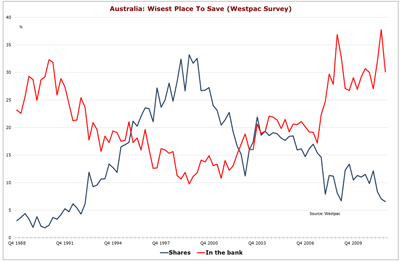 Source: Westpac
In doing so they have deserted a growing grossed-up 9 per cent income stream available from the ASX 200 industrial company fully franked dividends in 2012, in favour of a falling income stream from cash/term deposits (around 5 per cent) or a low-income stream from Australian government bonds (around 3.5 per cent).
That would be a rational decision if shares were exposed to both price volatility and value destruction (i.e. profit and balance sheet decay). But given that there is very little of the latter (unlike 2008), the marginal investor is absorbing a large opportunity cost to minimise short-term price volatility, by holding cash or government bonds.
The cost is all the more surprising given that the macro environment confronting the ASX industrial companies this year is far friendlier than what was on the table this time last year. Given a chronic loss of competitiveness, Australia is facing a problematic medium term, but short term it can still call on an imposing defence if the global economic/financial outlook was to deteriorate sharply. Part of this defence is already being deployed via the Reserve Bank's cutting of interest rates. Cost pressures remain elevated, but the weakening labour market (outside the mining sector) points to a more concerted effort by companies to drive efficiency gains. That trend should become apparent in listed company profits in 2012-13.
In the face of an increasingly challenging global macro environment, resources struggled in 2011. We suspect we will see little, if any, improvement over the next six months. Global industrial production will continue to ease, construction activity in China will continue to cool (if not contract) and the US dollar will continue to strengthen. We struggle to see the marginal global investor revisiting commodities/resources before they can quantify the depth and duration of the downturn in Europe (June quarter at the earliest) and/or the construction downturn in China. If anything, the latter may prove a bigger issue for the resource sector in 2012 than Europe.
If the challenging macro environment facing the resource sector continues into the second half of the year, it will clearly compromise our expected 20 per cent total return expectation for the S&P/ASX 200. Such a scenario, however, would most likely deliver more in terms of the RBA easing interest rates and Australian dollar weakness than we currently expect, and as such benefit the ASX industrial companies.
Rotation into growth stocks needed
One of the more encouraging aspects of the performance of the Australian market in 2011 was the re-emergence of a credible defensive universe of shares that delivered healthy relative and, in the majority of cases, absolute returns to investors. This universe was compromised by excessive gearing/balance sheet repair during 2008 and 2009, and as such lost its safe-haven attributes. In 2011, however, infrastructure, property trusts, regulated utilities and Telstra were the key positive drivers to portfolio performance.
In 2012, all these sectors are expensive on a relative basis and, in our opinion, fully valued on an absolute basis. I suspect they may well move from "fully valued" to "expensive" over the next three to six months - particularly if further RBA rate cuts (we can see at least one) fuel an ongoing rotation into shares that offer higher "yield".
As this occurs, it will be time to "sell" - more so if there is growing clarity on where the funds should be reallocated - financials, global-facing industrials or resources. Investors need to be sensitive to the fact that this pivotal portfolio switch (out of higher-yielding more defensive sectors) will be required at some point over the coming three to six months and that it will - in most cases - require a reallocation of around 10 per cent of their Australian share portfolio.
Finally, various media and celebrity commentators would have us believe that sharemarket performance is a product of economic growth. This is a fallacy and you need look no further than the Australian and Chinese sharemarkets to see that this is so - economic strength but poor sharemarket performance!.
Equity investors own a share of an operating business, not an equity market or an economy. Value is ultimately created, and destroyed, by that business, not by the sharemarket where it is listed or by the economy in which the equity market happens to reside.
Accordingly, all investors must differentiate between the risk to value (i.e. the risk to the business) and the risk to price (i.e. share market volatility). This is proving extremely difficult in the current environment, but unlike 2008 when value was destroyed by large profit downgrades and balance sheet decay, today market risk (price) is greater than security risk (value). As such, quality businesses listed on volatile global equity markets are available for purchase at attractive valuations.
About the author
Mike Hawkins is chief investment officer at Evans & Partners, a leading wealth-management firm.
From ASX
ASX Videos and Podcasts are a great way to keep in touch with latest trends and insights from some of the market's leading commentators.
<!IoRedDot_txt_disclaimer>The views, opinions or recommendations of the author in this article are solely those of the author and do not in any way reflect the views, opinions, recommendations, of ASX Limited ABN 98 008 624 691 and its related bodies corporate ("ASX"). ASX makes no representation or warranty with respect to the accuracy, completeness or currency of the content. The content is for educational purposes only and does not constitute financial advice. Independent advice should be obtained from an Australian financial services licensee before making investment decisions. To the extent permitted by law, ASX excludes all liability for any loss or damage arising in any way including by way of negligence.

© Copyright 2018 ASX Limited ABN 98 008 624 691. All rights reserved 2018.