China the key for our shares
This article appeared in the February 2012 ASX Investor Update email newsletter. To subscribe to this newsletter please register with the MyASX section or visit the About MyASX page for past editions and more details.
What the charts say about sharemarkets in Brazil, Russia, India and China.

By Daryl Guppy, author
The Chinese have a strategy called "Tossing out a brick to get jade."* It means to throw out something of little value in the hope of getting a much larger prize. Fishermen throw out a cheap lure to entice a large barramundi. Department stores put on regular sales to lure customers and hope they buy dearer items.
If you traded a sharemarket index in 2011 in a BRIC economy (Brazil, Russia, India or China) to get jade, the results were disappointing.
Brazil's Bovespa index delivered minus 20 per cent
Russia's MICEX index delivered minus 21 per cent
India's Nifty 50 delivered minus 24 per cent
The China Shanghai index delivered a 22 per cent fall after an initial 9 per cent rise.
In contrast, the Dow Jones Industrials index in the US delivered a 4 per cent rise, which included a nailbiting 16 per cent fall at one point in 2011. Australia's S&P/ASX 200 index fell 14 per cent in the same period. 2011 was a stock-picker and traders' market and it looks as if 2012 will be similar.
The major economies, with China now the world's second largest, are difficult to trade directly.
Even more important is the relationship between these markets and Australia. The S&P/ASX 200 index is a follower, not a leader. Understanding just which global markets we follow, and how, provides strategic advantages in trading Australian shares.
Let's start with a market overview and outlook for the BRIC markets (all charts are sourced to Guppy Traders).
China
The dominant feature on the Shanghai index is the downsloping trend line starting in mid-2009. This is the key difference between the Shanghai index and other global and regional indices. China has been involved in a long-term steady, controlled economic cooldown. This is consistent with the new Chinese focus on the sustainability and quality of growth rather than the blistering speed of growth.
Shanghai index weekly chart - Nov 2010 to Feb 2012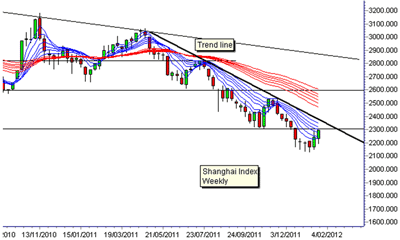 The lower edge of this downsloping triangle is near 2600 points. The projected downside target for this very large pattern is near 2000. A move above the long-term downtrend line is exceptionally bullish.
Consolidation using support near 2000 and resistance near 2300 confirms that the momentum of the economic slowdown in China is easing. This is a bullish outcome. The first half of 2012 outlook for Chinese shares is bearish to mildly bullish: bearish with a sustained move below 2000; mildly bullish with a support and consolidation breakout developing near 2300. In the longer term we look for a bullish breakout above 2700 - a 35 per cent return - which would be good news for Australian shares.
India
India's Nifty index is dominated by a downsloping triangle. The base is near 5200 and this was broken in August 2011. The full downside target for the pattern is near 4100. The downtrend is well established and requires a move above 5200 before a breakout can develop. The outlook is bearish, with potential to fall another 15 per cent before any trend breakout develops.
India index weekly chart - Dec 2009 to Nov 2011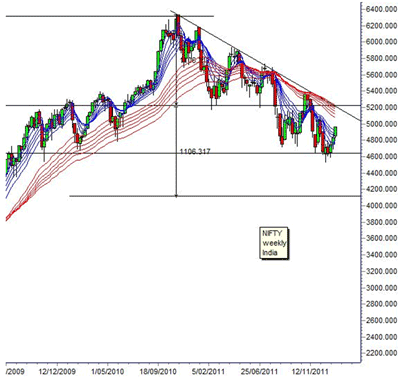 Russia and Brazil (charts not shown)
Russia's MICEX index is in a strong downtrend with support near 1200. A strong break above the downtrend line currently near 1500, is required for this trend to reverse. This market has the potential for 20 per cent downside before a breakout can develop.  Upside is limited by resistance near 1700 for a 13 per cent gain.
Brazil has completed a rounding top reversal pattern. The downside target near 49,000 was achieved and a strong rebound has developed from this support level. This is a well-defined uptrend and it is moving towards resistance near 61,000. A break above 61,000 has an initial upside target near 70,000. This has a potential 14 per cent return.
This analysis is more useful if we put it in the context of the alternatives. How do these BRICs compare with Australia and the Dow Jones outlook in 2012?
US shares
The market rise in the Dow Jones index is limited by a significant resistance feature that is derived from the dominating chart patterns on the Dow index.  The Dow developed a head-and-shoulder pattern between April 2011 and July 2011. This is a trend reversal pattern. The downside targets at 10,600 were achieved and were followed by the L-shaped consolidation. The neckline trend line of the head-and-shoulder pattern is projected forward and this is now providing a strong resistance level.  The continuing upside target for the Dow is defined by the value of the head-and-shoulder neckline trend line.
DOW index weekly chart - Nov 2010 to Jan 2012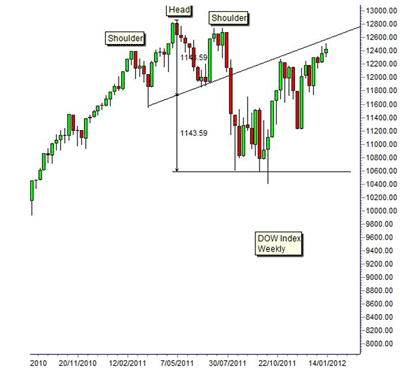 There is a high probability that retreats from this resistance trend line will be rapid. Traders will be ready to close out profitable positions as the Dow index moves towards the value of the resistance line and open short positions. The initial support for a retreat is located near 11,900 to 12,000. The Dow has a slight bullish bias, with the potential for a 6 per cent gain in 2012. Significant downside risks remain, as the US economy is yet to restructure as a result of the 2008 financial crisis. A restructuring shock can send the Dow back towards the 2008 lows, as is being experienced in Europe.
Australian shares
Australia basks in a fool's paradise, convinced it is far enough away from Europe not to have to worry, particularly as the Chinese will always be there to rescue our economy. This is a market going nowhere right now. From 2009 to mid-2011 the S&P/ASX 200 index was trapped in a sideways trading and stretching from 4300 to 4950.   The 4300 level has become a very significant support and resistance level. 
S&P/ASX 200 index weekly chart - May 2010 to Jan 2012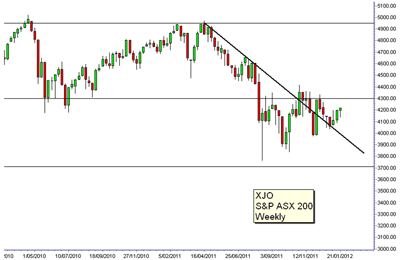 The trend line now acts as a support level with new support lows as we move into 2012. A sustained move above 4300 has upside limits near 4950 for a 15 per cent return. But a return to this level is not a signal for a 2012 breakout above 5000 points in a new uptrend. The S&P/ASX 200 index remains a traders' market in 2012, with high volatility and short-lived rallies and retreats.
Market relationships
Even more important is the relationship between these BRIC markets and Australia. Understanding who we follow provides strategic advantages in trading Australian shares. This provides us with the opportunity to trade the BRICs to get jade.
Australia's relationship with US sharemarkets rests on a historical kneejerk reaction. Big rises or falls feed through to intraday responses on the S&P/ASX 200 index, but the general direction and performance of our market is more closely tied to the behavior of the China market, as this chart shows.
Comparison between Australia weekly index (S&P/ASX200) and Shanghai China weekly - 2009 to 2012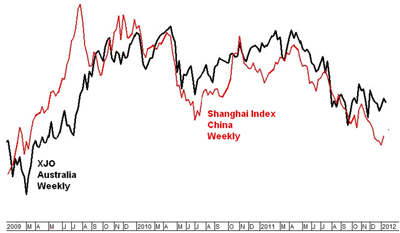 Starting late 2007 and more pronounced since the 2008 recovery, the S&P/ASX 200 index has closely mimicked the behavior pattern of the Shanghai index. This broad relationship has become entrenched. The development of the Shanghai index is a leading indicator for the development of Australian shares. A strong rise in the Shanghai index has the potential to move the S&P/ASX 200 index above the 4950 resistance level.
The comparison chart with the S&P/ASX 200 index and the Dow Jones index shows how clearly the directional behavior linkage was broken in mid-2010.
Comparison between Australia weekly index (S&P/ASX200) and Dow Jones weekly - 2009 to 2011
In 2012 traders have the opportunity to trade one of the BRICs and get jade. The reward comes from direct trading of the Shanghai index using an ETF, and from trading a rebound in Australian shares, which is led by the behavior of the Shanghai index.
About the author
Daryl Guppy is a trader and author of Trend Trading, The 36 Strategies of the Chinese for Financial Traders www.guppytraders.com. (*The trading implications of this strategy and others were covered in the book). He is a regular guest on CNBCAsia Squawk Box and writes weekly columns for several international newspapers. He is a speaker at trading conferences in China, Asia, Australia and Europe. All charts provided by Daryl Guppy.
From ASX
The ASX website has a wealth of free education material on charting. Visit the ASX Charting Library for stories that suit beginners through to advanced technical analysts.
<!IoRedDot_txt_disclaimer>The views, opinions or recommendations of the author in this article are solely those of the author and do not in any way reflect the views, opinions, recommendations, of ASX Limited ABN 98 008 624 691 and its related bodies corporate ("ASX"). ASX makes no representation or warranty with respect to the accuracy, completeness or currency of the content. The content is for educational purposes only and does not constitute financial advice. Independent advice should be obtained from an Australian financial services licensee before making investment decisions. To the extent permitted by law, ASX excludes all liability for any loss or damage arising in any way including by way of negligence.

© Copyright 2018 ASX Limited ABN 98 008 624 691. All rights reserved 2018.