This article appeared in the March 2012 ASX Investor Update email newsletter. To subscribe to this newsletter please register with the MyASX section or visit the About MyASX page for past editions and more details.
What the charts say about banks.

By Dale Gillham, Wealth Within
Regular readers will remember that last June I wrote about Australia's big four banks and said that if you wanted growth you would not buy and hold bank shares, because history shows they have tended to underperform many of the top 20 shares on our market for much of the past decade.
That said you can achieve a good return from buying and selling bank shares when the time is right. Unfortunately, many investors tend to be driven by fear and greed, not good risk and money-management principles. Given this, history shows that the investment decisions most people make tend to lag economic events.
Although it is wise to invest some capital at certain times in a bank term deposit to generate income, I only have to look at the facts to see it makes more sense to invest in bank shares and have the entire capital of the bank working for you. Buying and selling bank shares is a better strategy than parking your money in a term deposit and someone else (the bank) using it.
I'll update my outlook for the banks, starting with a top-down approach to get an overview of the banking and financial arena, then drill down to the big four banks' shares to determine how they are likely to unfold in the short term.
Because of space constraints I have limited the analysis to focus on price. The best analysts do not limit themselves to a strategy based on price alone and will combine this with pattern and time, as this combination is the best method to use when forecasting the future direction of a share or market.
Financial Sector Chart (XFJ)

Source: Market Analyst
Since the low of 3451.5 points in August 2011 the index has been moving up gradually for around six months and is trading back above a very important level, being 50 per cent of the all-time high (ATH), which is Point A on the chart above at 7556.9 points. This level is a critical signpost in that while the sector holds above it there are likely to be good opportunities, whereas a strong move below and the risk in this sector immediately increases. The current picture indicates having cash ready to make a profit if this index pushes through 4100 points with conviction, as this will indicate a lift in the probability of a further rise, in favour of buying banks.
The big four bank shares, as can be seen below, have been moving sideways. (Editor's note: Do not read the analysis below as share recommendations. Do further research of your own or talk to your financial adviser before acting on themes in this story).
ANZ Bank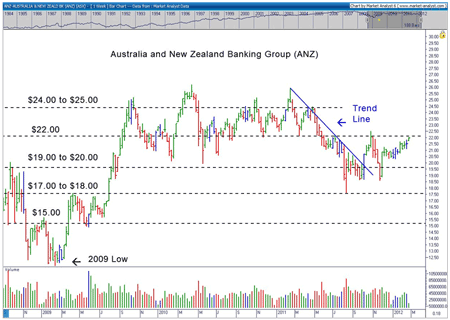 Source: Market Analyst
ANZ's chart shows a similar story to the financial sector chart, with ANZ moving up from its low around $17.50 in 2011 to trade sideways between $20.00 and $22.00. The first positive sign indicating the pendulum may have shifted to favouring equities occurred when ANZ broke through a trend line and created a potential entry in mid-October 2011. This opportunity was only for short-term traders as there was the risk from very strong overhead resistance at around $22.00 for it to turn down again.
In November 2011 ANZ fell sharply, which suggested it was more likely to continue falling than to rise. However, since then it has shown some resilience and risen again to challenge $22.00. How it reacts here is important and illustrates why investors need to stay alert. While ANZ holds above $20.31 the likelihood for a continuation of the recent rise increases, and for ANZ to achieve a 10 per cent return in a few months.
Commonwealth Bank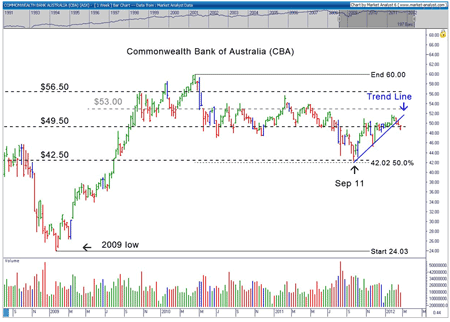 Source: Market Analyst
CBA has held up better relative to the 2009 low and has been less volatile than ANZ. Also, the retracement in 2011 was just under 50 per cent ($42.02) of the range from the 2009 low to the high at $60.00, whereas the other banks broke this level.
Over recent months CBA has rebounded and is currently close to strong resistance around $49.50. Like ANZ, the overhead resistance may hold the stock back in the short term. However, if CBA jumps the immediate hurdle it also has the potential to move up over the coming months by around 10 per cent to between $53.00 and $56.50.
National Australia Bank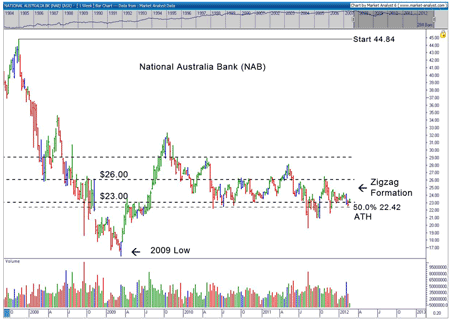 Source: Market Analyst
NAB is still a long way from its all-time high of $44.84 from 2007, but has so far been able to hold above 50 per cent ($22.42) of its all-time high, which is a positive sign. Given that NAB has spent a lot of time in a zigzag formation above this level; you can see how strong this level has been for its shares. At present NAB is probably my least preferred bank stocks when weighing up the risks from a technical perspective, but while it stays above this 50 per cent level it has a greater probability of rising than falling.
What is holding it back? You can see how a few months ago NAB attempted to break the $26.00 level overhead, which has proven to be an important threshold for those just not willing to pay more for NAB. If you are a bit of a contrarian and like to pick underdogs, you may decide to keep NAB on your watch list because very soon I am expecting it to show where it is headed. A move back below the 50 per cent level would not bode well for those holding NAB.
Westpac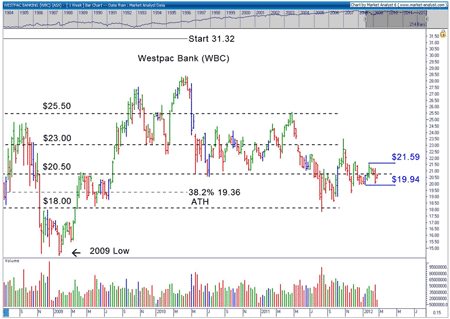 Source: Market Analyst
Like NAB, Westpac retraced quite close to its 2009 low when it was sold off heavily last year; note it broke $18.00 before rebounding. Since then it has moved up slightly, but has really just been trading sideways. It is supported by important levels around $20.50 and above 38.2 per cent ($19.36) of the ATH.
Westpac needs to trade above $21.59 to provide enough confidence on the buying side that it will rise rather than fall, and right now the chart signals are more neutral than bearish. A strong rise above $21.59 will indicate further rises ahead in 2012 and that it is likely to trade to the next levels of overhead resistance, being $23.00 and $25.50. That said, never look at the upside without considering the reverse because a fall back below $19.94 will mean the challenge for price to recover will be high. I would then expect the price to continue down towards $18.00 and possibly further to form a longer-term decline.
Given that the big four banks are all at a crossroads, with some showing improved signs, investors need to make sure they remain alert and have their cash ready to take advantage of further rises.
About the author
Dale Gillham is author of How to Beat the Managed Funds by 20%, and Director/Chief Analyst of Wealth Within. If you would like his views on the Australian and world markets for 2012 you can access a recording of a recent live seminar or read his weekly market report.
<!IoRedDot_txt_disclaimer>The views, opinions or recommendations of the author in this article are solely those of the author and do not in any way reflect the views, opinions, recommendations, of ASX Limited ABN 98 008 624 691 and its related bodies corporate ("ASX"). ASX makes no representation or warranty with respect to the accuracy, completeness or currency of the content. The content is for educational purposes only and does not constitute financial advice. Independent advice should be obtained from an Australian financial services licensee before making investment decisions. To the extent permitted by law, ASX excludes all liability for any loss or damage arising in any way including by way of negligence.

© Copyright 2018 ASX Limited ABN 98 008 624 691. All rights reserved 2018.