Mining sector and shares to watch
This article appeared in the April 2012 ASX Investor Update email newsletter. To subscribe to this newsletter please register with the MyASX section or visit the About MyASX page for past editions and more details.
Commodity prices may remain subdued this year, but over three years the outlook for commodities and the Australian resource sector is still positive, with China continuing to play a central role in the direction of metal prices. Fat Prophets' DAVID LENNOX outlines the resource sectors and shares with good prospects.

By Angus Geddes, Fat Prophets
Several factors have led to the resources sector underperforming the broader Australian sharemarket in recent months. Fears of a slowing Chinese economy have been one of the main ones. Recent comments about a slowdown in China from a senior BHP Billiton executive were enough to send the resource sector down sharply, illustrating how sensitive the sharemarket is to any weaker economic data from China.
The so-called "hard landing" scenario of a sharp slowdown in rapid Chinese growth has manifested itself since annual GDP growth slowed from an annual year-on-year rate of 9.8 per cent for December 2010 to 8.9 per cent by December 2011, as shown by the chart below. That's not much in the overall scheme of things, but enough to get tongues wagging.
China GDP Annual Growth Rate - 2011 to 2012
Percent change in Gross Domestic Product

Source: www.tradingeconomics.com | National Bureau of Statistics of China
The hard-landing theory also got a huge boost from the European Union debt crisis in 2011 and 2012 and lack of traction in the US economic recovery last year.
The US economy contracted mildly as consumer confidence showed little more than sporadic improvement. Battered by persistently high unemployment and low housing values over the past 12 months, consumers had little reason to be confident. The rising cost of energy, especially oil and petrol, made things worse.
Throughout this period, the US Federal Reserve and the US Government had little room to move in stimulating the economy. Official cash rates were zero, spending initiatives had driven up government debt, and the Federal Reserve's quantitative easing (a form of monetary policy) appeared to be having little or no effect.
Throw in the EU debt crisis and the backdrop for commodity prices over the past 12 months could not have been any worse.
Not all commodities have fared poorly
The outstanding commodity over the past 12 months has been gold. Its price of US$1650 in late March has delivered an increase of around 17 per cent over that time. The return could have been higher had the price stayed near its record daily high of around US$1900 an ounce.
The culmination of a weak US dollar, resulting from Federal Reserve quantitative easing initiatives and safe haven plays as the eurozone imploded on debt and rampant global geopolitical concerns, all pushed gold to its high, as the chart below shows.
US Gold price - 2011 to 2012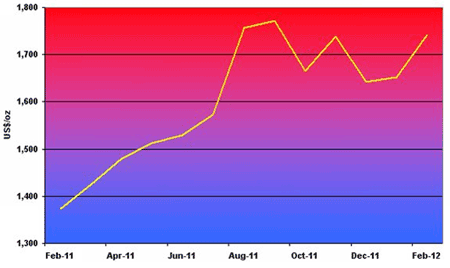 Source: Fat Prophets
However, gold has pulled back in recent weeks as these factors have become less dominant in investor psyche. The price today is driven by sovereign demand as governments broaden their reserves to include a major holding of gold.
Crude oil prices also benefited from geopolitical concerns, mainly around "supply shock" events such as the Libyan civil uprising. The Brent Oil crude price increased around 10 per cent over the past 12 months and in late March was trading around US$125 a barrel.
Pertinent to Australia, copper and iron ore experienced price falls in the past 12 months, copper by about 10 per cent and iron ore 14 per cent, to be trading recently at US$8,552 per tonne and US$144 per tonne respectively, as the chart below shows.
US Iron Ore and Copper Prices - 2011 to 2012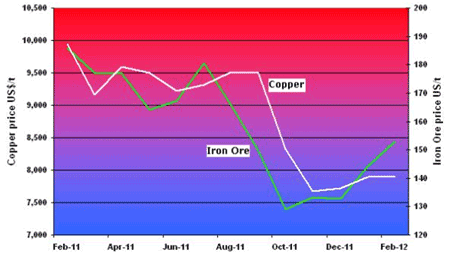 Source: Fat Prophets
Prices for both commodities were hit by the factors mentioned earlier, with fears about China playing a major role.
Times could be changing for the better
The key to the performance of commodity prices will be the China story - will a hard landing be fact or fiction? - and whether the US economic recovery gains greater traction.
The Chinese Government has forecast GDP growth out to 2015 in the 8-9 per cent range, even though it is targeting 7 per cent growth. China will focus on nurturing domestic economic activity and away from its hitherto export-driven growth.
China's actual and forecast  GDP growth vs. targets - 2006 to 2015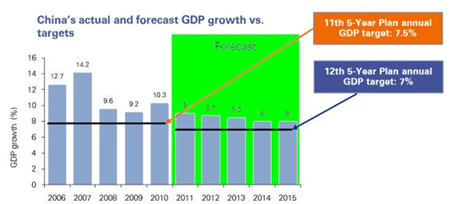 Source: EIU
To this end, the Chinese Central Bank has already eased internal credit, with a February reduction in the reserve ratio by 50 basis points to 20.5 per cent. It was the second cut in the reserve ratio since November 2011, when it was reduced by 50 basis points from the ratio's peak of 21.5 per cent. The reserve ratio governs the capital that banks must hold with the Central Bank. Lowering the ratio allows banks to redirect capital to lending. The aim of the current monetary policy is to stimulate personal consumption.
At this stage the Central Bank has not moved the official cash rate, which remains around 6.5 per cent. With rates held, the Central Bank has a powerful tool at its disposal to stimulate internal economic activity through rate cuts should it consider that necessary.
The economic dynamics in these forecasts and their management will certainly be the key to the performance of commodity prices in the next 12 months and over the next three years.
US recovery in hands of consumers
China at last may not be left alone to shoulder world economic momentum; the long-awaited US recovery may be gradually gaining traction.
The flicker of economic growth in the US, with gross domestic product expected to rise to around 3 per cent per annum growth by 2014 and remaining stable, would certainly lessen the burden beyond 2012. We see the key to US recovery being in the hands of consumers and their level of confidence.
The trend in US unemployment is forecast to improve from a peak of 9.6 per cent in 2010 to gradually decline toward 8 per cent over coming years. Improvement in US housing values is also expected to remain gradual. With both these key indictors gradually improving, the US recovery probably will be more sustainable. We note that stimulatory fiscal and monetary policy in the US is limited, which could weigh on investors' minds.
In the next 12 months we expect a global seachange for the Australian resource sector, as events finally play through the key economies. Commodity pricing may remain subdued over the next year, but over the next three years the outlook is more positive. China will continue to play a central role in the direction of commodity prices and ASX-listed resource shares.
Where to invest
Our preferred sectors within resources are iron ore, copper; energy and gold, and we look for undervalued producers and emerging producers. There is sufficient value without the need to chase pure-play explorers, which have higher risk.
Iron Ore
(Editor's note: Do not read the sectors or shares mentioned below as recommendations. Do further research of your own or talk to your adviser before acting on themes in this article.)
Notwithstanding the fact that growth in Chinese steel production is slowing, the seaborne market for iron ore is expected to remain in deficit in 2012. Prices, according to the Bureau of Resources and Energy Economics, will average $140 a tonne for benchmark product.
Importantly, China may curtail its high-cost domestic iron ore production. That may absorb the slowdown now being widely discussed, and will not affect volumes in the seaborne market, in our view.
It would be negligent not to mention India's growing importance in the iron ore market. Not only has it imposed a 30 per cent export duty on iron ore, but has also banned mining in Karnataka, in southern India, seriously reducing available Indian product. It has been rumoured that some steel makers are running at high capacity and this, coupled with very low stockpiles, will add demand to the seaborne market.
Fat Prophets' preferred iron share exposure is via Iron Ore Holdings (IOH), which owns six projects in the Pilbara region of WA. Its resources have increased from 60 million tonnes in 2008 to approximately one billion tonnes currently.
Copper
Although inventories currently look healthy, the market overall continues to remain in deficit, as recently reiterated by the Chilean miner Antofagasta PLC. It said the global copper market will likely be in a deficit in 2012, given expectations for supply-side disruptions, with prices averaging US$3.80 to US$3.85 a pound.
The marginal cost of producing copper has been rising. Supply growth has been slow and most new supply tends to be at a higher cost as average grades continue to fall globally, in addition to mines being deeper and more difficult to access. With the marginal cost of production estimated to be in excess of $US2.50 per pound, we expect pricing around current levels to be maintained.
Fat Prophets' preferred exposure to copper is a small cap, Hillgrove Resources (HGO). Its flagship is the Kanmantoo project in South Australia, which was recently commissioned and is in production. Its attraction is in the valuation of the project and the potential upside from further exploration in the region immediately surrounding the mine.
Gold
Central banks are net buyers of gold after two decades of being net sellers. Fat Prophets' preferred exposure is the junior, Gold Road (GOR). It has a 5000-square-kilometre ground position in WA in what is believed to be a new greenstone belt. One million ounces of gold are already defined and we expect this resource number in 2012.
About the author
Angus Geddes is chief executive of Fat Prophets, a leading investment newsletter. Visit Fat Prophets.
<!IoRedDot_txt_disclaimer>The views, opinions or recommendations of the author in this article are solely those of the author and do not in any way reflect the views, opinions, recommendations, of ASX Limited ABN 98 008 624 691 and its related bodies corporate ("ASX"). ASX makes no representation or warranty with respect to the accuracy, completeness or currency of the content. The content is for educational purposes only and does not constitute financial advice. Independent advice should be obtained from an Australian financial services licensee before making investment decisions. To the extent permitted by law, ASX excludes all liability for any loss or damage arising in any way including by way of negligence.

© Copyright 2018 ASX Limited ABN 98 008 624 691. All rights reserved 2018.