10 healthy small-cap shares
This article appeared in the May 2012 ASX Investor Update email newsletter. To subscribe to this newsletter please register with the MyASX section or visit the About MyASX page for past editions and more details.
Although risks are higher in small-cap companies compared to the broader market, investing in businesses that meet a threshold of Financial Health, liquidity and internal diversification can mitigate many company-specific risks. TIM LINCOLN reports.

By Tim Lincoln, Lincoln
Retail investors seeking to beat the general sharemarket return would be wise to look at the techniques of investing in the smaller end of the Australian sharemarket.
But with decreased company size comes increased risk. Issues such as share liquidity, materiality of announcements to the market, and internal diversification, which are taken for granted in large businesses such as BHP Billiton, are crucial considerations when investing in a small ASX-listed company.
Lincoln Indicators has shown through rigorous back-testing and experience that much of the risk in the small-cap sector can be mitigated through diversification and investing in companies that are financially sound.
Through assessment of a company's financial statements, Lincoln evaluates and attributes what it calls a Financial Health score to each listed company. Using a scale between zero and one, a score of 0.3 and below for two consecutive reporting periods is considered sufficient for most investors to rate a company as investment grade.
The concept of Financial Health was originally conceived by Lincoln's founder, Dr Merv Lincoln.
The score itself is an aggregate of key accounting ratios weighted for importance and according to industry type and relevance. Lincoln has found this method has predicted the demise of many notable listed businesses such as Babcock & Brown Infrastructure Group and One.Tel Limited.
By sticking to companies that meet the grade in terms of financial statement assessment, investors can mitigate insolvency risk and greatly tilt the tables in their favour when seeking outperformance by investing in small-cap companies. The chart below shows the Small Ordinaries index's superior performance to the S&P/ASX 200 index in the past few years.
Small Ordinaries Index (XSO) compared to S&P/ASX 200
May 2009 to Jan 2012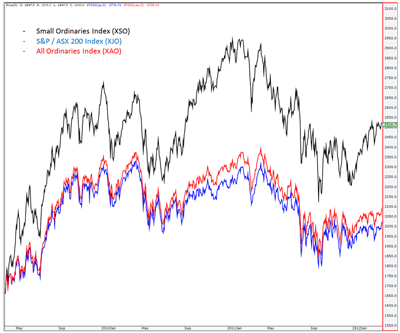 Source: Stock Doctor
The Financial Health methodology deems 86 of the 200 companies in the Small Ordinaries index to have a Financial Health score sufficient for investment.
What Financial Health actually measures
Financial Health is a combination of analysis of a company's financial statements. The balance sheet, profit-and-loss and cash flow statements are evaluated in determining whether the company is producing financial results that compel investment.
Many small companies show potential, but without profitability and cash flow supported by a sound balance sheet, most will remain nothing more than a promise.
With price uncertainty creeping into commodity markets and cost pressures rising, investors would be wise to look at businesses generating positive earnings, to mitigate speculative risks that are inherent in the smaller end of the market.
(Editor's note: Do not read the companies mentioned in this article as stock recommendations. Do further research of your own or talk to your financial advisers before acting on themes below.)
McMillan Shakespeare (MMS), for example, is a small-cap company that has had "strong" Financial Health for some time, according to Lincoln, and generates strong cash flow from operations. With minimal debt levels and a solid operating model in a niche business, MMS is a good example of how the use of Financial Health and fundamental analysis can tip the odds in favour of investors. Although the liquidity in MMS makes it difficult for most large funds to build a meaningful position, most retail investors are able to invest without affecting market prices.
Applying Financial Health criteria to small companies
Small-cap companies are abundant on ASX, but the investable pool shrinks significantly when the non-profitable, heavily debt-burdened, or cash flow-negative businesses are filtered out. The chart below illustrates the breakdown of the Small Ordinaries (XSO) by Financial Health, according to Lincoln's methodology.
Lincoln Financial Health of XSO Constituents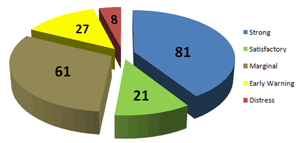 It can be seen that there are a number of companies that meet the grade at the smaller end of the market. However, are there any sectors of preference and how does this generally correlate to sector analysis for larger companies? Financial Health is measured on targets and benchmarks for acceptable levels of debt, profitability and/or cash flow within a particular sector.
Some sectors by necessity require more leverage or working capital commitment, and as such should be investigated within sector-specific parameters. In reality, whether looking at a large or small business in the same sector, the underlying business is similar and as such, the same measures are relevant. Therefore, trends in large-cap companies are often reflected in their similar respective small-cap counterparts. One only needs to look to the mining sector, where a cost squeeze is affecting profitability of large and small players alike at present.
Smaller companies can carry differing risks
Combining a strategy of selecting financially healthy businesses as a pool for potential investment with a strategy of fundamental analysis attuned for growth, can be a very successful method of producing outperformance in the small-cap sector. However, investment in the smaller companies on the market does come with additional risk.
First, liquidity is a major risk that can affect the investment case for a smaller listed company. Second, it is often said of small caps that a company is only as good as its last announcement. Although this is a gross oversimplification, it is often true that small businesses are exposed to single projects or operations that render each announcement more material. Thus the need for a constant flow of updates is often a driver of market sentiment and share price direction.
One final (but by no means lesser) risk of note in the small-caps sector is access to capital. Unfortunately, many small companies are unable to access funding as readily, or at the same cost, as their larger counterparts. Thus there is a heightened importance in assessing a small-cap company's balance sheet.
Further, if a small-cap company is producing positive cash flow from operations, it should be considered as a much better prospect than an otherwise equivalent company. Although risks are heightened in small-cap companies compared to the broader market, investing in businesses that meet a threshold of Financial Health, liquidity and internal diversification can mitigate many company-specific risks.
Lincoln's top 10
Here are Lincoln's top 10 small-cap companies (in alphabetical order).
| Company | Market capitalisation | Financial Health | Financial Health score | Lincoln valuation |
| --- | --- | --- | --- | --- |
| Northern Star Resources (NST) | $382 million  | Strong  | 0.02  | $1.20 |
| Seymour Whyte (SWL) | $160 million  | Strong  | 0.09  | $2.56 |
| Sirtex Medical (SRX) | $329 million  | Strong  | 0.04  | $6.70 |
| Thorn Group (TGA) | $222 million  | Strong  | 0.05  | $2.02 |
| Tox Free Solutions (TOX) | $307 million  | Strong  | 0.05  | $2.82 |
| BC Iron (BCI) | $305 million  | Strong  | 0.05  | $3.61 |
| Credit Corp Group (CCP) | $267 million  | Strong  | 0.04  | $6.09 |
| Horizon Oil (HZN) | $368 million  | Satisfactory  | 0.13  | $0.45 |
| Legend Corporation (LGD) | $71 million  | Strong  | 0.05  | $0.40 |
| Mastermyne (MYE) | $174 million  | Strong  | 0.08 | $2.75 |
Source: Lincoln
About the author
Tim Lincoln is managing director of Lincoln, a leading fundamental analysis research house and fund manager, offering intelligent sharemarket solutions for the conscientious investor.
From ASX
ASX Online shares courses are a great way to access free education about share investing. There are 11 courses to complete online, each taking about 10 minutes on average. Topics include:
What is a share?
Why and how to invest
Risks and benefits of shares
What to consider in an investment
How to buy and sell shares.
<!IoRedDot_txt_disclaimer>The views, opinions or recommendations of the author in this article are solely those of the author and do not in any way reflect the views, opinions, recommendations, of ASX Limited ABN 98 008 624 691 and its related bodies corporate ("ASX"). ASX makes no representation or warranty with respect to the accuracy, completeness or currency of the content. The content is for educational purposes only and does not constitute financial advice. Independent advice should be obtained from an Australian financial services licensee before making investment decisions. To the extent permitted by law, ASX excludes all liability for any loss or damage arising in any way including by way of negligence.

© Copyright 2018 ASX Limited ABN 98 008 624 691. All rights reserved 2018.