Six reasons for a second-half rally
This article appeared in the June 2012 ASX Investor Update email newsletter. To subscribe to this newsletter please register with the MyASX section or visit the About MyASX page for past editions and more details.
Lonsec chief equity strategist, WILLIAM KEENAN, expects the sharemarket to start to recover in the second half of 2012, as interest rates are cut further and the Australian dollar eases. He recommends focussing on listed companies with good dividend yields and secure earnings.

By William Keenan, Lonsec
For the third year in a row, a relatively robust start to the year for the Australian sharemarket has been snuffed out by ructions in Europe, fears of a slowdown in China and mixed US economic data. Of these, the election results in Greece and France and recent banking problems in Spain have been the most damaging.
The split Greece election outcome has put the previous bailout arrangement under doubt, at least until the next election on June 17.
Although Greece is only a small economy, it is part of the European Monetary Union, and the inability of the European Union and European Central Bank (ECB) to resolve the country's financial problems is exposing the EMU's structural weaknesses. That is, a monetary union without a fiscal and political union (a central government and treasury) is constantly being undermined by local political and economic issues.
In addition, the outcomes in Greece are a litmus test for other struggling EU countries such as Ireland, Portugal and Spain. Therefore, concerns over Greece quickly spread into other countries via contagion to debt markets. This year it seems to be Spain, last year it was Italy.
Lonsec expects Greece will remain in the eurozone (an exit would be tumultuous for Greece and the EU) and that the EU and ECB will respond more aggressively in due course to stabilise the situation.
Although Australia has low direct exposure to Europe, it will be indirectly affected by financial markets in the higher cost of wholesale bank funding (still about 40 per cent of banks' funding), currency fluctuations and global investor sentiment. Also, a European recession could indirectly affect Australia because of its affect on China.
Five negatives seem to be weighing on the Australian sharemarket:
Government policy
Some investors perceive current policies as negative for companies and the economy generally. These include the mineral tax, carbon tax, industrial relations, banking and super reform, and returning the Budget to surplus. Some policies could be having a negative effect on business and consumer confidence, investment and jobs, in Lonsec's view.
China's slowdown uncertainty
China's growth is slowing, as planned by its central government, but there are lingering concerns about Europe's impact on Chinese exports, and of the slowdown in Chinese investment on the demand for Australian iron ore and coal.
Households saving
A savings rate above 10 per cent is at levels not seen since the 1980s and is one of the main reasons retail sales and credit growth are growing at low single-digits.
Banks seeking deposits and to maintain interest margins
Households have been cautious since the GFC and saving more, and banks are reducing their reliance on wholesale debt and seeking to grow their deposits. This has led to relatively attractive term deposit rates (although rates could fall) and more interest in fixed interest products from investors. At the same time, banks are not passing on all the Reserve Bank official interest rate cuts in an effort to maintain interest margins, in the face of higher funding costs for both wholesale debt and deposits.
Relatively high Australian dollar
The Australian dollar had been above US$1 for more than 18 months and makes Australia less competitive against other countries. However, the currency has started to ease.
Ground Hog Day
The Australian market retreated 15 per cent in mid-2010 and 20 per cent in mid-2011, predominantly on European issues. In late May the Australian market was down 9 per cent for the month. Is this a case of here we go again?
Although the European situation remains very uncertain and hard to predict, there are six key reasons to expect the downside to be limited this time around. These include:
Market lower
The Australian sharemarket has retreated from the 4500 index level rather than near the 5000 level as in April 2010 and in 2011, and accordingly dividend yields are higher and price-earnings ratios considerably lower.
Yield curve lower
The Reserve Bank has cut the cash rate by 1 per cent since late 2011 and another 1 per cent in cuts is expected in the short term. Lower interest rates are supportive of economic growth and higher sharemarket valuations.
Australian dollar lower
Our dollar has weakened 8 per cent this year, which is taking some pressure off Australian exporters and manufacturers.
China easing policy
China is progressively easing monetary and fiscal policy to support growth, which is still expected to be around 8 per cent. In 2011 it was tightening monetary policy to combat inflation.
US economy robust
US retail sales and manufacturing have been solid and the housing market is showing signs of bottoming out. The US also has a new-found supply of cheap energy in shale gas, which is sure to prove important over the medium term. On the negative side, jobs growth has been weakening again in recent months and the US budget deficit is due to be reigned in after the US election in November.
Lack of natural disasters
In early 2011 the market was dealing with flooding on the east coast of Australia, which affected mining and agriculture production, and the earthquake/tsunami disaster in Japan affected global supply chains in Asia and the US.
Conclusion
European issues are complicated and will take time to resolve. However, we remain positive on the medium to long-term outlook for the US, Asia and Australian economies. Given the local sharemarket is already low and company balance sheets are strong, we do not see any reason to be overly negative towards Australian shares.
In addition, Australian interest rates are falling rapidly and this is usually supportive of the equity market (see chart below).
S&P/All Ords Index - from March 1991 to March 2012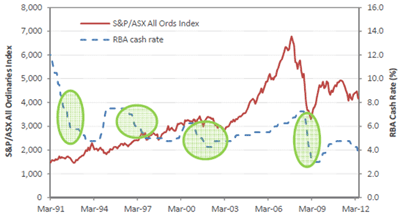 Source: Lonsec Limited, RBA, Iress
We still expect the market to rebound, but it is likely the interest rate easing cycle will need to play out fully before the sharemarket starts to recover in the second half of the year.
Our strategy is to use short-term weakness issues in Europe as an opportunity to build quality investment portfolios for the long term. Companies with good dividend yields and fairly secure earnings are likely to outperform in the short term. But investors should also target good-quality resource and cyclical shares on market weakness, taking a long-term view that global growth will recover, led by Asia.
About the author
William Keenan is chief equity strategist at Lonsec, an investment advisory service.
From ASX
ASX online courses cover shares, interest-rate securities, warrants and instalments, options and futures. The shares course has 11 modules, each taking 10 to 15 minutes to complete.
<!IoRedDot_txt_disclaimer>The views, opinions or recommendations of the author in this article are solely those of the author and do not in any way reflect the views, opinions, recommendations, of ASX Limited ABN 98 008 624 691 and its related bodies corporate ("ASX"). ASX makes no representation or warranty with respect to the accuracy, completeness or currency of the content. The content is for educational purposes only and does not constitute financial advice. Independent advice should be obtained from an Australian financial services licensee before making investment decisions. To the extent permitted by law, ASX excludes all liability for any loss or damage arising in any way including by way of negligence.

© Copyright 2018 ASX Limited ABN 98 008 624 691. All rights reserved 2018.