Alternatives to term deposits
This article appeared in the June 2012 ASX Investor Update email newsletter. To subscribe to this newsletter please register with the MyASX section or visit the About MyASX page for past editions and more details.
With rates likely to fall, investors should consider other listed fixed interest alternatives.
By Elizabeth Moran, Fiig Securities
The Reserve Bank surprised the market on May 1 and cut the cash rate by 50 basis points, and met market expectations with a 25 basis point cut in early June. Within a couple of days after the May cut, Authorised Deposit-taking Institutions (ADIs), such as banks, had lowered term deposit rates, leaving investors who rely on this income wondering how to make up the shortfall. This article explores some of the options.
The four major banks cut their mortgage rates by an average of 37 basis points and it was interesting that up to May 14 they had cut their average term deposit rates (across all maturities) by 32 basis points (see Figure 1 below). (Editor's note: The RBA cut interest rates by another 25 basis points in early June.)
Although the difference is small, it is indicative of just how important term deposits (TDs) have become to the banks in terms of funding. "Sticky retail" deposits are much sought after as retail investors are less inclined to shop around for rates and thus move funds between institutions.
From 2015, these sticky retail deposits will be of even greater value, contributing to the bank's liquidity coverage ratio, a new measure being introduced under Basel III regulations. Essentially, we do not see the gap between the cash rate and the average term deposit rate offered by the big four banks decreasing; if anything it may widen further.
Figure 1: Comparison of average term deposit rates vs. cash rate 
July 2008 to April 2012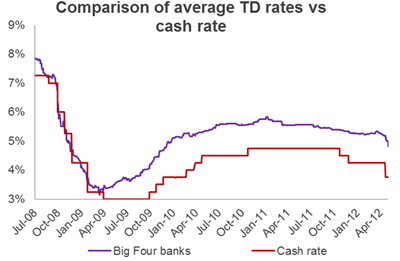 Source: FIIG Securities
Global uncertainty is going to be present for years. Think about how long it has taken for the Greek sovereign crisis to unfold, and it is still unravelling. On the domestic front, the May Federal Budget cut spending in order to deliver a surplus, and will act as a brake on the economy and constrain growth.
With these combined domestic and international backdrops, it is very difficult to predict what will happen to the cash rate and forecast how low interest rates will go.
Figure 2 below shows the market's current short-term expectations for interest rates. This is known as a yield curve. This graph tells us where market participants expect interest rates will be in the future. We can see that the forward 90-day bank bill rate falls to below 3 per cent in late 2012 before recovering slowly to still be below 3.75 per cent at the beginning of 2015. (Editor's note: this suggests more cuts in the official cash rate this year and potentially lower rates on term deposits.Market expectations for more aggressive rate cuts from the RBA grew in early June after further falls in global sharemarkets and weaker-than-expected global economic data.)
Figure 2: Australian yield curve - May 2012 to Feb 2015
 


 
Source: FIIG Securities
If you compare Australia's current cash rate against other official cash rates (see Figure 3) there's still plenty of room for the RBA to cut and stimulate the economy. 
Figure 3: Australian cash rate comparison with various countries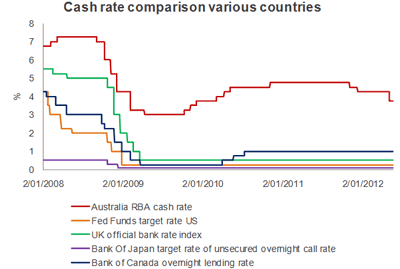 Source: FIIG Securities
Despite the major banks paying more for term deposits than they have in the past, the yield curve is telling us that the market expects the cash rate will be low and below the current 3.75 per cent for the next three years.
This means investors who rely on term deposits income should consider investing some of those cash funds in other assets to provide higher income, or they risk having to use some of their capital to maintain their lifestyle.
There are options available but it is important to try to evaluate the risks involved, not just the returns available. I have heard some financial commentators compare commercial property returns to term deposits, but there's a whole world of difference in terms of risk between those two asset classes.
Investment options
Options for higher returns and reliable income other than those offered by term deposits include:
Direct investment in fixed-income securities, both listed and over-the-counter (OTC)
Exchange-traded funds (ETFs); bond ETFs were first introduced earlier this year by iShares (a BlackRock subsidiary) and Russell Investments. For more information on bond ETFs visit FIIG's website.
Table 1 below shows a sample of the ASX-listed and OTC fixed-income securities available. On the left side is a simplified capital structure. Essentially, in the event a company or a bank goes into wind-up, a liquidator or receiver would come in and start selling assets. The proceeds of the asset sales would be applied from the top down, and the losses from the bottom up. Therefore, those securities sitting high in the capital structure are much lower risk than those sitting on the lowest rung.
Covered bonds sit at the top of the structure for banks and are secured by a pool of the bank's mortgage assets. They represent a very low-risk asset class. You can see that term deposits sit underneath covered bonds and that is because they do not have any rights over those mortgage assets until the entire covered bond holders have been repaid in full. It's the Commonwealth Government that guarantees the first $250,000 of the term deposit, making them "risk free", as distinct from the individual bank or financial institution.
As you progress down the capital structure, you would expect to earn more because you are taking on greater risks.
Senior debt is the next rung down the ladder and if you want to increase your returns for a marginal increase in risk, but have that known capital repayment date while remaining invested in low-risk investments, and then senior bonds are your best alternative.
Most senior bonds are issued with a five-year maturity date. However, investors buy and sell these bonds throughout their lives, so one of the benefits of senior bonds is that they are usually liquid and can be bought and sold quickly, without loss of value compared to term deposits where you lock away your funds. You will see the standout return here is from a big US bank, Morgan Stanley. We have found that international bank bonds often trade at higher yields as they are not as well understood in Australia, providing great relative value returns.
Assess terms and conditions
As you continue to move down the capital structure, the risk you take increases and you would expect your returns to increase as well. Generally this is the case if you run your eye down the yield to call/maturity column.
The subordinated debt and hybrid securities have various terms and conditions which you would need to assess at the same time you made an assessment of the creditworthiness of the issuer. While the higher returns are attractive, these securities are higher risk and some would duplicate your equity holdings, so not necessarily add diversification to your portfolio.
The final column lists if the security is available via the OTC market (ie not listed on an exchange), where you need to find a fixed-income broker; if they are listed on ASX, the column shows the relevant ASX code. The OTC securities have higher minimum purchase amounts from $50,000 face value (and some are only available to wholesale rather than retail investors), whereas there is no minimum for the ASX-listed securities (which are available to all investors).
Fixed-income securities available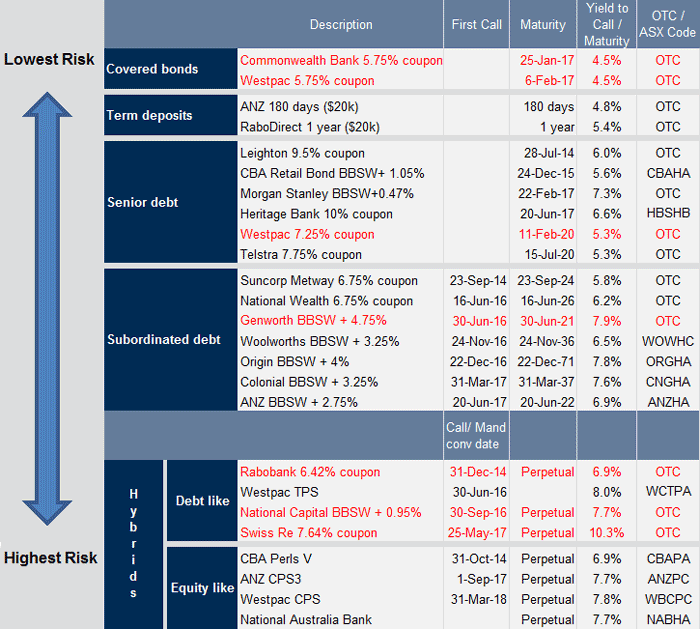 Note all yields quote are on a yield to maturity basis and are accurate as at 21 May 2012 and are a guide only.
Note securities listed in black are available to retail and wholesale investors. Those in read are for wholesale investors only. 
Source: FIIG Securities.
In conclusion, even if term deposit rates continue to decline there are options available to increase your returns and it's worth learning more about fixed income securities.
About the author
Elizabeth Moran is Director of Education and Fixed Income Research at FIIG Securities, a specialist fixed-income broker. She has been with FIIG for five years, and her prior experience includes positions at Rapid Ratings, NatWest Markets and BP Oil in London, and Commonwealth Bank.
All prices and yields in this story are a guide only and subject to market availability.  FIIG does not make a market in these securities.
From ASX
To learn about the features, benefits and risks of listed fixed-interest products, do the ASX free online interest rate securities course.
<!IoRedDot_txt_disclaimer>The views, opinions or recommendations of the author in this article are solely those of the author and do not in any way reflect the views, opinions, recommendations, of ASX Limited ABN 98 008 624 691 and its related bodies corporate ("ASX"). ASX makes no representation or warranty with respect to the accuracy, completeness or currency of the content. The content is for educational purposes only and does not constitute financial advice. Independent advice should be obtained from an Australian financial services licensee before making investment decisions. To the extent permitted by law, ASX excludes all liability for any loss or damage arising in any way including by way of negligence.

© Copyright 2018 ASX Limited ABN 98 008 624 691. All rights reserved 2018.