This article appeared in the July 2012 ASX Investor Update email newsletter. To subscribe to this newsletter please register with the MyASX section or visit the About MyASX page for past editions and more details.
History can be a guide to future dividends, and these eight stocks make the grade.
By Ken Howard, RBS Morgans
It is sometimes misleading to believe that risk and return are related. True, every asset has a risk profile and a return profile, but you do not have to accept high levels of risk to make high returns. There is an alternative - buy cheaply.
Of course, the first question has to be, what are the risks? If you are buying an asset with a view that it will generate X dollars in profit per year:
What are the risks it will make something less than X?
What are the risks it will not make any profit, but make a loss?
How many years into the future, and why, do you believe the asset will be able to generate X dollars profit per year?
No one knows the future, so the next best thing is to study the past. A simple generalisation is to buy an asset that has generated a profit every year for the past 20 years.
Why 20? Because over the past 20 years there has been good and bad economic times, various governments and plenty of opportunity for technological change and competition. If the asset has been profitable every year, there is a good chance it will be profitable next year regardless of the economic or political situation.
If you can add to this a market-leading position, stable management, and a stable competitive and regulatory environment, a profit next year is almost certain.
Take, for example, the Commonwealth Bank (Editor's note: Do not read the following ideas as recommendations. Do further research of your own or talk to your financial adviser before acting on themes in this article.)
CBA has been profitable every year for the past 20 and, as shown in the table below, has paid a steadily increasing dividend in that time. Certainly there were some years when dividend growth was strong (for example, 2006-07 up 14 per cent) and periods where it was weak (2008-09 down 14 per cent), but overall there has been steady growth in dividends.
The RBS Morgans forecast for the 2012 financial year is $3.28 in a cash dividend and $1.41 in franking credits. The current share price is around $51, which would give a forecast yield of 9 per cent before tax.
Commonwealth Bank of Australia (CBA)
Dividend history chart
1992 to 2012

Source: RBS Morgans
CBA's dividend has grown at an average annual rate of 11.75 per cent over the past 20 years, but exactly what rate it will grow at over the next 20 is unknown. Will the economy experience a long period of low growth? Will Australia experience a rolling series of recessions or will the next 20 years be something like the past 20, some downturns, a recession, but on the whole steady growth?
Fortunately for Australia the big four banks have all delivered a steady stream of profits and although profits are not guaranteed (you only need to look at the GFC), the banks have been well regulated and are currently well capitalised.
Diversification is a well-established practice, so even though ANZ and Westpac reported losses in 1992 there is a sound argument for buying ANZ, CBA, NAB and Westpac. The chart below tracks the dividends you would have received had you held one share in each.
Combined dividend per share and franking credits of ANZ, CBA, NAB and Westpac dividend history
1992 to 2012(f)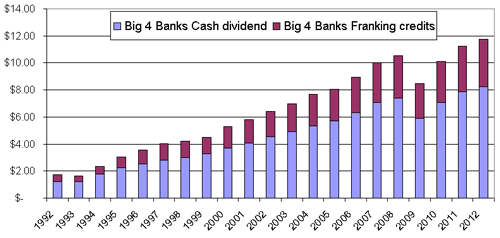 Source: RBS Morgans
If you were to buy one share in ANZ at $22, CBA at $51, NAB at $23 and Westpac at $21, the total cost would be $117. RBS Morgans forecasts a total cash dividend of $8.23 and franking credits of $3.51, which is a total of $11.74 or a yield of 10 per cent.
By owning all four big banks your risks have been somewhat reduced, although your exposure to industry-wide effects still remains.
Widening the equation
Let's take the diversification a step further and include one share in a large retailer, Woolworths, one share in each of Australia's large energy utilities, AGL Energy and Origin Energy, and one share in the largest telecom utility, Telstra. Track that over the past 15 years (note in 2007 AGL merged and demerged with Alinta, and in 2001 Origin and Boral split, and Telstra has only been listed for 15 years).
Dividends from an eight stock portfolio
 1 share in ANZ, CBA, NAB, Westpac, Woolworths, AGL, Origin and Telstra
1998 to 2012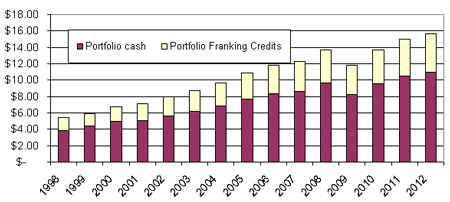 Source: RBS Morgans
Over the past 15 years, dividends across this portfolio have grown on average by 8 per cent, with 2009 the worst year with dividends contracting by 14 per cent, and 2010 the best year, when they grew by 16 per cent.
If you were to buy one share in Telstra at $3.65, one in AGL at $15.40, one in Origin at $13 and one in Woolworths at $26.60, you would have to invest $58.65. Based on RBS Morgans forecasts you would receive $2.65 in cash and $1.15 in franking credits for the 2012 financial year, giving a yield of 6.5 per cent.
In total, a portfolio of the four banks and the four other companies would cost $175.65. Based on RBS Morgans forecast, dividends would pay $10.88 in cash and $4.66 in franking credits for the 2012 financial year, giving a running yield of 8.85 per cent.
Bigger can be better
There are many places you can look on the sharemarket for yield: Australian Real Estate Investment (A-REIT) trusts, infrastructure funds, hybrid securities, and many small to medium-size companies. However, I am trying to highlight that some of Australia's largest and strongest companies are trading on attractive yields and over the past decade have delivered steady dividend growth. True, the rate of dividend growth for the next decade is unknown. But if it is anything like the past decade, the above example portfolio will deliver attractive returns, particularly when it is compared to the alternative of cash term deposits.
About the author
Ken Howard is a stockbroker and financial planner. He has worked with RBS Morgans since 2001 and in the financial services industry since 1996. He has adopted a fundamental approach to investing, looking for value and quality in long-term investments.
Ken's strategy is biased towards investments with a long history of paying dividends and distributions. To find out more about higher-yielding stocks in 2012, phone Ken Howard on (07) 3334 4856 or email him.
From ASX
The ASX interest rate securities course is especially popular with long-term investors who want more predictable income through ASX-listed bonds or hybrid securities that have fixed or floating interest rates. More companies are expected to launch interest-rate securities, so it is a good time to learn about this market.
<!IoRedDot_txt_disclaimer>The views, opinions or recommendations of the author in this article are solely those of the author and do not in any way reflect the views, opinions, recommendations, of ASX Limited ABN 98 008 624 691 and its related bodies corporate ("ASX"). ASX makes no representation or warranty with respect to the accuracy, completeness or currency of the content. The content is for educational purposes only and does not constitute financial advice. Independent advice should be obtained from an Australian financial services licensee before making investment decisions. To the extent permitted by law, ASX excludes all liability for any loss or damage arising in any way including by way of negligence.

© Copyright 2018 ASX Limited ABN 98 008 624 691. All rights reserved 2018.