Market outlook and best shares to buy
This article appeared in the July 2012 ASX Investor Update email newsletter. To subscribe to this newsletter please register with the MyASX section or visit the About MyASX page for past editions and more details.
Although capital growth will be constrained, investors are being paid to wait for the next bull market via attractive dividend yields. Evans & Partners' MIKE HAWKINS explains how to take advantage of current market conditions and nominates stocks that meet his yield criteria.
By Mike Hawkins, Evans & Partners
For the third consecutive year after a positive start, global sharemarkets have hit turbulence mid-year, and Greece has been the primary catalyst each time. Hopefully, there should not be a fourth similar year. It may still take another six to 12 months for this reality to play out.
Risk aversion will remain extremely high, which means the investment horizon of the marginal global investor will be very short and their behaviour seemingly irrational as they pursue short-term safety at any price.
We have been here before regularly over the past four years and the end game will play out just the same.
With time will come clarity; with clarity will come the capacity to quantify risk and return; with quantification will come the confidence to look beyond the very short term. Risk aversion will retreat, valuation multiples will expand, and those investors who view volatility as an opportunity will profit yet again.
Investors have the capacity to differentiate between market risk (i.e. price volatility) and valuation risk (i.e. the destruction of profits and balance sheets), and understand that the latter ultimately drives portfolio performance. All shares are exposed to market risk, but valuation risk is share-specific.
The US and China factors
Outside the European banking system, the events in Europe will not directly threaten the "value" of established and well-managed corporations, particularly in Australia where the implications of a very uncompetitive economy and events in China and Canberra are of far greater significance.
While obviously creating further problems for Europe, we suspect the broader global economy would be better off if Greece leaves the eurozone than if it stays. At the moment, business decisions around the world are probably being delayed or refined on the basis that Greece will ultimately depart and that it is therefore best to wait and see the implications.
A European overhang would still affect business and investor confidence, but providing the political consensus remains functional in the Euro region, we will eventually return to a world where the risks are relatively transparent.
Last year the market was at its most frazzled when it thought that both Europe and the US were heading into immediate oblivion. Now, the likelihood of other regions adding to the risk aversion looks to be contained. The US private sector remains resilient and the State Council in China has effectively confirmed that the government will take steps to underpin its 7.5 per cent economic growth target for 2012.
In Australia, the defensive buffers are functioning perfectly: policy is responding (via interest rates and currency); the mining/energy capital expenditure boom continues to play out, and the banking sector remains healthy and well capitalised.
The risk of widespread value destruction on the sharemarket through large corporate earnings downgrades is therefore contained. Yes, the prevailing trend for both global and ASX-listed company earnings estimates is down, but the pace has slowed and the profile across industries is mixed, with the Materials & Energy sector being the major negative over recent months.
Positive view on the Aussie
Australia's currency has retreated sufficiently to prompt downgrades to market forecasts and from here will be a source of positive earnings reviews (higher profit forecasts) if the depreciation continues.
Even allowing for further earnings slippage, aggregate valuation multiples (such as price-earnings ratios), for sharemarkets, both offshore and local, have retreated sharply in the June quarter and are now at levels that have garnered support over recent years.
We are confident this trend will emerge again, particularly as the gap between dividend yields on stocks and returns from bank term deposits widens (see chart below).
Reluctantly at first, private investors will be slowly lured back into the sharemarket on the back of this rising opportunity cost of holding cash when dividend yields are increasing.
S&P/ASX 200 Dividend yield vs 3mth Bank bill rate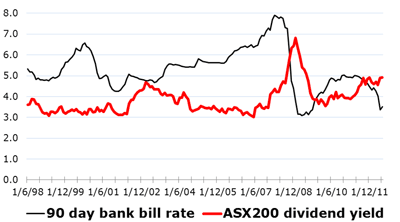 Source: IRESS, Evans
The cash rate in Australia is currently 3.5 per cent. We suspect there will be another 25-50 basis points reduction by the Reserve Bank over the remainder of the year, and term deposit rates will continue to fall.
In addition, the 90-day bank bill rate - the base for most floating-rate debt/hybrid securities - has fallen from approximately 5 per cent a year ago to 3.5 per cent. This rate is likely to fall to around 3 per cent over the coming months, which will further depress the income stream investors receive from floating-rate investments.
At the moment, the projected 2012-13 yield (before franking benefits) for the ASX 200 is around 5.2 per cent and around 6.2 per cent for the ASX 200 Industrials. At the aggregate level, the risk that these yields will not be delivered is low.
Although capital growth will remain a struggle across the majority of the sharemarket, given the lack of profit growth, investors are being paid to wait via the attractive yields that are available. As always, when investing for income it is important to focus on quality.
Look for large-cap companies that:
Have a long track record of consistent dividend delivery.
Offer both an attractive yield and the capacity to deliver dividend-per-share growth over the medium term. Investors are far better off buying a security on a 4 to 5 per cent yield where the dividend will increase over time, than a security on a 7 to 8 per cent yield offering little growth.
Have a sustainable dividend payout ratio where the dividend would not be affected by a short-term decline in earnings and/or a debt-heavy balance sheet.
Are comfortably valued relative to valuation parameters other than yield. This is important, as many shares within the higher-yielding defensive sectors - property trusts, utilities, infrastructure, and telcos - are currently fully valued, given that investors have, over the past year, been happy to pay for companies with more defensive earnings.
Shares that we feel fit these criteria and are offering 2012-13 dividend yields of 5 per cent or more are Westpac, NAB, UGL Ltd, Wesfarmers, Woolworths and Transurban. (Editor's note: do not read these ideas as recommendations. Do further research or talk to your financial adviser before acting on themes in this article).
Although we are comfortable to lock in an exposure to the very attractive 7 to 8 per cent fully franked yields now on offer across the major banks, going forward the sector is not going to be in a position to match the solid dividend-per-share growth that it has delivered over the past 15 years.
Dividend growth for bank stocks may prove marginal at best over coming years, particularly as a tighter regulatory capital regime is introduced. As such, investors should not get too fixated with the high yields on offer from the banks (and Telstra), because over the medium term the sector is highly likely to lag the market in terms of earnings and dividend growth.
About the author
Mike Hawkins is chief investment officer at Evans & Partners, a leading wealth-management firm.
From ASX
ASX online courses cover shares, interest-rate securities, warrants and instalments, options and futures. The shares course has 11 modules, each taking 10 to 15 minutes to complete.
<!IoRedDot_txt_disclaimer>The views, opinions or recommendations of the author in this article are solely those of the author and do not in any way reflect the views, opinions, recommendations, of ASX Limited ABN 98 008 624 691 and its related bodies corporate ("ASX"). ASX makes no representation or warranty with respect to the accuracy, completeness or currency of the content. The content is for educational purposes only and does not constitute financial advice. Independent advice should be obtained from an Australian financial services licensee before making investment decisions. To the extent permitted by law, ASX excludes all liability for any loss or damage arising in any way including by way of negligence.

© Copyright 2018 ASX Limited ABN 98 008 624 691. All rights reserved 2018.