This article appeared in the July 2012 ASX Investor Update email newsletter. To subscribe to this newsletter please register with the MyASX section or visit the About MyASX page for past editions and more details.
What the share-price charts say for AGL, APA Group, SP AusNet and DUET.
By Regina Meani, author
Editor's note: The defensive characteristics of companies that provide electricity or gas, and are less reliant on the state of the economy, have stood out in recent years. Their more predictable, defensive income streams means utilities' shares often have higher yields and appeal to investors who prefer income over capital growth.
Here is an analysis of the share price charts of four key utilities by Your Technical Analyst founder Regina Meani. It does not consider the distributions from these companies, which can be a significant part of total shareholder return.
1. AGL Energy
AGL Energy chart - Jan 1988 to Jan 2012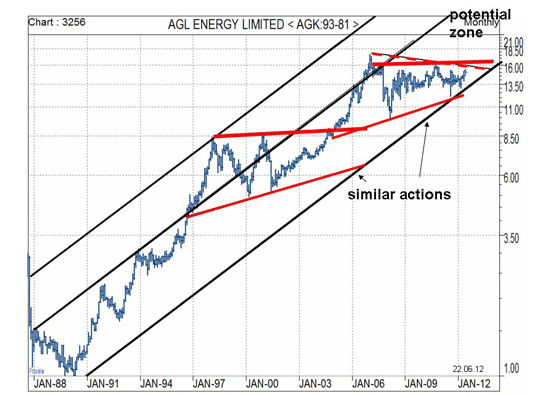 Source: Regina Meani, Your Technical Analyst
As Australia's leading renewable energy company, AGL is also the largest private owner, operator and developer of renewable generation assets. Its major investments include hydro and wind power, as well as ongoing developments in key renewable areas such as solar, geothermal, biomass, bagasse and landfill gas. The company operates retail, merchant energy and upstream gas businesses, and has more than three million customers.
The share price has been following a broad upward path from the mid-1970s. When it peaked at $17.65 in 2007 it had exceeded a target and had pushed momentum into overbought territory. The subsequent reactionary phase, which is still influencing the price, shows a marked resemblance to the volatile period between 1998 and 2004.
As the phase has progressed, the spike low to $12.10 in August last year connected with the long-term trend and acted as a springboard for recovery. The recent action has consolidated the price as it re-gathers momentum to overcome the next barrier zone between $15.50 and $16.50. A breakaway through this area would signal the next leg higher for the shares, progressing towards the peak around $17-$18 and then potentially into the $20-$30 range.
Support is located at $14.40 to $14.60 and then, more importantly, closer to $13.00. A fall below this level could seriously delay the return to the upward path.
2. APA Group
APA Group chart - Jan 1997 to Jan 2011
Source: Regina Meani, Your Technical Analyst
APA Group is Australia's largest natural gas infrastructure business, its pipelines spanning every mainland state and territory and delivering about half the nation's gas usage. Unique among its peers, the company has direct management and operational control over its assets and investments, and employs more than 1200 people.
From early 2000 the price of APA has been volatile with two significant upward trends. The first, initiated from around $2.00, saw the price advance along a gradual uptrend to accelerate through 2004 to 2006, when it peaked around $5.00. Topping out and falling into decline, the price lost most of the ground it had gained, forming a trend reversal from a low at $2.43 in November 2008.
From there the price launched itself on another steep path higher, surpassing the peak and reaching $5.34 in March this year. The price has paused in reaction to this achievement and may continue to churn in the $5.00-$5.30 range. At this stage we could not rule out a deeper pullback, triggered on a fall below $4.85. In this case the shares would find support in the $4.40-$4.60 range.
Beyond this we would anticipate a return to the upward path through the peak zone towards $5.75 and then $6.50, and potentially higher. An early return to the upward path would be signalled on a break through $5.35. The risk, over the near term, would be a fall below $4.40 warning of a deeper corrective phase.
3. SP AusNet
SP AusNet chart - Jan 2000 to May 2011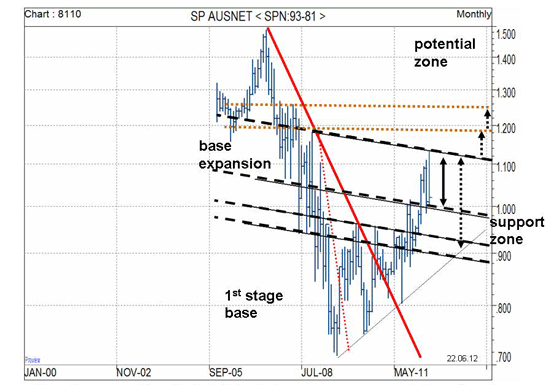 Source: Regina Meani, Your Technical Analyst
SP AusNet, with more than 1500 employees and one million customers in south-east Australia, manages a $6.3-billion electricity and gas network. The company has four main divisions: Electricity Distribution, Gas Distribution, Electricity Transmission, and Select Solutions. The company operates Victoria's primary electricity transmission network, the electricity distribution network in eastern Victoria, and a gas distribution network in western Victoria.
After forming a top in 2006-07, the share price followed a steep downward path until it located a turning point close to 70 cents in mid-2009. Breaking higher through 80 cents in 2009 and then 90 cents in 2010, the price reversed the downward trend and initiated a base-forming process. The action produced oscillations between 75 cents and 95 cents into 2011 to make a push higher to $1.00, then $1.10 in 2012. The 2011-2012 experience forms part of an expansion of the base and the price may continue to churn between $1.00 and $1.08. But these parameters may broaden to include lower support closer to 90 cents and higher barriers at $1.18 and $1.25.
When the basing process is complete on a breakaway through $1.25, the shares would gain the ability to approach their previous peak around $1.50 and potentially significantly beyond. The danger to this would be a break down through support on a fall through 84 cents.
4. DUET Group
DUET Group chart - Jan 2000 to May 2011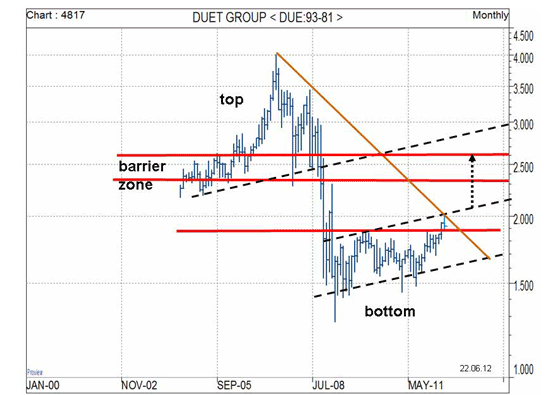 Source: Regina Meani, Your Technical Analyst
DUET owns a regulated energy utility infrastructure business in Australia that consists of three registered managed investment schemes and a public company, which are stapled together and trade on ASX as one group. The group is jointly managed by AMP Capital Investors and Macquarie Capital Group.
A volatile top that formed from 2006 to 2008 led to a rapid price sell-off and spike low at $1.26 in March 2009. The spike became pivotal in a reversal phase, which developed through 2010 and 2011, completing the preliminary stage in December 2011. The subsequent rise and check back from resistance in the $1.85-$1.90 zone has broadened and extended the reversal process.
The recent move towards $2 has signalled an attempt at another stage higher, but the combination of resistance located in this area is likely to remain a barrier for the shares over the near term, with support in the $1.75-$1.85 area. A deeper pullback is not signalled at this time but a fall below $1.70 could produce more downward volatility.
When the upward break through $2.05 occurs, it would signal the start of the next stage higher towards $2.30 and then $2.60, where the beginning of resistance from the 2006-2008 top may present the next major barrier to the upward path.
About the author
Regina Meani is a freelance consultant in market analysis and one of Australia's leading technical analysts. She is an authorised representative of stockbroker BBY.  Her company, Your Technical Analyst, provides private tutoring and larger seminars, training investors and traders in market psychology, CFDs and shares, and technical analysis.
From ASX
ASX Charting Library provides a wealth of free material for beginners through to advanced chartists.
<!IoRedDot_txt_disclaimer>The views, opinions or recommendations of the author in this article are solely those of the author and do not in any way reflect the views, opinions, recommendations, of ASX Limited ABN 98 008 624 691 and its related bodies corporate ("ASX"). ASX makes no representation or warranty with respect to the accuracy, completeness or currency of the content. The content is for educational purposes only and does not constitute financial advice. Independent advice should be obtained from an Australian financial services licensee before making investment decisions. To the extent permitted by law, ASX excludes all liability for any loss or damage arising in any way including by way of negligence.

© Copyright 2018 ASX Limited ABN 98 008 624 691. All rights reserved 2018.