This article appeared in the August 2012 ASX Investor Update email newsletter. To subscribe to this newsletter please register with the MyASX section or visit the About MyASX page for past editions and more details.
Credit and housing downturns are slowing growth, but high bank yields an attraction.

By Matthew Koroi, MyClime
European and US banks are struggling to produce returns in the current low growth and volatile economic and political environment. European banks are being "nationalised" through bailouts by governments, and across the Atlantic 32 US banks have failed so far in 2012.
Large US investment banks are flush with access to funding, courtesy of the US Federal Reserve, but are still struggling to generate pre-GFC rates of return. They have to pursue higher-risk strategies because of volatile sharemarkets and a depressed nationwide appetite for "non-self-liquidating" credit - that is, loans not tied to production - as consumers and businesses alike refocus on living within their means. The negative results of this have been well documented.
By comparison, Australian banks have maintained attractive return on equity (ROE) despite a stagnating housing market and waning appetite for credit by consumers and businesses. Although these two issues are dampening the potential growth of the banks in the medium term, we still see banks being attractive in the medium term for yield.
Best and worst performers over 2011-12
The best performers on total return in the 2012 financial year were ANZ Banking Group (ANZ) and Commonwealth Bank (CBA). The worst performers were the regionals, Bendigo & Adelaide Bank (BEN) and Bank of Queensland (BOQ), and investment bank Macquarie Group (MQG).
This equity market performance has reflected the actual underlying business performance as represented by each bank's normalised return on equity (NROE), shown in the table below:
Figure 1: Bank performance FY12
| Bank | FY11 NROE (actual) | FY11 NROE (forecast) | Total Return FY12 |
| --- | --- | --- | --- |
| MQG | 13.50% | 0.20% (actual) | -16.80% |
| NAB | 18.6% | 19.7% | -8.12% |
| WBC | 24.10% | 20.00% | -5.0% |
| ANZ | 21.90% | 20.2% | 0.14% |
| BEN | 13.50% | 8.10% | -16.37% |
| BOQ | 10.50% | 4.10% | -16.43% |
| CBA | 22.90% | 25.50% | 1.53% |
Source: MyClime, IRESS data
Outlook for this financial year
Banks thrive during periods of economic growth, when consumers, investors and businesses alike pursue expansion and are willing to assume higher levels of risk. Despite relatively positive economic data continuing in Australia, conservatism rules in many households and businesses. This is affecting credit growth as debt continues to be repaid and savings ratios remain high.
Some key considerations for the banking outlook include:
The increasing desire to save
The household savings ratio has been rising consistently since 2002, and remains near 2009 peaks at 10 per cent. This level had not been seen since the late 1980s. This widespread conservative behaviour is feeding through to the housing market. Decades of optimism and a willingness to take on debt, fuelled strong gains in house prices. The switch toward repayment of debt as top priority and acknowledgement that house prices can indeed stagnate continued despite government initiatives designed to spur buying.
The strong demand for simple savings products is affecting net interest margins (NIM) as banks compete aggressively for retail term deposits. Under Basel III, retail deposits are regarded as high quality and banks are rewarding savers in an effort to fund a larger proportion of their books through domestic retail deposits. The chart below shows how domestic deposits have increased as a proportion of bank funding.
Figure 2: Bank funding
Bank Funding*
Per cent of total, all banks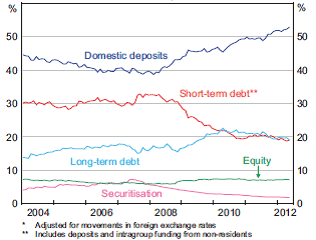 Source: Reserve Bank of Australia; July 2012 Chart Pack
The decreasing desire to borrow
Despite attempts to stimulate borrowing by central banks globally, investors, consumers and businesses just don't want to borrow and there has been little in the way of credit growth.
Although Australia has not embarked in the type of monetary stimulus seen overseas through quantitative easing (printing money), credit growth here remains subdued in line with overseas trends. The charts below show the fall in credit growth and consumer credit applications.
Figure 3: Credit growth
Credit Growth by Sector
Year-ended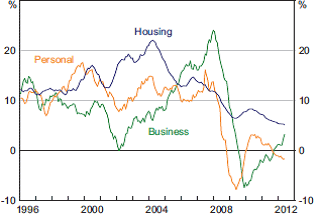 Source: Reserve Bank of Australia; July 2012 Chart Pack
Figure 4: Veda Credit Demand Index Jan-Mar 2012
Consumer Credit Applications
March 2012
12 Month Rolling Average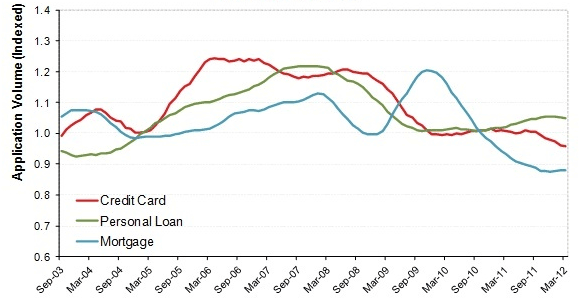 Source: Veda
A soft housing market, dwindling desire to borrow and increased demand for high-interest savings accounts combine to paint a sombre picture of banks' growth profile. The business risks lie in a worsening of the economic environment and a substantial increase in unemployment, leading to defaults on existing loans. Although the level of banks' non-performing assets has stabilised (see chart below) it is still higher than pre-GFC.
Figure 5: Banks' non-performing assets
Banks' Non-performing Assets
Domestic books, share of loans by type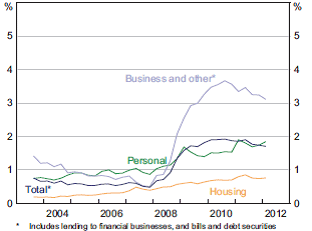 Source: Reserve Bank of Australia; July 2012 Chart Pack
Banks' funding profiles
Australian banks are well on their way to being compliant with the Basel III Accord on capital adequacy, which is good news and places them in a favourable position if there were to be any form of GFC Mark II. It does mean a greater amount of capital is tied up, but contributes to greater system stability. The Australian Government's deposit guarantee provides additional confidence.
Figure 6: Bank capital ratios
Capital Ratios*
Consolidated global operations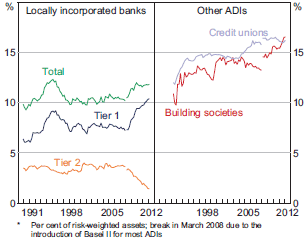 Source: Reserve Bank of Australia; July 2012 Chart Pack
Three of the big four banks - ANZ, NAB and Westpac - have recently raised money through subordinated debt issues and the terms for each are quite similar. There has been strong demand from retail and institutional investors. We have found the issues to be attractive on a cash alternative basis, compared to money placed on deposit.
Who is most likely to outperform
Once growth resumes, investing in high-quality banks when things seem bleak will reap rewards in the future. Fortunately, at current share prices, each of the banks mentioned in this article are trading at attractive prices from a yield perspective, as the table below shows.
Figure 7: Financial Year 2013, forecast dividend yields
| Bank | FY13 (estimate)Yield* | Franking |
| --- | --- | --- |
| MQG | 6.70% | 0% |
| NAB | 8.06% | 100%  |
| WBC | 7.66% | 100% |
| ANZ | 6.71% | 100% |
| BEN | 7.53% | 100% |
| BOQ | 7.86% | 100% |
| CBA | 6.31% | 100% |
Source: MyClime
However, not all banks are attractive on a shareholder return basis. We still feel CBA and ANZ are the more attractive from an investment perspective. (Editor's note: Do not read this as a recommendation to buy these shares. Do further research of your own or talk to your financial adviser before acting on themes in this article.)
The largest of the big four banks, CBA is on the back of a recent price surge and is a little expensive at current prices in MyClime's view, trading around our forecast valuation. CBA has the highest net interest margin and normalised return on equity of the banks. We forecast value to grow.
Low-growth environments foster innovation because businesses must compete to attract market share and maintain customers. CBA is at the forefront of technological development in this area, having recently announced the release of "Albert", a hand-held alternative to EFTPOS designed to lure merchant customers. Continual innovation will ensure CBA retains its strong business position.
Over the past five years CBA has raised $10.17 billion from shareholders, generated $28.30 billion in profits and returned $20.36 billion in dividends (fully franked).
If CBA were unlisted, from a closing equity base of $22.99 billion in 2007 and equity raisings of $10.17 billion, the business would have provided a cash return of 61.4 per cent on an investment in the business over the period.
ANZ performing well
ANZ is often noted as the bank with the Asian growth strategy. Based on this assumption, many perceive it to be the best-placed bank in terms of growth. We forecast value to grow by around 5 per cent to FY13.
Its decision to make out-of-cycle interest rate decisions has put a dampener on customer satisfaction, but this affects business performance remains to be seen. Normalised return on equity is strong and consensus analysts' forecasts are for ROE to remain relatively stable.
Over the past five years ANZ has raised $13.25 billion from shareholders, generated $21.61 billion in profits and returned $15.02 billion through dividends (fully franked).
If ANZ were unlisted, from a closing equity base of $21.14 billion in 2007 and equity raisings of $13.25 billion, the business would have provided a cash return of 43.7 per cent on an investment in the business over the period.
Summary
Based purely on the returns from dividend yields, at current prices an investment in banks seems justified as a suitable alternative to money placed on deposit for those who are able to stomach the volatility of equity markets. The potential upside from capital gains is the reward for taking the higher of risk (between bank shares and term deposits).
Fortunately, the current slow-growth economic period is a necessary, albeit painful, adjustment to the decades of profligacy. It is beneficial in the long run in the interests of encouraging a return to improved productivity, weeding out inefficiency and driving innovation. This will not occur without short-term pain and volatility.
About the author
Matthew Koroi is an analyst at Clime Investment Management. MyClime uses a normalised return on equity in its valuations that accounts for the benefit of franking credits when investing in Australian companies. Register for a free trial. All prices and yields in this article are current at close on July 25 unless otherwise stated.
From ASX
ASX online courses cover shares, interest rate securities, warrants and instalments, options and futures. The shares course has 11 modules, each taking 10 to 15 minutes to complete.  
<!IoRedDot_txt_disclaimer>The views, opinions or recommendations of the author in this article are solely those of the author and do not in any way reflect the views, opinions, recommendations, of ASX Limited ABN 98 008 624 691 and its related bodies corporate ("ASX"). ASX makes no representation or warranty with respect to the accuracy, completeness or currency of the content. The content is for educational purposes only and does not constitute financial advice. Independent advice should be obtained from an Australian financial services licensee before making investment decisions. To the extent permitted by law, ASX excludes all liability for any loss or damage arising in any way including by way of negligence.

© Copyright 2018 ASX Limited ABN 98 008 624 691. All rights reserved 2018.