This article appeared in the April 2011 ASX Investor Update email newsletter. To subscribe to this newsletter please register with the MyASX section or visit the About MyASX page for past editions and more details.
Learn what has changed about listed property and why it looks more attractive.
By Bianca Rose, Morningstar
Australian Real Estate Investment Trusts (A-REITs) disappointed investors during the global financial crisis. Far from delivering a steady income return with less downside risk, they delivered very poor negative returns. This was especially the case in 2008, when the S&P/ASX300 A-REIT Accumulation Index produced an annual return of -55.3 per cent.
There were many reasons why A-REITs performed so poorly: too much debt, paying out unsustainably high dividends, paying expensive management fees to related companies, and sourcing earnings from newer, less-stable income sources (such as development earnings, funds management, and under-researched overseas property investments) rather than from traditional Australian property rental.
The A-REITs sector today does not show the same risky characteristics as it did at the start of the GFC in mid-2007. We think the prospects for performance are excellent and that the sector is likely to be one of the most attractive growth asset classes over the next five years on a risk-adjusted basis. We believe returns will be positive with far less turbulence than in recent years, because many of the larger trusts have resolved the problems that plagued them during the GFC.
Gearing
The highly geared trusts produced the worst outcomes during the GFC. Average gearing levels of A-REITs, measured by debt/asset ratios, were around 10 per cent in the mid-1990s. By the end of 2007 that had increased to around 40 per cent. With debt markets freezing and asset values falling in 2008, these gearing levels would have increased even more if management teams had not undertaken capital raisings to recapitalise their balance sheets and ensure survival.
Figure 1 below shows that A-REITs equity raisings during the GFC exceeded the 10-year average. JP Morgan data shows the sector had reduced its overall debt exposure from $76.50 billion at June 30, 2008 to $45.0 billion by September 30, 2010. The average is now back to a far more appropriate gearing level of around 30 per cent. This is more manageable than it has been in recent years, given that Australian commercial property valuations appear more reasonably priced than in 2006-07. Some A-REITs have commenced share buybacks, which would be unlikely if gearing were still an issue.
Figure 1: Calendar year equity capital raisings by A-REITs - 2000 to 2010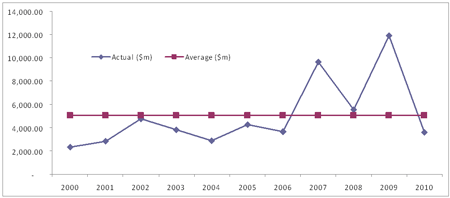 Sources: J.P. Morgan, Bloomberg
Earnings profiles
Another characteristic viewed unfavourably by investors during the GFC was A-REITs' exposure to overseas assets, as their values fell more than Australian values. Several A-REITs had significantly increased their investments in overseas property assets over the previous 10 years.
Several management teams have indicated they plan to sell their overseas property assets and concentrate on Australia. It remains to be seen whether management will sell these overseas assets at the right time and achieve high or low proceeds. What is clear, though, is that A-REITs are likely to hold fewer overseas assets and focus more on Australian property in the immediate future. This should result in increased demand from overseas investors for A-REITs focusing on Australian property.
A-REITs' incomes are heavily exposed to the fortunes of the Australian commercial property market. The fundamentals supporting this market appear sound and A-REITs do not seem troubled by significant vacancy problems. Economic conditions in Australia remain healthy and occupancy levels for high-quality offices are generally above 90 per cent. Unlike previous commercial property downturns, the decline during the GFC was because of debt concerns rather than oversupply.
Dividend yields and earnings payout ratios
A-REITs offer a competitive dividend yield and appear to have good capacity to meet dividend payments. The average dividend is around 6 per cent, the same as at the end of 2007, but there is now more certainty that future dividends will be paid at this rate than there was in late 2007. Earnings payout ratios - the portion of earnings paid out as dividends - were high in late 2007; most were close to 100 per cent. This was an unsustainably high level given the need to retain some earnings to cover maintenance and building renovations. Management teams have reduced the average payout ratio to a more prudent level of just under 80 per cent.
Investor flow activity
A-REITs significantly underperformed global real estate investment trusts in 2010 (see Figure 2, below). This is hard to reconcile because A-REITs have arguably done a better job of addressing their shortcomings than have trusts in most other regions. This suggests A-REITs have become a contrarian play where the opportunity is good, but investors in general are disinterested.
There are several potential reasons. They include the availability of term deposits paying high interest rates, reducing the attractiveness of A-REITs for yield-focused investors; the strong Australian dollar limiting appeal to overseas investors; and investor inflows favouring global trusts over A-REITs.
Other contributing factors may have included a significant improvement in overseas capital market conditions, and that A-REITs' return to a more defensive profile proved unpopular in a "risk-on" environment that favoured pro-cyclical asset classes such as Australian and international equities. (Perhaps, ironically, after having been penalised by the market for adopting more risky business structures during the GFC, A-REITs appear to have been penalised in 2010 for being too conservative and defensive.)
A-REITs have experienced selling pressures from a range of sources, for the most part unrelated to the trusts' fundamentals. Many institutional investors abandoned their standalone A-REITs portfolio allocations following the disappointing returns during the GFC, citing concerns about concentration and inadequate diversification. A number of fund managers chose to reassign their A-REITs allocations to other property asset classes such as global REITs (which often include investments in A-REITs), Australian direct property, and/or Australian unlisted property.
These shifts have created selling pressures. This type of investor behaviour often creates positive future investment opportunities, and if the future return opportunity is favourable, buyers will appear. This could include greater investment by Australian share fund managers or global REIT managers.
Figure 2: Regional REIT Returns in 2010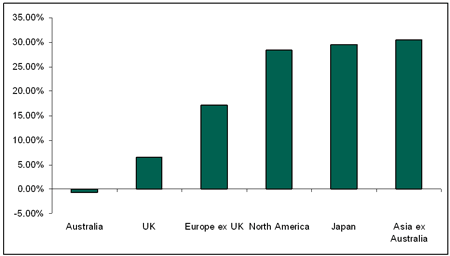 Sources: Morningstar Desktop Consultant and UBS Global Investors Indices.
Returns are shown in local currency terms, except for Asia ex-Australia, which is in $A terms.
Outlook summary
The A-REIT sector has shifted to a less risky return profile over the past two years as there has been a general reduction in gearing levels, and the adoption of more conservative dividend-to-earnings payout ratios. Management decisions to increase Australian property holdings and/or reduce overseas property exposures should also lead to the earnings fundamentals for A-REITs being aligned more closely with Australian commercial property fundamentals. This suggests the sector is positioned to perform well.
About the author
Bianca Rose is portfolio manager, equities and property, for Ibbotson Associates Australia, a leading provider of asset allocation, manager selection, and portfolio construction services.
From ASX
Investors who are new to A-REITs should watch the ASX A-REIT video in which Anne Fulwood interviews ASX business development manager Jonathan Morgan about the sector.
<!IoRedDot_txt_disclaimer>The views, opinions or recommendations of the author in this article are solely those of the author and do not in any way reflect the views, opinions, recommendations, of ASX Limited ABN 98 008 624 691 and its related bodies corporate ("ASX"). ASX makes no representation or warranty with respect to the accuracy, completeness or currency of the content. The content is for educational purposes only and does not constitute financial advice. Independent advice should be obtained from an Australian financial services licensee before making investment decisions. To the extent permitted by law, ASX excludes all liability for any loss or damage arising in any way including by way of negligence.

© Copyright 2018 ASX Limited ABN 98 008 624 691. All rights reserved 2018.