Bellwether shares for US recovery
This article appeared in the April 2011 ASX Investor Update email newsletter. To subscribe to this newsletter please register with the MyASX section or visit the About MyASX page for past editions and more details.
What share-price charts say about James Hardie, Newscorp, Resmed and Westfield Group.

By Dale Gillham, Wealth Within
It has often been said that when the US market sneezes Australian shares catch a cold, although historical market data shows that is not always the case. However, the future growth of a number of Australia companies can be related to the state of the US economy and therefore companies such as James Hardie (JHX), Newscorp (NWS), Resmed (RMD) and Westfield Group (WDC) may shed some light on whether a recovery is under way.
We can look at each these companies to see what they might show us about the state of the US economy. Space does not permit a full exploration of the analysis and therefore I have provided a simplified view. Note that the entire history of the shares could not be displayed so you may want to investigate how the price unfolded by looking at your own charts.
(Editor's note: The ASX Charting Library has definitions on key charting terms.)
James Hardie (JHX)
The building industry provides a direct insight into activities within an economy and an increase in housing starts implies an increase in investment and optimism. So the question is whether this is shown to be supporting James Hardie's share price. The first thing to notice about the shares is their personality, or the high level of volatility in the price, which is noticeably different to the charts of the other three companies.
Following the low of $2.89 in March 2009, James Hardie traded up strongly to triple in value by January 2010, only to fall away and give up most of the gains shortly afterwards. However, notice how the decline halted at 50 per cent ($5.12) of the all-time high (ATH) and since then we have seen evidence of buyer support above this level.
Given this, it is reasonable to suggest that if price holds above 50 per cent ($5.78) of the average true range (ATR) over the short term, the shares are likely to continue to rise. I suggest this would indicate an improvement in US terms. That said, a dip back below $5.12 paints a poor picture.
James Hardie bar chart - 2001 to 2011
News Corporation (NWS)
News is a company that is likely to enable an analyst to keep a finger on the pulse of the US economy because it is often said that when an economy starts to recover, advertising revenue will rise. Since falling to a low in of $15.40 in October 2010, News has risen by around 20 per cent to achieve a high of $18.48 in February 2011, although it has since pulled back to test buyer support. The recent rise broke an important level of resistance at around $17, so that move may be an early indication conditions are improving.
To test this thinking we need to consider how strong the overhead price resistance may be in temporarily holding News back. As the chart below shows, historically the $20 level has played an important part in arresting price action, as indicated by how it bounces when the price trades to this level. Although the recent strong rise suggests News is likely to continue higher, this will not be confirmed until we see strong buyer support above $17.
If instead, this level is broken over the coming months, the view may be that a US recovery is faltering and News may continue to fall away to around $14 before it finds support for the next rise.
News Corporation bar chart - 1998 to 2011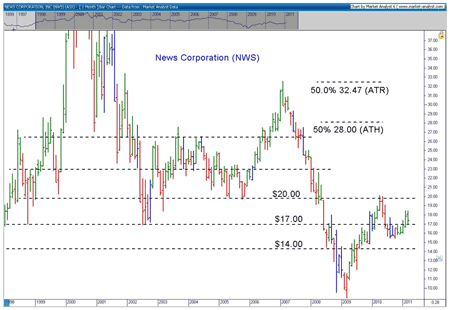 Resmed (RMD)
Following the all-time high of $3.99 in June 2010, Resmed has traded down to test support from a previous all-time high of $2.98 in December 2001. Historically, important levels of support and resistance occur for Resmed at around $1.80, $2.30, $2.90 and $3.30. The chart below shows how the shares have resonated around these levels. The analysis also shows how the price closed below the uptrend line in January 2011 as a sign that a further fall was likely. And although the current decline has not yet concluded, I believe Resmed will soon reverse direction to commence the next rise.
Does Resmed tell us any more about the US economy than other shares? First, the big difference with Resmed is how the price is trading well above 50 per cent of all-time high and average true range. I believe the greater degree of buyer support for Resmed following the crisis is partly a reflection of the defensive nature of the healthcare sector, the benefits gained by the company from having a market in 70 countries, and favourable foreign currency movements.
Given this, Resmed is unlikely to provide as good an insight into improving US economic conditions as other companies.
Resmed bar chart - 2002 to 2011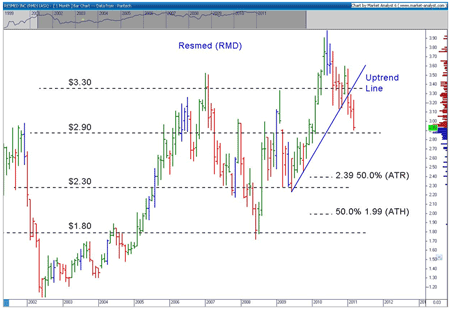 Westfield Group (WDC)
What better way to assess an economic recovery than to consider what is happening in retailing. It is interesting that the price of Westfield has been holding in a sideways range for more than 12 months above 50 per cent ($9.13) of the all-time high and 50 per cent ($9.28) of the average true range. As Gann said, these levels are the most important when studying any shares or market, and therefore this would suggest Westfield has reasonable prospects for a price rise.
However, this position was weakened in March as the price broke below $9.13 and therefore the risk of a further fall has increased. This supports the view that the US economy has not yet turned the corner. Should Westfield trade back below $9.13 it is likely to head towards $8 in the short term? This would increase the risk of a further fall to test the 2009 low and would suggest consumer confidence has not returned.
To convince me of a turnaround, Westfield must rise strongly above $10.20 over the coming months. Note that important levels to watch include $7.30, $9.30, $11.30 and $13.70.
Westfield bar chart - 1998 to 2011
About the author 
Dale Gillham is author of How to Beat the Managed Funds by 20%, and Director/Chief Analyst of Wealth Within.
From ASX
The ASX Charting Library provides a wealth of free material for beginners through to advanced chartists.
<!IoRedDot_txt_disclaimer>The views, opinions or recommendations of the author in this article are solely those of the author and do not in any way reflect the views, opinions, recommendations, of ASX Limited ABN 98 008 624 691 and its related bodies corporate ("ASX"). ASX makes no representation or warranty with respect to the accuracy, completeness or currency of the content. The content is for educational purposes only and does not constitute financial advice. Independent advice should be obtained from an Australian financial services licensee before making investment decisions. To the extent permitted by law, ASX excludes all liability for any loss or damage arising in any way including by way of negligence.

© Copyright 2018 ASX Limited ABN 98 008 624 691. All rights reserved 2018.