Opportunities in banking and house stocks
This article appeared in the December 2013 ASX Investor Update email newsletter. To subscribe to this newsletter please register with the MyASX section or visit the About MyASX page for past editions and more details.
But the best risk/reward outcomes could be in offshore companies, not local players.
By Paul Moore, PM Capital
What stands out about the local sharemarket is that is it extremely concentrated on a few sectors and stocks. The top 10 holdings in Australia account for 55 per cent of the S&P/ASX 200 Index and 65 per cent of the index (by weighted market capitalisation) is captured by two industries: financials and materials. My view is that this 65 per cent is not fertile ground for new investment.
The shares of 45 per cent of the ASX 200 consumed by financials/banks are fully priced and unlikely to appreciate materially as they trade at the top of their historic valuation range.
Australian banks are trading on hard-to-justify valuation and operational metrics compared to their historical valuation. Furthermore, one analysis shows they are selling at 30-50 per cent more than their counterparts overseas.
There is no immediate catalyst to change this valuation because the reality is the banks are quality businesses: they are a guaranteed oligopoly from government; they all produce the same product at the same price; and if they were to ever get into trouble the Federal Government is guaranteed to bail them out.
Little room to move higher
That said they are well priced for those benefits now. Further, slow lending growth despite low interest rates, and loan loss provisions (for potential bad debts) at low levels, means there is insufficient room for bank stocks to move higher in our opinion.
Because of the way risk rating works in the global capital system, home loans are seen as essentially risk-free so can be held in great quantities on the balance sheet. In terms of gross loans to equity, Australian banks are sitting at up to 8.4 times. The perception is that home loans are not problematic, but the reality is that if we ever had an environment where home prices declined 20-30 per cent on a permanent basis, there would be a significant issue.
The sizeable amount of leverage on the balance sheet from these loans would cause serious distress for banks. There is an anomaly in Australia: the bank with the highest leverage has the highest price-to-earnings (PE) ratio. When compared to overseas banks, it is even more of an issue.
This highlights that people are forgetting how balance sheets work and assuming home loans will be unproblematic forever, which is exactly what happened in 2008 in the US and we all know the result.
Resources under pressure
The 20 per cent of the ASX 200 index that is captured by materials/commodities stocks is in a long-term bear market. The sweet spot of rising commodity prices has passed and China's hard asset investment is slowing, and its economy is converting to consumption rather than capital investment. This will continue to have an effect on commodity markets.
History shows that whenever there is a huge boom there is a bust, and commodities have had their decade. The technology bust took a decade to play out and it may be the same with resources, or even longer because mining projects under construction cannot easily be stopped.
Short term, resource stocks could rally, but if you can pick the peaks and troughs and trade in and out of the sector, best of luck. The key to long-term investing is capital preservation and avoiding sectors in long-term downtrends, such as resources.
You sell resource stocks when investment in the sector peaks, and buy them when companies stop investing in projects. There are still a lot of resources investment locked in for the next few years that will be hard to unwind. Everyone was amazed at how far commodity prices climbed, and we predict they will be amazed at how far they can fall.
In our view, the resource sector is three years into a decade-long decline. Investors should sell mining stocks into any rally to preserve their capital in our view.
The opportunities
(Editor's note: Do not read the following ideas as recommendations to buy or sell stocks. Do further research of your own or talk to a licensed financial adviser before acting on themes in this article).
There is a narrow subset of opportunities remaining in the Australian market and to be successful in this environment you need the flexibility to focus on the remaining 35 per cent of S&P / ASX 200 index. This will cause a problem to the big-bank owned fund managers who construct their portfolios to reflect stocks weightings in the ASX 200 index (and thus are heavily weighted in bank and resource stocks).
In addition, this remaining 35 per cent of the index will be crowded out by an industry where too much money is trapped in Australian shares. The Australian Taxation Office's latest statistics (June 2013) show self-managed super funds (SMSFs) had only 1 per cent of assets invested offshore. Strictly from a diversification perspective, this makes little sense, but when you add the risk/reward component (of focusing almost entirely on Australian shares) it is crazy.
Dollar complications
Then add the Australian dollar, which is trading considerably higher than historical trading levels and most other currencies. My view is that we are in the early stages of a long-term downtrend in the Australian dollar, as I suspect the heightened level is purely because we still have higher interest rates than many developed nations. Having sommany countires trying to depreciate their currency has created a false sense of security.
Combined, the above leads to considerations investors need to think about. You do not want to be invested in a highly correlated ASX 200 fund (that is, one with returns that largely mirror ASX 200 index returns), which is the majority of the funds management industry.
When looking at the best risk/reward opportunities over the long term, investors should favour offshore equities, and the Australian dollar will provide an extra tailwind because there is potential to add another 3-4 per cent return per annum of currency depreciation over the next three to five years. (As the Australian dollar depreciates against other key trading currencies, returns from offshore investments increase in Australian-dollar terms, all things being equal).
Benefits of offshore investing
Looking at offshore markets, there is no doubt there is a greater breadth of opportunity. There are around 63,000 listed companies worldwide and only 3 per cent of them are in Australia. More importantly, it is the risk/reward opportunity that favours offshore returns.
If you look at the markets at the moment, the reality is they have done well in the short term. We have had some normalisation in terms of valuations and earnings and thus we are backing off slightly in the short term. However, longer term, we believe the ownership of a business still far outweighs the benefits of having money sitting in cash and bonds.
Equity returns are well ahead of cash and bonds
Source: Bloomberg. MSCI Heineken and Wells Fargo rates related to calendar year 2013 to 24 September 2014. Cash and bond rates as at September 2013. Heineken and Wells Fargo are two of the equity holdings in the Manager's existing fund - the PM Capital Absolute Performance fund.
This is all in association with an environment where corporate balance sheets have never been healthier. So the reality is you are getting a better return when corporate risk has never been lower.
Global corporate balance sheets
- 1995 to 2013
Source: Bloomberg as at 24 September 2013
Where are the offshore opportunities?
In terms of the opportunities PM Capital is favouring, we have been capturing the benefit from the recovery of the US housing market and crash of property prices there. We initially generated this idea from thinking about where was the worst part of the GFC, which was US housing, and then where was the worst part of the US housing crash, which was Las Vegas. This is where we were most likely to generate the best opportunities.
Our background work showed us apartment yields of gross 15 per cent, in an environment when you could borrow for 30 years through Fannie and Freddie Mac at 3-4 per cent rates. Compare this with Australia, where rental yields were almost 0 per cent when allowing for all costs.
US 30 year fixed mortgage rate
- 1980 to 2013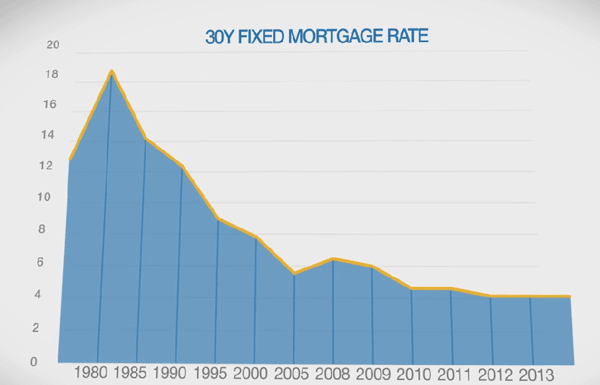 Source: Bloomberg as at 24 September 2013
We thought this was an outstanding opportunity. We went on a research trip to Las Vegas and expected rundown, desolate suburbs and houses. The reality was that 10 minutes from the centre city by freeway, in a tree-lined street, you could find, in a gated community with a pool and gymnasium, a one-bedroom apartment selling for $52,000. In Sydney $52,000 would hardly cover your stamp duty. That highlighted how deeply depressed the property market had become in the US.
Because of this significant price differential, in theory, buying overseas property for Australian investors would appear to be a good investment. That said, in reality, purchasing overseas property directly is a significant challenge. We would warn investors looking to invest in direct overseas property, of hidden costs and taxes, which exhaust some of the potential yield from these investments.
Hence, the best way to capitalise on this market mispricing is to buy the equity of overseas home developers and land owners. For example, Howard Hughes Corporation, which we began purchasing in our global equity fund in March 2012. Howard Hughes is a real estate company that owns, manages and develops commercial and residential real estate in the US.
US banks will also benefit
When you compare property overseas to Australia, it is undoubtedly cheap. Overseas property prices are down 40 per cent from their peak in the US and currently we are making similar investments that replicate this simple idea as we see a similar pattern emerge in Ireland and Spain.
Another opportunity we believe will play out over the longer term is in global financials. In a way this is an indirect play on the theme of recovery in the US housing market. It is a story Australian investors should be able to associate with because, typically, the Australian investor has too much of their portfolio allocated to banking stocks.
We believe significant value can be sourced in Europe and the US as their economies recover from the GFC. Investors have an opportunity in the US and Europe to see comparable long-term themes to those that have pushed the Australian banks to record prices.
If you compare the Commonwealth Bank of Australia with Wells Fargo, a leading US bank, both have strong deposit franchises. We believe Wells Fargo has a better deposit franchise than the CBA because it is basically 100 per cent funded by cheque accounts.
Wells Fargo's overall cost of deposit funding is 0.12 per cent. In contrast, CBA has a good deposit franchise but requires a lot of wholesale funding and a lot of term deposits. The end result is that WFC has nearly twice the net interest margin than CBA. (Net interest margin is the difference between interest income generated by banks and the amount of interest paid out to their lenders).
However, investors are paying 10 times earnings for WFC but 15 times earnings for CBA.
Well's Fargo and Commonwealth Bank price to earnings
- July 2001 to July 2013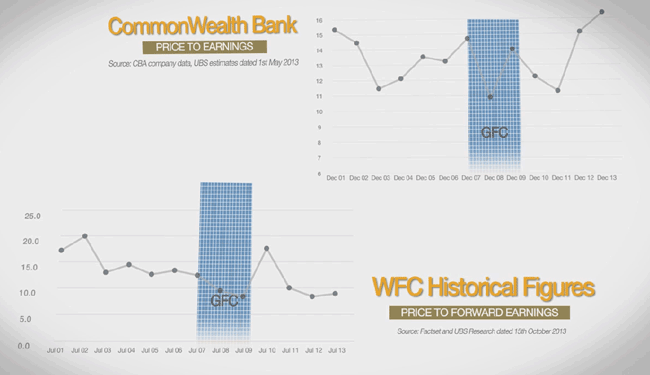 Source: Factset and UBS Research dated 15th October 2013
The story gets even better when you look in Europe, at banks such as Lloyds and ING, where bank stocks are even cheaper. We believe they are at the early stages of the cycle that boosted Australian financial stocks from the gloom in the early 1990s to become some of the most profitable in the world.
The table below compares key bank valuations, using the ratio of their current share price to the company's book value (ie the value of the company's assets, as carried on the balance sheet).
| Bank | CBA | Wells Fargo | Lloyds Bank | ING |
| --- | --- | --- | --- | --- |
| Current price to book | 2.7x | 1.5x | 1.3x | 0.7x |
Source: Factset 19 September 2013
Lloyds in the UK is up about 95 per cent over the past year. That said, we still think there is significant upside to the business over the coming years.
The main reasons are that it has a 31 per cent market share, the lowest funding cost of the industry, it has seen a peak in the provisions, and management have confirmed they are going to give a minimum of 70 per cent of the free cash flow back to shareholders. When you look at the normalised earning basis of Lloyds, it is about 10 times, which means that at the price it is currently trading, investors are getting a 7 per cent dividend yield.
ING Group, based in the Netherlands, has been forced to sell its insurance operations as a result of the crisis it has been through. The benefit is that ING will become a pure domestic- focused bank with a strong market share and has indicated it will move towards a 70 per cent dividend payout ratio.
This is important for Australian investors to understand because the reason banks such as CBA have moved to the valuations they are, is because over a long time people have begun to realise the importance of the dividend yield and high payout ratio. This story is now starting to play out in Europe and it is like being able to buy CBA but at the prices of 15 years ago.
Conclusion
There is better risk/reward opportunity offshore and a better breadth of opportunities, combined with the Australian dollar trading at an elevated level. Paradoxically, Australians are significantly underweight in offshore shares in their portfolios.
About the author
Paul Moore is the founder of PM Capital, a Sydney-based equity and income fund manager that manages more than $1.5 billion in funds on behalf of private clients, the clients of financial advisers, and institutional investors. The firm is wholly owned by its staff, who are substantial unitholders in the same funds offered to clients. It is focused on achieving absolute after-tax returns. Each fund holds concentrated number positions of intensely researched companies trading below their long-term intrinsic value.
PM Capital is currently raising money for a listed version of its international equities fund, the Absolute Performance Fund, which has achieved a 12-month return after fees of 54.2 per cent; a 20.5 per cent excess return compared to the benchmark MSCI Global Equity Index. The fund has achieved a 190.7 per cent total return after fees since inception in October 1998, compared to the 29.3 per cent return of its benchmark index over the same period.
From ASX
Investors can access offshore opportunities through Listed Investment Companies on ASX that specialise in global equities.
<!IoRedDot_txt_disclaimer>The views, opinions or recommendations of the author in this article are solely those of the author and do not in any way reflect the views, opinions, recommendations, of ASX Limited ABN 98 008 624 691 and its related bodies corporate ("ASX"). ASX makes no representation or warranty with respect to the accuracy, completeness or currency of the content. The content is for educational purposes only and does not constitute financial advice. Independent advice should be obtained from an Australian financial services licensee before making investment decisions. To the extent permitted by law, ASX excludes all liability for any loss or damage arising in any way including by way of negligence.

© Copyright 2017 ASX Limited ABN 98 008 624 691. All rights reserved 2017.