Key considerations for fixed interest investors in 2014
This article appeared in the January 2014 ASX Investor Update email newsletter. To subscribe to this newsletter please register with the MyASX section or visit the About MyASX page for past editions and more details.
Interest-rate expectations and rising inflation among five trends to watch.
By Elizabeth Moran, Fiig Securities
The New Year brings with it a natural break to step back and reassess investments for the coming year. Below are five key points worth considering when investing in fixed and floating-rate securities in 2014.
(Editor's note: to learn more about the features, benefits and risks of fixed and floating-rate investments, do the free online ASX Bonds and hybrids course.)
1. Interest-rate expectations
Unexpected interest-rate changes influence markets, as do changes to the Reserve Bank offical cash rate. Banks project forward interest rates every day and these are reflected through the bank bill swap rate (BBSW). BBSW is forecast to be virtually unchanged in a year's time, implying banks expect interest rates to be unchanged through 2014.
In fact, we expect low interest rates for the next couple of years, based on revised downwards growth projections of the Reserve Bank and the OECD and, of course, forward BBSW rates.
This does not bode well for bank term-deposit investors waiting for higher savings rates. Next year is unlikely to deliver any material term-deposit rate increases. Banks will always have a need for funds, so look out for bank account savings specials or get a broker that can find the best rates for you. Banks rarely reward loyalty, but suggesting you can find a better rate elsewhere may deliver a better rate from your local branch manager.
BBSW rate expectations are already factored into fixed-rate and floating-rate bond prices. Often, issuers of bonds will issue a fixed-rate and a floating-rate option at the same time with the same maturity date. In that instance, investors need to decide what is most important to them: the higher income on offer from the fixed-rate bond during the year or the gain on the capital price of the bond at maturity from the floating-rate option.
Given our interest-rate expectations, we still think there is merit in investing in fixed-rate bonds even though there has been recent preference for floating-rate bonds. Those concerned that interest rates will rise in the medium to longer term should limit terms to maturity to less than three years.
However, if you think interest rates will be lower for even longer, you'll be rewarded by extending maturities out over five years. A number of corporations have issued bonds in the five to eight year space with good comparative returns; some over 7 per cent.
2. Inflation
Inflation surprised on the upside in the September quarter but remained within the Reserve Bank's target 2 to 3 per cent band. We would forecast inflation to remain within the band but with so much money in global markets in an effort to stimulate economies, global commentators are now worried about rising inflation. An inflation spiral in the US, for example, would be reflected in our own markets, which is why we would recommend all investors have an allocation to inflation-linked bonds, the only direct 100 per cent insurance against inflation.
This is particularly important for those in or near retirement, given inflation has the potential to erode purchasing power and retirees spend higher proportions of their income on consumables affected by inflation. Government inflation-indexed bonds are available through ASX, while corporate inflation-indexed bonds are available through brokers in the over-the-counter market. 
3. Compare alternate investment risks and returns
Returns available from different asset classes have been squeezed in the quest for yield. It's worth remembering that higher returns are paid as compensation for higher risks (see the traditional risk versus return graph below). The highest-risk investment on the chart is shares, while hybrids, senior debt (senior bonds) and government bonds are lower risk and thus should offer lower returns.
In a low-rate environment, the distinction between asset classes in terms of the returns offered is compressed, meaning investors are not always appropriately rewarded for risk. It's worth reassessing your investments for risk and return. This is a good point in the cycle to sell out of higher-risk assets and substitute lower-risk assets, given the difference in income is low.
If a high return is on offer, you need to question what you are being paid for. For example, hybrids can have their maturity dates extended or distributions can be stopped, and there may be no requirement to make them up. In some scenarios, hybrids can be converted to shares.
On the other hand, there is no requirement for shares to pay dividends and there is no maturity date, meaning investors must decide to sell shares to recoup capital; their return will be unknown until they sell. For these reasons you would expect the highest returns from shares.
This point leads me to the next. Investment in growth assets such as shares has its rewards but diversification is key to successful investing.
Risk versus return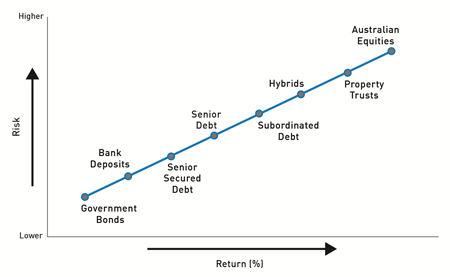 Source: FIIG Securities
4. Diversification/asset allocation - do you need to revise the mix?
As the shares of the major banks and Telstra have had a good run on the sharemarket, their higher value may have distorted your asset allocation. For example, assume your Self-Managed Super Fund worth $1,000,000 has a pre-determined allocation of 50 per cent shares, 25 per cent fixed income and 25 per cent term deposits or cash.
If at the end of 2013 your shares had increased in value by 30 per cent, fixed income by 7 per cent and cash by 4 per cent - as shown in the example in the table below -  you may now need to alter the mix as weighting over the year has changed. That is, sell down some shares and reweight to fixed-income and term deposits to ensure your original asset allocation remains. Theoretically, you take profits when one asset class outperforms the others and redistribute in line with your original determination.
Asset allocation example
Start 2013

Close 2013
Investment value $1,000,000
New investment value $1,177,500

Allocation (%)

Total allocation
Return (%)
New value
New allocation
Amount to satisfy initial allocation
Shares
50%
$500,000
30%
$650,000
55.20%
$588,750
Fixed income
25%
$250,000
 7%
$267,500
22.72%
$294,375
Cash
25%
$250,000
 4%
$267,000
22.08%
$294,375
Total
$1,000,000
$1,177,500
100.00%
$1,177,500
Source: FIIG Securities
In terms of diversification, you need to diversify between sectors as well as asset classes. A portfolio holding ANZ term deposits, CBA bonds, NAB hybrids and Westpac shares is overexposed to the banking sector and you should seek to diversify by adding corporate bonds, hybrids and shares and investigate government bonds for even greater diversification. Given the banks are significant bond issuers and make up a large portion of the market, any corporate-bond issuance is often sought after by a wide variety of investors to add diversification to their portfolios.
5. Set aside what you need for your lifestyle/plans in defensive assets
The sharemarket's outperformance has been a huge relief to many investors but I'd caution against over-allocating to growth assets such as shares and property. These investments are cyclical and while their returns have been great over the last year, there's no guarantee they will be in 2014. It's always prudent to determine the minimum income you need to live well and the minimum capital you need to deliver that income, and invest those funds in defensive assets.
About the author
Elizabeth Moran is Director of Education and Fixed Income Research at Fiig Securities, a specialist fixed-income broker. She has been with FIIG for five years and her previous experience includes positions at Rapid Ratings, NatWest Markets and BP Oil in London, and Commonwealth Bank.
From ASX
The ASX Bonds product page has more information the features, benefits and risks of a range of ASX interest rate or debt securities.  
<!IoRedDot_txt_disclaimer>The views, opinions or recommendations of the author in this article are solely those of the author and do not in any way reflect the views, opinions, recommendations, of ASX Limited ABN 98 008 624 691 and its related bodies corporate ("ASX"). ASX makes no representation or warranty with respect to the accuracy, completeness or currency of the content. The content is for educational purposes only and does not constitute financial advice. Independent advice should be obtained from an Australian financial services licensee before making investment decisions. To the extent permitted by law, ASX excludes all liability for any loss or damage arising in any way including by way of negligence.

© Copyright 2017 ASX Limited ABN 98 008 624 691. All rights reserved 2017.