Lincoln's 10 best stocks for 2014
This article appeared in the January 2014 ASX Investor Update email newsletter. To subscribe to this newsletter please register with the MyASX section or visit the About MyASX page for past editions and more details.
Macroeconomic risks appear to have declined, and with interest rates remaining low and earnings likely to beat analyst forecasts, 2014 should be a positive year for the sharemarket.

By Tim Lincoln, Lincoln
The year 2013 was a solid one for the Australian sharemarket, with the All Ordinaries index enjoying a double-digit percentage gain year-on-year. This was largely driven by low interest rates globally, which in turn fuelled massive investment and shares activity. Last year's investment theme was a preference for high-yielding and large-cap stocks over growth and small-cap stocks, with investors recognising the gap between dividends and bank interest rates.
Lincoln analyses companies first and foremost for financial health. Twelve accounting ratios are measured to assess a company's level of insolvency risk. Every company on the ASX has its profitability, cash-flow and balance-sheet positions scrutinised and a holistic financial health score is determined. Companies with a "strong" or "satisfactory" score are judged to be exposed to acceptable levels of risk and should comprise the bulk of your investment portfolio.
Companies with an "early warning", "marginal" or "distress" score carry escalating degrees of risk and should be avoided by risk-averse investors. By giving investors the ability to properly assess a company's financial health, they gain greater confidence and control over their investment portfolios. Below is Lincoln's assessment of the health of the Australian sharemarket in mid-December.
Health of the market
- as at 13 December 2013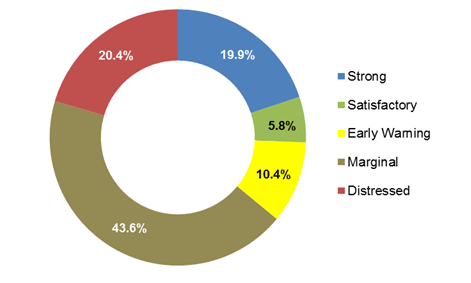 Source: Lincoln
Using our methodology, it can be seen that the proportion of companies in strong or satisfactory financial health decreased slightly in 2013 to 25.7 per cent from 26.6 per cent in 2012.
Companies in either distressed or marginal financial health remained unchanged at 64 per cent in 2013, and those receiving an early warning increasing 2 per cent since last year. Sectors such as energy, healthcare, information technology and mining predictably remained in the highest risk category.
The number of companies going into the early warning category was also not surprising as cash flows for mining stocks were constrained, weighed down by weaker global commodity prices and a strong Australian dollar. With an exchange still heavily weighted towards the challenged resource and related-services sectors, the trend of stocks moving to weaker financial health may continue.
While most companies that failed in 2013 were in the smaller end of the market and went unnoticed, investors must be diligent in analysing the companies in which they have chosen to invest, and assess the level of financial risk to which they are being exposed. Holding a well-diversified portfolio is the most important step in balancing the effect on net wealth of any negative or unforeseen company events.
On a more positive note, sectors that stood out in 2013 for the right reasons, and should stay on your radar in 2014, are banking, insurance and retail.
Looking to 2014
With the low-hanging fruit already picked in 2013, the selection of quality Australian businesses becomes increasingly important for 2014. The chart below shows the health of the Australian sharemarket, as measured by Lincoln, since 1999.
Health of the market, - historical comparative
- June 1999 to June 2013

Source: Lincoln
From a macroeconomic viewpoint, the sustained recovery of the US and European economies, the tapering of the US monetary stimulus program and sustained Chinese economic growth will be major influences on our market.
Closer to home, a rebound in consumer and business confidence would be the major catalyst for increased spending and a potential increase in interest rates in 2014. With the recent depreciation of the Australian dollar and the continued rise of housing prices, the Reserve Bank of Australia may finally bring the low interest-rate regime to an end. This could reduce the market's focus on dividend yield and move attention to growth companies.
Sectors to watch
(Editor's note: Do not read the following ideas as stock recommendations. Do further research of your own or talk to your financial adviser before acting on themes in this article).
Among the sectors, retail should start to see the benefits of increased consumer spending from the prolonged historically low interest-rate period. The latest Australian Bureau of Statistics retail report shows the sector is starting to see the green shoots of recovery. Our preferred retail stocks are RCG Corporation (RCG) and Wesfarmers (WES). Within the consumer services sector, we believe Ardent Leisure (AAD), Credit Corp (CCP) and G8 Education (GEM) are poised for growth as they have clear strategies in place.
We expect the telecommunications sector will continue to be supported by structural changes, with increased demand for data and connectivity. Amcom Telecommunications (AMM) is our preferred play given the inroads it has made in cloud technology and the fibre infrastructure it owns.
Companies with significant overseas earnings are also well placed if the Australian dollar deteriorates further. The standout in this regard is the healthcare sector and our preferred play is CSL Limited (CSL). Automotive parts and service solutions business Infomedia (IFM) will also benefit, with a significant portion of its revenues sourced overseas.
While dividend yield plays will be less of an investment theme next year, the financial sector cannot be overlooked, particularly the banks, due to their significant index weighting and stable dividends provided. Australia and New Zealand Banking Group (ANZ) is our preferred banking play due to a higher exposure in Asia than its peers. At the smaller end of the sector, we also believe there are opportunities with our favoured diversified financial stock, consumer-finance company FlexiGroup (FXL).
Conversely, we feel a number of sectors will face substantial headwinds over the next 12 months. With declining mining capital expenditure likely to lead to further earnings downgrades, we are cautious on the outlook for mining-services stocks. Similarly, there is continued uncertainty over some major energy projects and we believe the sector could be further affected by the decline in the oil price.
Here are Lincoln's top 10 financial health picks for 2014:
Ardent Leisure Group (AAD): Strong
AAD's first-quarter trading update was positive, with strong revenue and underlying earnings growth forecast for FY14. Health clubs and US-based businesses remained growth drivers and management indicated other divisions were tracking well. Also, its theme parks will benefit from the Queensland Government's $15 million tourism campaign. Suits income investors comfortable with entertainment asset exposure who do not require high franking credits.

CSL Limited (CSL): Strong
CSL looks set for solid profit growth for the full year, with earnings per share growth to benefit from the $950 million share buyback and a lower Australian dollar. The longer-term outlook remains positive as increased research and development investment ensures a strong future product pipeline. Suits growth investors seeking defensive earnings and foreign-currency exposure.
RCG Corporation (RCG): Strong
RCG, our preferred discretionary retailer, recently announced acquisitions in line with strategy and upgraded earnings-per-share growth in FY14. Management subsequently announced a share sell down, resulting in it having a reduced but still very meaningful holding in the company. This is positive, in our view, for the company (access to more capital through institutional investors) and shareholders (better share liquidity). Suits growth- and income-seeking investors comfortable with a recovery in Australia's retail sector.
Wesfarmers Limited (WES): Strong
WES is the preferred consumer staples play. Its retail businesses have proven strategies in place to support its continued growth in challenging retail conditions. It is also accelerating store openings to boost top-line growth. In the face of uncertain global coal demand and soft export prices, the non-retail divisions' outlook remains soft. While the outlook for WES is mixed, we believe the stronger divisions' revenues and profits will offset the weak performance of others. Suits growth- and income-seeking investors wanting diversified exposure to Australia's largest conglomerate and who believe in Coles' turnaround strategy.
Amcom Telecommunications Limited (AMM): Strong
The telecommunications provider is on track to provide another year of double-digit growth in after-tax net profit, as the core data networks division and hosting and cloud services businesses continue to remain strong performers. Capital expenditure efficiency and economies of scale benefits will also accrue to the business, which is set to maintain an impressive track record. Suits growth investors who believe in the increasing importance of commercial cloud-based technologies.
Australia and New Zealand Bank (ANZ): Strong
ANZ, a major domestic bank that aspires to becoming a "super regional bank" in Asia, is a preferred income stock that provides an attractive above-market dividend yield. The company recently reported a strong full-year result and lifted its dividend payout ratio to the top end of its target range. Longer-term, we expect ANZ to benefit from an increased focus on Asia. Suits income investors seeking defensive dividends from one of the world's strongest banks.
FlexiGroup Limited (FXL): Satisfactory
A specialist finance company providing leasing, vendor finance programs, interest-free and Visa cards, lay-buys and other payment solutions, FXL has guidance for net profit growth of 17-19 per cent in FY14 and has good foreseeable earnings. We expect future growth from entry into new sectors, as well as further product innovation and market penetration. Suits risk-tolerant growth investors comfortable with a small, high-growth diversified financial-services company.
Infomedia Limited (IFM): Strong
A provider of specialist information solutions to the after-sales automotive parts and service industry, IFM has guided for 8-12 per cent revenue growth in FY14. Pleasingly, promised margin expansion is set to see after-tax net profit grow by 10-19 per cent according to management estimates. It will also benefit from a lower Australian dollar, with three-quarters of the business exposed to foreign currency. Suits risk-tolerant growth investors comfortable with a small but established service provider to the global automotive retail industry.
Credit Corp Group Limited (CCP): Strong
Debt-collection business CCP has seen its share price sold off lately despite upgrading its purchasing guidance at its recent annual general meeting. With operations expanding into the US, and a healthy domestic growth profile on the back of record debt purchasing last financial year, CCP appears to be offering value investors an opportunity. Suits growth investors comfortable investing in the leader of a niche industry that collects distressed debt.
G8 Education Limited (GEM): Strong
Having placed $80 million of stock to institutions to raise capital, GEM is well placed to continue to acquire and integrate long-day care centres into its broader business. Given the continued strength in the company's balance sheet, GEM is expected to grow further in FY14. Recent acquisitions will add earnings to the 2014 profile as scale benefits are realised at a greater pace than initially anticipated, and the company is expected to continue to pay a healthy quarterly dividend. Suits growth and income investors seeking exposure to defensive earnings, but comfortable with acquisition-led growth.
About the author
Tim Lincoln is managing director of Lincoln Indicators, one of Australia's premier fundamental analysis research houses and fund managers, offering intelligent sharemarket solutions for the conscientious investor.
From ASX
Tens of thousands of investors have downloaded the ASX iPhone Application since its release in June 2011, making it one of Australia's most popular finance and investment apps. You can preview and download the ASX iPhone app via iTunes.
<!IoRedDot_txt_disclaimer>The views, opinions or recommendations of the author in this article are solely those of the author and do not in any way reflect the views, opinions, recommendations, of ASX Limited ABN 98 008 624 691 and its related bodies corporate ("ASX"). ASX makes no representation or warranty with respect to the accuracy, completeness or currency of the content. The content is for educational purposes only and does not constitute financial advice. Independent advice should be obtained from an Australian financial services licensee before making investment decisions. To the extent permitted by law, ASX excludes all liability for any loss or damage arising in any way including by way of negligence.

© Copyright 2017 ASX Limited ABN 98 008 624 691. All rights reserved 2017.