What to expect with ETFs in the coming year
This article appeared in the January 2014 ASX Investor Update email newsletter. To subscribe to this newsletter please register with the MyASX section or visit the About MyASX page for past editions and more details.
An expanded product range and more use of ETFs in self-managed super among key trends.

By Robin Bowerman, Vanguard
Vanguard sees three key trends for ASX-listed exchange-traded products in 2014:
Expected increase in new investment in this product category - among professional and individual investors. Investment Trends has predicted a 25 per cent increase in ETF adoption among new ETF investors.
Continued product development with providers widening their ETF range to address growing market adoption.
Portfolio construction using ETFs - investors adopting more diversity in their use of ETFs with a growing confidence in this product type.
(Editor's note: To learn more about the features, benefits and risks of ASX-listed exchange traded products, take the free online ASX ETFs and ETPs course, which has been recently expanded and updated.)
Sharemarkets at home and abroad did a good job of growing asset values for investors in 2013. Exchange-traded funds (ETFs) did their job for investors by giving them a low-cost, transparent and simple way of capturing those market returns.
The line-up of ETFs in Australia has expanded significantly in the past three years and with it the ability of investors to track a wider range of indices across different asset classes when constructing their portfolios.
Index investing has been on a 15-year growth trajectory, in large part driven by the explosion in the ETF market globally - there are now more than 4400 ETFs listed on world sharemarkets, representing about $US2.4 trillion of investors' money.
Australia was a late entrant to the ETF market but there are now 94 available and the market has just gone through the $10 billion mark.
Importantly, investors can now access a broad range of domestic equity ETFs, tap global sharemarkets with the same ease as doing one local share trade, as well as access fixed income or bond markets the same way.
It is the diversification and ease of access that has helped drive the growth of ETFs, which, according to the latest Morningstar research report, saw assets rise by 15.2 per cent in the September quarter of 2013 through "substantial inflows". Vanguard's range of ETFs shared in that growth; with funds under management in passing through the $1 billion mark in June 2013.
ETFs become mainstream choice
There is strong evidence that in Australia, ETFs are gathering speed in the journey to become a mainstream investment choice. And strong early adopters have been investors with a self-managed super fund - according to ASX data, about 34 per cent of investors in ETFs are self-managed super funds.
In the past year, as confidence has built in sharemarkets, so has the use of ETFs to access share and bond markets. This is also true for an increasing number of financial advisers who - after an initially cautious approach to ETFs - now having a better understanding of how these can be used as low-cost building blocks for portfolios.
This coincides with the ban on commission payments and other types of conflicted remuneration under the new Future of Financial Advice (FOFA) reform regime and the strong growth in investors opting to set up an SMSF.
The combination of those two factors has driven numerous advisers towards rethinking their business model and value proposition, resulting in more of them offering specialist SMSF services and a greater focus on asset-allocation advice.
Index funds generally (managed funds and ETFs) have captured increased investment over the past decade in Australia, with a total market share of about 17 per cent versus 10 per cent back in 2003 (Source: Rainmaker September 2013 report). Currently, Australian investors have $272 billion in index funds.
However, this still lags behind  the US market, where almost a quarter of total funds under management are invested using index strategies including ETFs  - so there is a way to go for our market to really embrace the opportunities presented by incorporating index funds into long-term portfolio construction.
A strong body of research into investment markets indicates that the preeminent decision any investor makes - individual or institutional - is about asset allocation. It is the proportional mix of assets - domestic shares, international shares, Australian fixed income, international fixed income, domestic property, international property and cash - that drives a portfolio's volatility and return.
That is the portfolio power ETFs deliver to investors - the power to construct well-diversified portfolios across a wide range of asset classes or market segments, often at prices that were the domain of institutional investors a decade ago.
We believe we will see continued growth and interest in using index strategies, including greater adoption of ETFs, through 2014. In a report released in mid-2013, independent research group Investment Trends predicted a 25 per cent increase in new investors in ETFs in the 2013/2014 financial year.
Continued product development
It's likely that 2014 will see additional ETF products launched for Australian investors, given all this growth potential, as providers develop their ranges in response to market demand.
This would certainly be following the trends seen in more established ETF markets, where there is a wide variety of them on offer to investors.  That said, wide choice does not automatically mean better decisions or outcomes for investors.
Thus far in Australia, due to responsible regulatory measures and, in part, to investor appetite and provider awareness of what types of funds have captured investor interest elsewhere in the world , most ETFs are straightforward index funds physically backed by securities - rather than swaps or other synthetic instruments.
As our market develops and different types of funds become available, investors - and their advisers - need to do their research to ensure an understanding of the strategy underlying ETFs and have confidence in the experience of the provider offering them.  (Editor's note: ASX provides some good material for investors in this regard. Fund providers' websites are also good places to start reading about ETFs on offer.)
Portfolio construction using ETFs
We believe one key development regarding how people will use ETFs in 2014 will be the adoption of portfolios using them as the core holdings as investor awareness and product availability increases.
Investors now have the capability to create diverse portfolios across all major asset classes using ETFs given the broader range of funds on offer - in local and international equities, bonds, property and cash. Vanguard recently developed a suite of model portfolio strategies using our range of ETFs. The strategies leverage our philosophy and experience of offering diversified multi-sector solutions and provide some guidance on how investors might create simple and cost-effective broad market coverage across a range of asset classes.
We know investors have different needs and objectives for their portfolios, and indeed different risk profiles and interests in investment options, so one size certainly won't fit all. However, these model portfolios can serve as useful benchmarks for investors looking to ensure a good spread of diversification across and within asset classes and how this might be achieved through using ETFs.
The four portfolios are based on four investor profiles from conservative through to high growth, catering to the most conservative investors through to those with a longer investment time frame who require greater exposure to growth assets. They all represent ways of creating a highly diversified portfolio while keeping an eye on the cost through low expense ratios.
The table below shows each portfolio in detail:
Four types of portfolios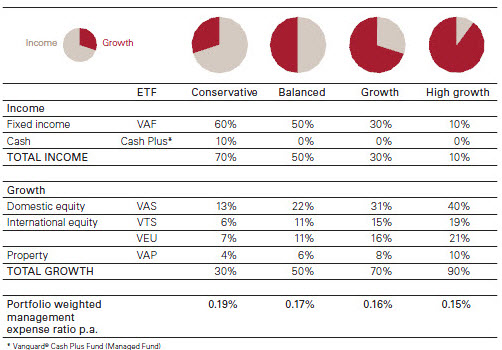 For investors, adopting a diversified approach to ETF investing - whether as a core holding in a portfolio or in combination with active funds or individual shares - can provide benefits such as lowering return variability (or in other words, more control over the amount of active risk to which you expose your investment); broad exposure with a high level of diversification across and within asset classes; and lower costs. Lowering the costs of your portfolio and increasing tax efficiency will allow you to keep more of the returns generated by your investment choices.ETFs are poised to be a more mainstream menu choice for Australian investors because of the asset-allocation power they deliver to individual investors.
The challenge for investors continues to lie in the ability to block out the short-term gyrations and noise in the investment markets and instead set up a diversified asset-allocation strategy that is robust over the long term and not overly influenced by one-year returns - no matter how strong. ETFs can provide a good solution for investors looking to implement asset-allocation decisions at a low cost.
About the author
Robin Bowerman is Head of Market Strategy and Communication, Vanguard Australia.
From ASX
If you have ignored ETFs because you do not understand them, or because they did not offer you the exposure you were looking for at the time, now might be a good time to review our updated online course on ETFs.
The course is free and no registration is required. The material is divided into topics so you can skip those you are not interested in and focus on those you are. There are lots of graphics and activities to help you reinforce what you have learned.
You may notice that ASX is covering more product types in its ETF course. In addition to Exchange Traded Commodities, we now provide you with a good introduction to Fixed Interest ETFs as well.
If you are an iPad user, you can now access the course because it has been written in Html 5.
<!IoRedDot_txt_disclaimer>The views, opinions or recommendations of the author in this article are solely those of the author and do not in any way reflect the views, opinions, recommendations, of ASX Limited ABN 98 008 624 691 and its related bodies corporate ("ASX"). ASX makes no representation or warranty with respect to the accuracy, completeness or currency of the content. The content is for educational purposes only and does not constitute financial advice. Independent advice should be obtained from an Australian financial services licensee before making investment decisions. To the extent permitted by law, ASX excludes all liability for any loss or damage arising in any way including by way of negligence.

© Copyright 2017 ASX Limited ABN 98 008 624 691. All rights reserved 2017.