Global credit: the missing asset class
This article appeared in the March 2014 ASX Investor Update email newsletter. To subscribe to this newsletter please register with the MyASX section or visit the About MyASX page for past editions and more details.
This overlooked, important risk asset will soon be easier to access, via the ASX mFund Settlement Service.

By Richard Quin, Bentham Asset Management
In the wake of the GFC, the asset allocation of many self-managed super fund (SMSF) investors is "barbelled" into two extremes. It is common to see portfolios with large weightings to low-risk cash and fixed interest investment at one end and share, predominantly Australian, at the other, with nothing in the middle.
Combined with other typical SMSF assets, say residential property, such a portfolio may prove to be highly correlated - many investments perform similarly - during a downturn of the Australian economy.
This is a poor asset allocation strategy, especially in the current environment, and one that may lead to sub-optimal returns and, if not fixed, could leave investors worse off in retirement. Spreading investments across a range of asset classes has been a proven strategy to reduce risk and increase return opportunities.
The gaping hole in portfolios ignores a safer and more predictable income-producing asset that sits in the middle ground of risk: global credit (corporate bonds, loans, high-yield bonds). (Editor's note: Gaining exposure to global credit as an asset class will be much easier for retail investors, through the ASX mFund Settlement Service. More details at the end of this story).
Global credit has been a great diversifying asset class for Australian investors. It can offer higher income than cash, with less risk than shares, while bringing diversification benefits that can reduce overall portfolio risk.
The long-term performance of different asset classes' historical risk and return tradeoff is shown in Chart 1 below. Global credit sectors have an intermediate risk-return profile through different investment cycles.
Chart 1: Historical Annualised Return vs. Historical Risk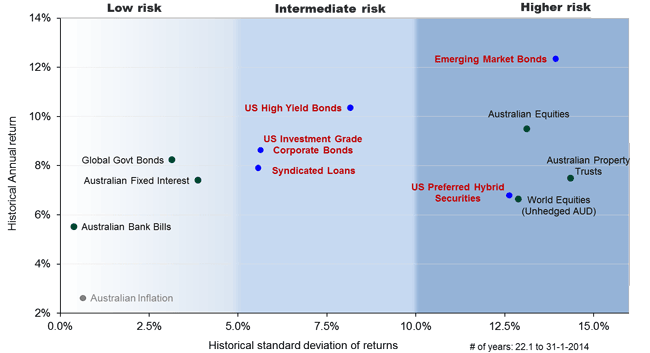 Sources: Barclay's Capital, Bentham, BoA Merrill Lynch, Bloomberg, Credit Suisse, JP Morgan, Morgan Stanley & UBS. Past performance is not a reliable indicator of future performance. Asset Class definitions: Australian Cash is UBSA Bank Bill Index, Global Govt Bonds is JP Morgan GBI, Australian Fixed Interest is UBSA Composite Bond Index, US Investment Grade Corporates is Barclay's US Corporates, US Leveraged Loans is Credit Suisse Leveraged Loans Index, US High Yield Bonds is Credit Suisse High Yield Bond Index, World Equities (Unhedged) is Morgan Stanley MSCI Index (Developed), Australian Equities is S&P/ASX200 Accumulation Index, US Preferred Hybrid Securities is Merrill Lynch BoA Preferred Hybrids Index, Emerging Market Bonds is JP Morgan EMBI+, and Australian Property Trusts is S&P/ASX200 Accumulation A-REIT Index. Overseas index returns (except World Equities) are fully hedged into Australian dollars.
SMSFs miss out on certain investments
Most SMSFs almost completely ignore or are not aware of intermediate risk asset classes such as global credit. They miss out on an asset class that is typically incorporated into a balanced institutional portfolio and is a common investment class among retail investors in the US and Europe. These assets can provide a positive role in a portfolio in the current environment for investors looking to increase income and minimise capital volatility.
Optimising asset allocation is particularly important in the current environment, because forward-looking asset class return profiles are likely to differ from the past. Government bond yields are low historically despite higher inflation risk. Sharemarket valuations seem reasonable historically but growth drivers such as high commodity prices may be absent going forward.
Chart 2 below shows how Global Credit sectors are producing higher yields compared to cash and government bonds.
Chart 2: Current yields of cash, fixed income and global credit (A$ hedged)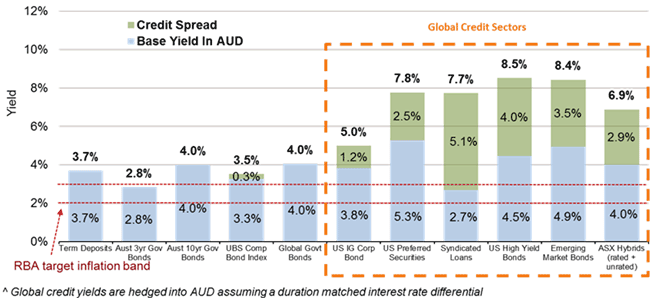 Source: Barclays Capital, Bentham Asset Management, Bloomberg, Morgan Stanley and UBS
Importantly, when allocating a portfolio across cash, fixed interest and equities, adding global credit has historically improved returns for a given level of risk, because global credit can perform well at different times to share, fixed income and other asset classes.
What global credit brings to your overall portfolio?
Introducing Global Credit investments to portfolios adds five key benefits:
1. Income generation
Corporate bonds, loans and high-yield securities tend to pay investors regular coupons, with a higher yield than cash or fixed interest. A diversified portfolio of such coupon-paying instruments allows for the smoothing out of all those cashflows, which can be paid out as regular, high-yielding income (i.e., through monthly global credit fund distributions).
2. Capital resilience - seniority and security
Credit investors benefit from having priority of payment above equity investors for payment of coupons and repayment of principal. Senior credit investors rank ahead of hybrid and subordinated debt investors. A credit investor's ranking in the company's capital structure is a key determinant of their recovery of investment if a company gets into trouble, and their certainty of receiving ongoing distributions.
In addition to seniority, some credit investments also provide investors with the benefit of security over specific assets of the borrower, providing further protection to the investor. This normally takes the form of a mortgage over property and other realisable assets. These factors mean the capital value of credit investments has been more resilient than equities.
3. A liquid and resilient asset class
Global credit is a large and deep market and significantly larger than global sharemarkets. It has many different investor types, including asset managers, banks, insurance companies, pension funds and sovereign wealth funds. This diversity of investors means credit investments are traded between buyers and sellers even in difficult times.
Global credit has been a more resilient asset class than equities, recovering far faster than equities after the GFC. Global credit is regarded as intermediate risk with an investment horizon of three to five years.
4. Diversification
Global credit allows Australian investors to diversify away from Australian share and achieve a broader spread of exposures across issuers and economic/geographic areas. Industry diversification is particularly important, because corporate failures may occur in clusters - the technology crash in the early 2000s, or financial institutions during the GFC, for example.
Industry diversification is difficult to achieve in the Australian market. Australia is a small economy with a heavy concentration to financials and miners (about 60 per cent of ASX 200 market capitalisation is in those two sectors). Far greater diversification is available by investing in global asset classes.
There are many types of credit investments within the global credit asset class, including investment-grade bonds, global syndicated loans, convertible bonds, high-yield bonds, securitised debt, capital securities, and fixed-rate and floating-rate securities. They offer different types of credit risk and return opportunities.
5. Managing credit risk
Like all investments, there are risks to consider. The key one is credit risk, where a company fails to repay coupons or principal in full and on time. Credit risk can be best managed and mitigated through careful investment analysis and security selection, thorough review of creditor protections in any security (i.e., seniority, security), a focus on rated, liquid investments, and significant diversification.
Accessing global credit with sufficient diversity and liquidity
Retail investors cannot effectively access global credit investments directly because:
There is a lack of credit assets domestically. Banks dominate lending in Australia, which limits the issuance of credit in public capital markets as in the US and Europe.

Credit markets are largely institutional. Credit securities are typically only sold to wholesale investors and/or have large minimum investment sizes (A$500,000 plus). The small number of individual credit securities made available directly to the retail market in Australia are often of "non-institutional quality", being subordinated, unrated and without a liquid, traded market.

Credit investing requires considerably more diversity than equity portfolios. Diversity is more important in credit portfolios than in equity portfolios but less recognised. A credit portfolio with 20 to 50 securities is not diversified enough to reap the full benefits of diversification. The diversity required to create a robust credit portfolio is simply not possible to replicate with a small portfolio (for context, Bentham's Credit Funds have between 150 and 600 unique issuers in each).
This is why global credit has historically been a more institutional market. Even the larger institutional investors, such as industry superannuation funds in Australia, will typically invest in global credit via managed portfolios, not through selecting a small number of individual bonds.
Better access to global credit via ASX
The mFund Settlement Service, announced by ASX in February, will allow electronic access to diversified global credit portfolios, including Bentham's Global Income Fund and Syndicated Loan Fund. The new electronic processing service will allow investors to use an ASX broker to invest in and redeem units in unlisted managed funds - including participating global credit funds.
This will provide non-institutional investors with a simple and electronic-based system for accessing what has traditionally been an under-invested asset class for individuals.
Bentham is a Foundation Member of the mFund Settlement Service.
About the author
Richard Quin is the CEO and Lead Portfolio Manager of Bentham Asset Management, a specialist global fixed interest and credit investment manager based in Sydney. He was previously Asia Pacific Head of Credit Suisse Asset Management's Credit Investment Group
Bentham manages highly diversified, high-yielding global credit funds with varying risk profiles. They are available to retail and institutional investors, denominated in either Australian or NZ dollars. Bentham's goal is to deliver higher income to investors than can generally be achieved in traditional fixed interest and equity markets, with a focus on preservation of capital and protection against downside risk.
From ASX
<!IoRedDot_txt_disclaimer>The views, opinions or recommendations of the author in this article are solely those of the author and do not in any way reflect the views, opinions, recommendations, of ASX Limited ABN 98 008 624 691 and its related bodies corporate ("ASX"). ASX makes no representation or warranty with respect to the accuracy, completeness or currency of the content. The content is for educational purposes only and does not constitute financial advice. Independent advice should be obtained from an Australian financial services licensee before making investment decisions. To the extent permitted by law, ASX excludes all liability for any loss or damage arising in any way including by way of negligence.

© Copyright 2018 ASX Limited ABN 98 008 624 691. All rights reserved 2018.