Big miners roll with the punches
This article appeared in the April 2014 ASX Investor Update email newsletter. To subscribe to this newsletter please register with the MyASX section or visit the About MyASX page for past editions and more details.
What the share-price charts say about BHP Billiton, Rio Tinto, Fortescue and Atlas Iron.

By Richard Lie, Stockradar
There is a new financial cliché doing the rounds: "China sneezes, Australia catches pneumonia." US-led quantitative easing (a form of monetary policy to stimulate the US economy) has been successful in artificially inflating asset prices, but China actually buys the mountains of stuff Australia digs out of the ground. This is real wealth creation at work.
It is a marriage made in world-trade heaven - Australia produces the best-quality and lowest-cost iron ore in the world and China has an insatiable appetite to consume it. It drove the long commodity boom, was Australia's saving grace during the 2008 GFC and has had a major effect on the economy, making up roughly one-third of our terms of trade.
About 60 per cent of iron ore exports now go to China and the link to revenues among the big Australian miners is a strong one: the base metal accounts for 100 per cent of Fortescue Metals and Atlas Iron's underlying earnings, and around 50 per cent and 70 per cent of BHP Billiton and Rio Tinto's respectively.
China exposure does have risk
Being so inextricably linked to China's epic growth story is a double-edged sword. Any slowdown there obviously has consequences here, and this is a serious headwind right now. Data from China has been weakening in recent months. Its 7.5 per cent economic growth target is starting to look unlikely, as the PMI manufacturing data in Chart 1 below shows.
Chart 1: Manufacturing weakness expected to reduce metals demand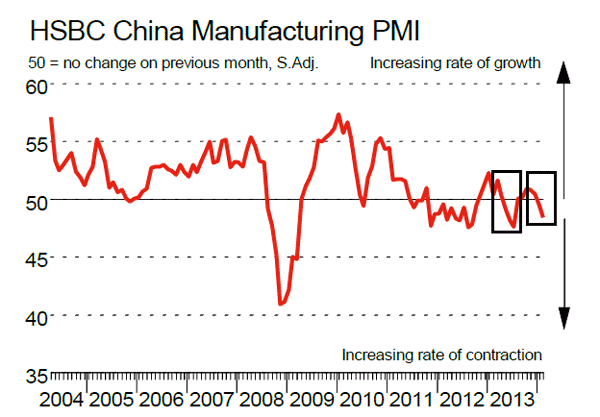 There is also a growing supply glut of iron, which will be exacerbated by increased production - Australia is increasing iron ore production this year by 21 per cent, while total world supply will increase by 13.7 per cent.
The outlook became even bleaker this year when the Chinese Government decided to limit loan subsidies to the country's steel mills in an effort to consolidate the industry and improve efficiencies. Fewer steel mills will mean less demand for Australian iron ore and coking coal.
This latest catalyst was more than the market could stomach and the spot price of iron ore suddenly fell to $104 a tonne, a new price range that analysts are calling "classic bear market territory".
Note the sharp fall in iron ore and copper prices in March, as shown below.
Chart 2: Iron ore and copper tumble on China fears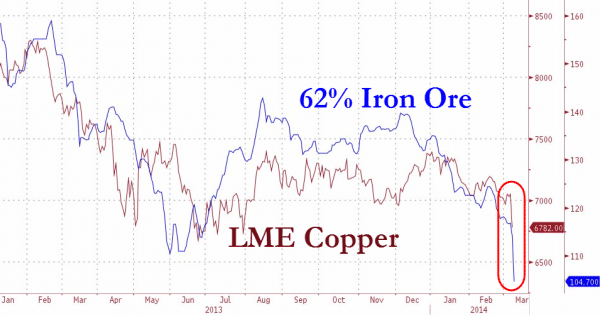 Source: Zero Hedge
What it means for iron-ore producers
BHP Billiton and Rio are in a comparatively strong position, with more diversified revenue streams, stronger balance sheets and lower breakeven costs than Fortescue and Atlas.
Fortescue has improved its defences by cutting its debt load and adding lower-cost production to reduce its breakeven price from US$103 a tonne to US$73 a tonne (the point at which production is uneconomic). Atlas has a bigger challenge - getting a rail link so it can get its iron ore to port.
The chart below shows the relative performance of Australia's largest iron ore-related stocks.
Chart 3: Fortescue leading the pack this financial year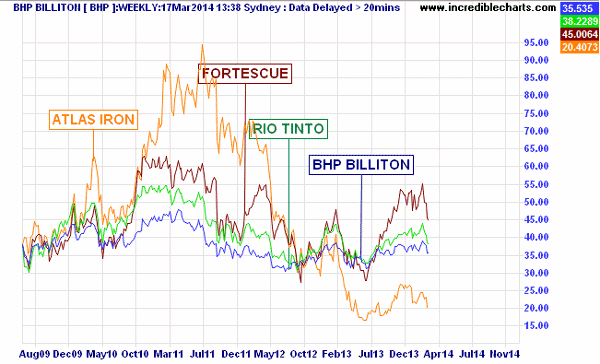 Source: Incrediblecharts.com
Too early to be bearish on China
All this bad news has got China bears excited. Many are embracing the idea of short positions (profiting from further share price falls) in Australian miners as part of this strategy. But I caution against becoming overly bearish.
Outbreaks of China pessimism have been common in recent years and have not been long-lived, with the economy marching confidently on, albeit at marginally lower growth rates. The Chinese Government's policy response will be the key.
Beijing's tough reform talk often gets watered down in the end and it is too soon to say they won't blink, re-energize the economy with more infrastructure and housing spending, new credit creation, and perhaps even a depreciation of the currency as part of a stimulus program.
Rio and BHP Billiton remain optimistic. They have called this latest drop in the spot price of iron ore "short-term trading jitters" and expressed faith in China's long-term demand for Australia's most lucrative export. Lower iron ore, copper and coal prices are obviously not good for business, but demand for base metals is still increasing on an absolute basis.
What the price action says
That is the fundamental news backdrop, now let's look at the share price action, which has a way of leading the news. To be blunt, shares prices of the largest mining stocks seem to be saying that the forecast of an extended decline in China could be a mirage.
The charts for the big miners are holding up remarkably well, especially given the negative news flow about China and recent falls in the iron ore price. We are seeing range-bound markets in BHP Billiton, Rio and Fortescue, mostly in the top ends of those ranges, not new lows. This is a positive sign.
Stockradar uses weekly charts to reduce the noise and take a step back from the shorter-term price fluctuations. It also only trades the long side (that is, buying stocks), preferring to follow the natural long-term uptrend in the sharemarket, which is an important edge to have. Buying bounces off lows in long-term trading ranges, for instance, can be a very successful strategy.
(Editor's note: do not read the following ideas as stock recommendations. Do further research of your own or talk to a licensed financial adviser before acting on themes in this article.)
This is what I am seeing play out in the share price charts of BHP Billiton, Rio and Fortescue. I am avoiding Atlas Iron, which continues to slide to new price lows, until the technical picture on its chart improves.
BHP, Rio and Fortescue all struck lows in late 2012, at $30.00, $49.00 and $2.80 respectively, and have shown resilient price action since then. All remain comfortably above those lows.
This is what you want to see in the face of bad news: if the big punches won't put these guys down, what will?
Important long-term trading ranges have developed in the charts for Rio and BHP Billiton, as shown in the charts below. Fortescue Metals shows a similar picture, but is more volatile because it is a higher-leveraged pure iron ore play. Atlas Iron, on the other hand, is showing a classic bearish pattern; a series of lower lows and highs. It also reflects the higher volatility normally associated with smaller producers, and has had challenges in getting its product to port.
Charts four to seven below show the price action of the largest iron-ore related stocks and my analysis of their trading ranges:
Chart 4: Rio Tinto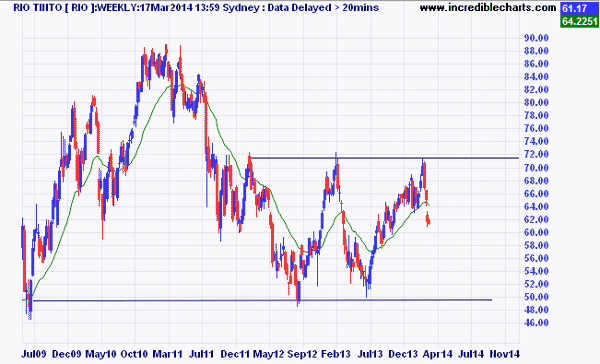 Source: Incrediblecharts.com
Chart 5: BHP Billiton
Source: Incrediblecharts.com
Chart 6: Fortescue Metals Group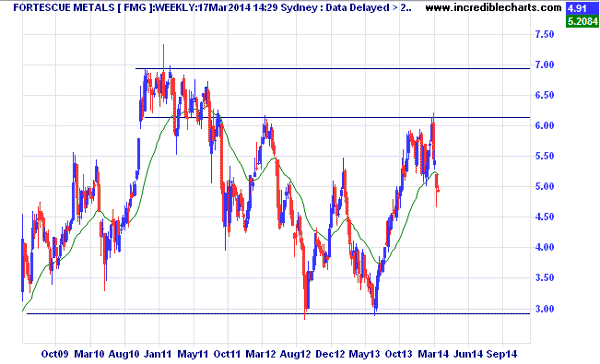 Source: Incrediblecharts.com
Chart 7: Atlas Iron
All seem to be forming long-term bases. BHP Billiton signalled a buy at Stockradar in August 2013 and was bought at $35.50 when it bounced off the lows at $30.00 for the second time, demonstrating solid support at that level.
I set an initial stop-loss (a pre-determined point to sell, to minimise losses) below support at $30.00, and as the price rallied I trailed the stop-loss higher (lifted the stop-loss point) to prevent capital loss and lock in gains. I also received two dividend payments totalling $1.30, which is a nice additional cushion to have. The same strategy could have been used for both Rio and Fortescue.
That was before the sudden drop in the price of iron ore and concurrent sell-off in the miners. BHP Billiton now threatens to break my stop-loss at $35.50. It might well do. The point is, I have a plan, shown below.
Chart 8: BHP trading plan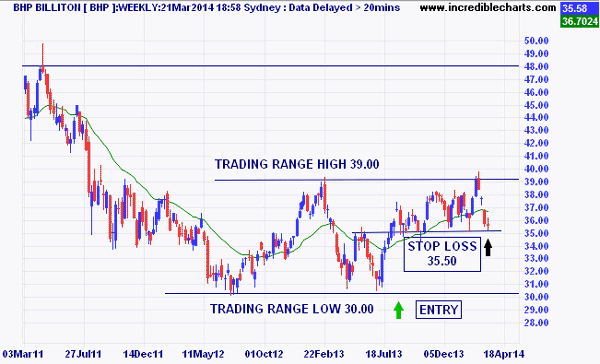 Source: Incrediblecharts.com
In summary, the battle lines are clearly drawn for BHP Billiton, Rio and Fortescue. The trading ranges in these stocks will be critical, and should be traded accordingly.
The current weakness is no surprise: price breakouts often fail once or twice before breaking out of long-term trading ranges. I would certainly be buying any breakout above these trading ranges on a weekly closing basis. I might also buy the lower end of these trading ranges, if price gets there - as I did with BHP Billiton - depending on price and volume action.
So watch this space. The big Australian miners look ready for further gains and could be a leading positive indicator on the China story as well.
About the author
Richard Lie is the founder of Crusader Capital Management, and the stock advisory service and popular Stockradar trading blog at He focuses exclusively on price analysis to make decisions in the sharemarket. He is licensed by ASIC.
From ASX
The ASX Charting library provides a wealth of free material for beginners through to advanced chartists.
<!IoRedDot_txt_disclaimer>The views, opinions or recommendations of the author in this article are solely those of the author and do not in any way reflect the views, opinions, recommendations, of ASX Limited ABN 98 008 624 691 and its related bodies corporate ("ASX"). ASX makes no representation or warranty with respect to the accuracy, completeness or currency of the content. The content is for educational purposes only and does not constitute financial advice. Independent advice should be obtained from an Australian financial services licensee before making investment decisions. To the extent permitted by law, ASX excludes all liability for any loss or damage arising in any way including by way of negligence.

© Copyright 2017 ASX Limited ABN 98 008 624 691. All rights reserved 2017.