Emerging markets versus developed markets
This article appeared in the April 2014 ASX Investor Update email newsletter. To subscribe to this newsletter please register with the MyASX section or visit the About MyASX page for past editions and more details.
Too early to buy emerging markets, but China's staggering potential creates long-term opportunities.

By Nick Griffin (pictured), James Tsinidis and Kieran Moore - K2 Asset Management
Over the past few months, K2 Asset Management has been asked regularly about its views on emerging versus developed markets, and whether now is the right time to wade back in.
In recent months emerging markets have considerably underperformed developed markets, leading to many queries about whether emerging markets now offer compelling value.
As a broad response to this query, we observe that emerging markets are simply giving back part of the considerable outperformance (over developed markets) they have achieved through the 2000s (see Figure 1, below).
We acknowledge this is a fairly crude metric, but would also flag that emerging markets, while now cheaper compared to developed markets, are also suffering from a weakening economic growth environment compared to a strengthening environment in most developed economies (See Figure 2, below).
Ultimately, as interest rates globally begin to rise, excess liquidity levels (from super-low interest rates and higher money supply, driven by central bank monetary policies) will shrink.
This will slow the growth tailwinds in developed markets, but in emerging markets, capital is likely to exit due to the higher-risk nature of these economies. This has been, and is likely to remain, an economic and investment headwind for emerging markets over the medium term.
(Editor's note: Investors can gain exposure to emerging markets through ASX-listed exchange traded products. To learn about their features, benefits and risks, take the free ASX online Exchange Traded Funds and Exchange Traded Products course.)
Figure 1: Performance of emerging markets compared to developed markets.
SPX/MXEF Ratio (1998 = 1)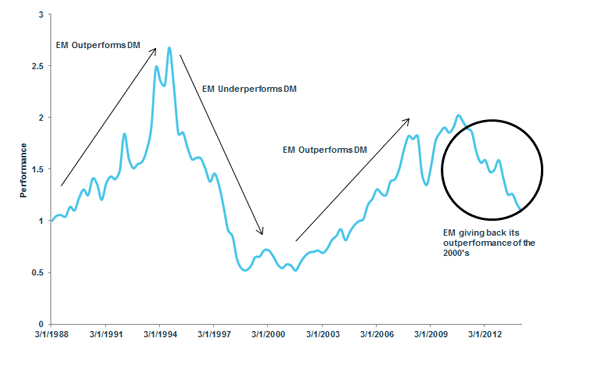 Source: Bloomberg. SPX represents the S&P 500 Index and MXEF is a free float weighted emerging market equity index.
Figure 2: Global purchase managers index (PMIs)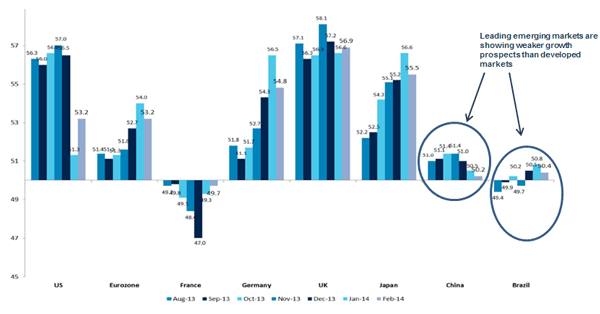 Source: Bloomberg
This analysis amounts to a fairly sombre macro-economic outlook for emerging markets and not a great investment outlook as an asset class in comparison to developed markets.
Opportunities still exist
Despite this fairly sombre outlook, we do not think emerging markets are opportunity free. On the contrary, there are huge opportunities emanating from the demographic and structural changes occurring in emerging markets.
We see companies in both emerging and developed markets as big beneficiaries from these changes and would flag that many of the opportunities that emerging markets present can occur independently of the previously mentioned weak economic outlook.
Below we highlight one large emerging market-led megatrend that looks set to dominate the profit outlook for many corporates for years to come.
The emergence of the Chinese consumer
You do not have to look far these days to find evidence of the Chinese consumer permeating everyday life, whether on a plane, at a tourist attraction, queuing outside a luxury goods store or enrolling in education. Chinese consumers are becoming wealthier and as consumers they are some of the most voracious the world has seen.
The best example of this trend has been the rise of Macau as a gaming destination. There are no legal gambling areas in China and consequently Macau is the major destination for wealthy Chinese to exercise their desire to gamble.
Since the opening of the Sands Macau casino in 2003, visitor numbers and gross gaming revenue have been on a strong upward trajectory to the point where Macau as a gaming centre is already six times the size of Las Vegas by gross gaming revenues (see Figure 3 below).
Figure 3: Gross gaming revenue for Las Vegas compared to Macau (per quarter in millions USD)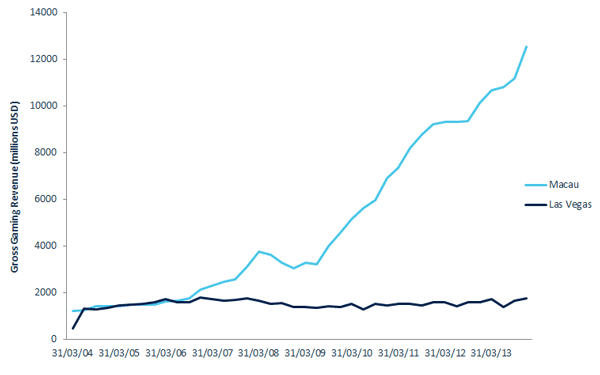 Source: Bloomberg
Although this is a staggering statistic in itself, what makes it more interesting is that Macau has only just scratched the surface of what is possible. While Macau receives 20 million visits by mainland Chinese annually (30 million visits in total) some of the companies based there estimate this represents only seven million actual individuals - that is, the average person visits three times each year.
There is no doubt that the appetite to gamble is strong, based on gross gaming revenue growth, but the issue holding back more visits is infrastructure congestion and a lack of hotel rooms.
Again, according to our investee companies and corroborated by industry analysis, there are approximately 100 million Chinese that fit the visitor demographic of Macau. This demographic represents around 7.2 per cent of the total Chinese population. If you consider that there are currently seven million unique visitors to Macau (0.5 per cent of the population) the potential upside is huge.
Even if you take the 20 million visitors number as all being unique entrants, this depicts that only 1.5 per cent of the total Chinese population have actually visited Macau, yet it is already six times larger than Las Vegas.
Figure 4: Mainland China visitation to Macqu (penetration rate)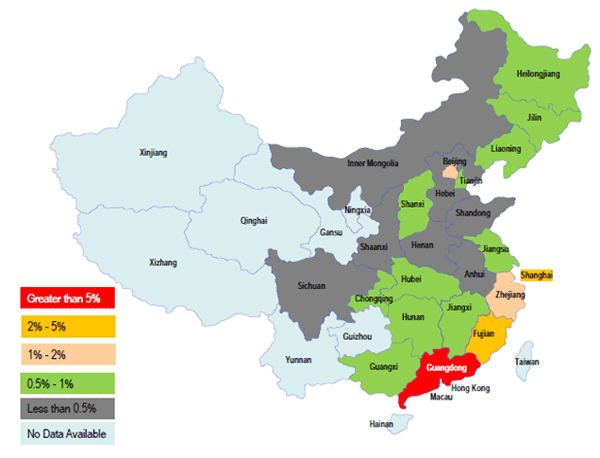 Source: Citi
Witnessing the success of Macau, it is not hard to extrapolate what the emergence of the Chinese consumers could do to other supply-constrained industries, such as the luxury goods sector, the major branded goods sector and the aircraft equipment sector.
Conclusion
Our current macro thinking suggests it is too early to re-enter emerging markets as an asset class. However, this does not mean we don't see many opportunities for developed and developing world companies that target the emerging middle class, and within that we highlight the potential large opportunity that Chinese consumers represent for global corporates.
At K2 Asset Management we approach the world in a completely sector and regionally unaware manner, focused primarily on companies exposed to strong secular earnings trends. The rise of the Chinese consumer will be a large secular tailwind for many corporates around the world regardless of whether they are listed inside or outside China.
About the author
Nick Griffin is head of international equities at K2 Asset Management. James Tsinidis and Kieran Moore also work at K2.
From ASX
K2 Asset Management is a foundation member of the ASX mFund Settlement Service. The mFund Settlement Service enables you to buy and sell units in selected unlisted managed funds directly with the mFund issuer via a stockbroker or advisory services used to transact shares or other ASX products.
<!IoRedDot_txt_disclaimer>The views, opinions or recommendations of the author in this article are solely those of the author and do not in any way reflect the views, opinions, recommendations, of ASX Limited ABN 98 008 624 691 and its related bodies corporate ("ASX"). ASX makes no representation or warranty with respect to the accuracy, completeness or currency of the content. The content is for educational purposes only and does not constitute financial advice. Independent advice should be obtained from an Australian financial services licensee before making investment decisions. To the extent permitted by law, ASX excludes all liability for any loss or damage arising in any way including by way of negligence.

© Copyright 2017 ASX Limited ABN 98 008 624 691. All rights reserved 2017.