Best internet stocks to buy
This article appeared in the July 2014 ASX Investor Update email newsletter. To subscribe to this newsletter please register with the MyASX section or visit the About MyASX page for past editions and more details.
What the charts say about Seek, REA Group, Carsales.com and Wotif.com

By Richard Lie, Stockradar
A word of warning: trading internet stocks is not for the faint of heart, as anyone who experienced the Tech Crash in 2001 will know. It was brutal, with a great number of stocks going to zero. Never before have fortunes been so quickly made and lost.
Things were a little different in those days, of course. The web was still a new idea, a new place to do business, and nobody really knew how things would play out. Earnings got way ahead of themselves, and companies such as eBay, Amazon and Google were not the behemoths they are today.
A lot has changed and a lot has not. The web has certainly grown up. Global e-commerce sales totalled $28 billion in 2000; today they total $1.5 trillion. People don't just buy the odd book from Amazon any more; the web has become a one-stop shop for pretty much everything.
But it is still the new frontier and the land grab continues. It is still also a low-cost, high-margin business with few barriers to entry. There is still massive scope and opportunity, with new players constantly entering the fray, and there will continue to be winners and losers.
Remember Netscape and Myspace? And not even the wildest optimist could have imagined a "social-media platform" (the term didn't exist) like Facebook being worth $200 billion in market capitalisation, rivalling the world's largest investment bank, JP Morgan.
In Australia we have a few new names of our own, albeit on a smaller-cap scale: REA Group (capitalised at $5.6 billion), SEEK ($5.5 billion), Carsales.com ($2.5 billion) and Wotif.com Holdings ($530 million). All developed their businesses from the ground up in Australia, and all are currently embarking on international expansion.But before trying to figure out whether we want to own these stocks, let us take a top-down approach by looking at the broader market first.
Candlestick chart of NASDAQ 100 Index - from August 1995 to June 2014
Source: incredible charts
Big picture conclusion
After leading the charge higher, internet stocks are now underperforming the broader market. This relative weakness is not a good sign. If they can't move higher when the broader technology space is making new highs, what will happen when the Nasdaq finally turns?
Also, although this sell-off has made expensive internet stocks slightly less expensive, value-conscious investors should be wary of catching falling knives.
Going from "growth at any price" to "growth at a reasonable price" is not a promise for short-term gains. Many analysts have started banging the table that it is time to sift through the damage and pick up the best companies on the cheap.
I would advise against following analyst recommendations. They rarely think as one, and when they do it normally spells danger.
I am a technical trader who uses price alone to make decisions in the sharemarket. Specific levels tell me when I'm right and wrong. As any money manager worth his salt will tell you, risk management is absolutely vital to long-term success.
You can find a reason for doing pretty much anything in the financial markets. All buyers and sellers have their own compelling reasons to act at any given time. As a young man, my mentor told me to always respect the guy on the other end of the trade: "There's always a sucker," he used to say. "And sometimes that sucker's gonna be you."
So back to REA, SEEK, Carsales and Wotif. How would I manage these trades, what are the important levels to watch, and where is the risk and reward in these four key internet stocks?
(Editor's note: Do not read the following ideas as stock recommendations. Do further research of your own, or talk to a licensed financial adviser before acting on ideas and themes in this article).
1. SEEK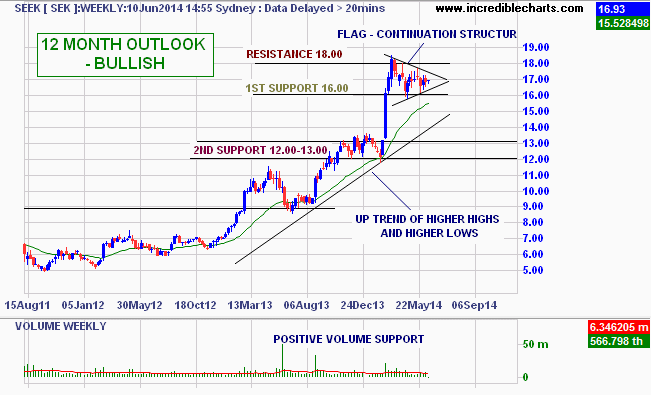 Source: incredible charts
Seek operates Australia's dominant employment site, as well as a host of other related businesses spanning the globe. Asia forms a central part of its growth strategy.
The stock has been a stellar performer. Any break above the high at $18 should leverage another rally. However, I would not be surprised if we broke below the short-term support at $16 because of the broader market weakness. The longer-term outlook still looks positive.
2. Carsales.com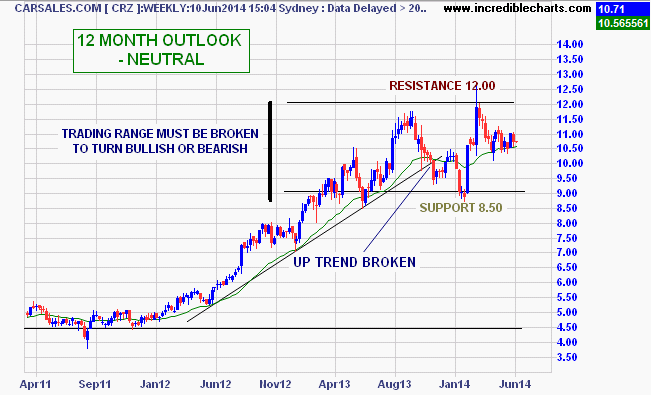 Source: incredible charts
Carsales.com is Australia's leading online automotive classified website, owns various affiliate sites, and around 20 per cent of iCar Asia.
For 12 months, price has been contained between the all-time highs at $12.00 and recent support at $8.50. My feeling is this is a topping pattern. However, my bullish and bearish levels are clear. Any valid break of the upper or lower trading range will determine this stock's future direction.
3. REA Group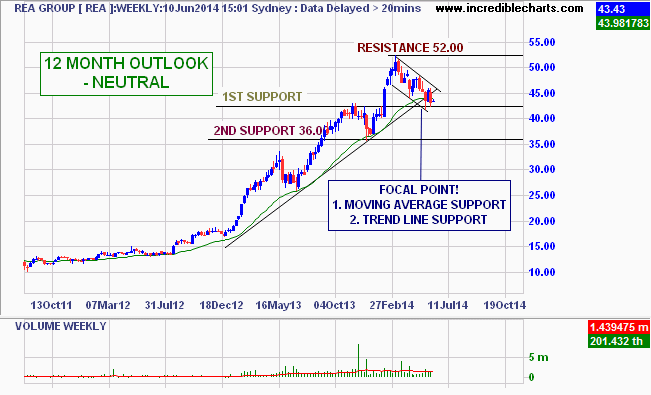 Source: incredible charts 
REA owns Australia's number one property website, realestate.com.au, and realcommercial.com.au, as well as international real estate advertising sites, such as the market-leading Italian property site, casa.it.
This stock has already broken trendline and moving average support levels. I expect lower prices - the first support level is at $36.00. Volume has spiked on down weeks, which is also a worrying sign. I don't short stocks (profit from a share-price fall), so I am currently neutral REA.
4. Wotif.com
Source: incredible charts 
Wotif is one of the country's most popular hotel booking sites. The online company sells one in 10 hotel nights Australia-wide. The company also operates a number of other travel-related sites, and is looking for growth domestically and in Asian bookings.
There is a lot not to like about this chart, and the travel space is global and highly competitive. That aside, the stock has fallen dramatically. There is some support at current levels, evidence of buying demand at this weakened price. We might see a flick back, but at this stage I cannot get excited about this stock.
Conclusions for Australian internet stocks
I have some concerns in the short term, at least. The market looks toppy for internet stocks. If you want to buy this space, it won't be hard to find reasons. I cannot deny the strong fundamental backdrop.
Long-term investors in the right names (my pick is SEEK, which I own) will be exposed to powerful demographic and social trends in Asia, in particular. This presents massive opportunities: middle-class consumers in Asia-Pacific are expected to grow from half a billion in 2009 to 3.2 billion in 2030, according to the Federal Government. However, it is a different story looking at price in isolation.
I won't sugar coat this. Despite the great run-up in many of the Australian internet stocks in recent years, buyer beware! Price is not acting like it should before another leg up. The pendulum seems to be swinging, but I can't tell you why. I will let the analysts give me the various reasons after the move.
About the author
Richard Lie is the founder of Crusader Capital Management, and the stock advisory service and popular Stockradar trading blog. He focuses exclusively on price analysis to make decisions in the sharemarket. He is licensed by ASIC.
From ASX
The ASX Charting library provides a wealth of free material for beginners through to advanced chartists.
<!IoRedDot_txt_disclaimer>The views, opinions or recommendations of the author in this article are solely those of the author and do not in any way reflect the views, opinions, recommendations, of ASX Limited ABN 98 008 624 691 and its related bodies corporate ("ASX"). ASX makes no representation or warranty with respect to the accuracy, completeness or currency of the content. The content is for educational purposes only and does not constitute financial advice. Independent advice should be obtained from an Australian financial services licensee before making investment decisions. To the extent permitted by law, ASX excludes all liability for any loss or damage arising in any way including by way of negligence.

© Copyright 2017 ASX Limited ABN 98 008 624 691. All rights reserved 2017.