Likely winners in a changing Australian economy
This article appeared in the July 2014 ASX Investor Update email newsletter. To subscribe to this newsletter please register with the MyASX section or visit the About MyASX page for past editions and more details.
Housing and infrastructure big hopes, but market confidence lacking.

By John Abernethy, Clime
When the price of iron ore recently slumped below US$90 a tonne it was a stark reminder that the best days of the commodity price boom were over. The Australian economy needs to transition to new sources of growth, and we are pinning our hopes on the housing market and infrastructure spending taking up the slack.
(Editor's note: Do not read the following ideas as stock recommendations. Do further research of your own or talk to a licensed financial adviser before acting on themes in this article).
The potential listed company winners from the transition appear obvious. The candidates are construction, contracting and engineering companies that include Leighton Holdings, Macmahon Holdings and Adelaide Brighton.
But these stocks are yet to get a price boost because the market lacks confidence that the Federal Government, which is paranoid about debt and "a budget crisis", will be moving any time soon to roll out new roadworks and infrastructure.
So it will be a slow process for investors who seek to exploit the transition and benefit from potential winning stocks and sectors. In any case, many of the beneficiaries have to first contend with a "resource capital investment" downturn.
The last phase of the mining boom
Australia's mining boom has three phases. First we benefited from record commodity prices. That triggered the second phase, a surge in capital investment in new mines and facilities. The third, and final leg, is a big increase in volume from the higher capacity.
Most would agree that the first phase, high prices, is well and truly over; and we are now seeing a tailing off in capital spending.
The end of the first two phases of the mining boom was illustrated in the Budget papers, which forecast a slump in Australia's terms of trade, with prices for the likes of coal and iron ore dropping sharply.
Mining-based capital spending, which ran as high as $70 billion in 2012-13 and 2013-14, is also winding down. Total resource investment in 2016 will be just 40 per cent of the level in 2013; in the next two years, investment in LNG plants will halve.
Mining-based capital spending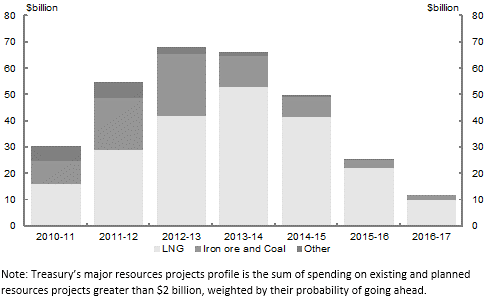 Source: Treasury
There is about another $100 billion of LNG investment to be completed in coming years but it will be well spread. Thus in the next three years, LNG investment spending will run at between $30 billion and $40 billion a year, with the benefits being localised in Queensland and Western Australia. Winners will include UGL and Leighton.
The investment boom will result in an expansion of production and exports of minerals and commodities, which will ramp up significantly as projects are finalised. But those exports have low employment participation and low linkages into the domestic economy.
The Australian dollar should be falling
As we all know, the impact of the mining boom has not been all positive: the boom-fuelled dollar has hurt the manufacturing and service export sectors, particularly education and tourism. It also masked a slump in labour and capital productivity.
Historically, when commodity prices have fallen the Australian dollar has declined, which in turn stimulated the likes of education and tourism. The growth baton passed from mining to other sectors.
But the "autostabiliser" of the dollar is not working. Quantitative easing (QE), a form of monetary policy to stimulate economies, and low-interest programs by the US and Europe are propping up the Australian currency.
That has left just housing and the possibility of infrastructure spending as the two hopes for the Australian economy.
Can the housing market save us?
In response to overseas interest rate settings and to stimulate the economy and help keep the dollar low, the Reserve Bank has slashed interest rates. That has triggered big price gains in residential property and an increase in much-needed construction. Australia has entered a sustained residential building cycle after years of under-building.
Throughout the 2000s, Australia's population surged but construction of new houses and apartments failed to keep up supply, particularly in the major capital cities, which has caused a significant shortfall.
Dwelling approvals have increased but it will take another decade for housing supply to match demand. Australia is now playing catch-up and will have to build an additional 30,000 to 40,000 homes a year in the next decade to meet demand. Much of this will be focused on multi-unit developments and away from the traditional detached dwelling.
The sustained residential construction cycle will benefit the likes of Adelaide Brighton and Brickworks.
No confidence in infrastructure spending
But the main policy focus to offset the fall-off in the mining boom and try to boost productivity is infrastructure spending. Engineers Australia and Infrastructure Partnerships Australia estimate Australia has a $700-billion spending shortfall.
Australia is caught in an infrastructure quagmire with inefficient ports and roads, something one does not see in a lot of other developed countries. Even developing countries such as China have moved aggressively to get transport infrastructure up to state-of-the-art quickly. There as been a lot of focus on labour costs but not enough on our massive infrastructure problems.
In the Budget, the Government committed an additional $11.6 billion to transport infrastructure spending through its Infrastructure Growth Package. But despite the urgent need to offset the mining boom and boost productivity, the spending will not really kick in until 2016. The Government clearly does not really want to push on with infrastructure for the next two to three years because of its paranoia with debt.
It should be obvious who the winners are from a boost in infrastructure spending, particularly cement stocks.
But Adelaide Brighton, for example, has slumped to $3.20, its lowest since July 2013. If there was going to be an infrastructure surge, you would have thought there would be a lot of cement used.
An infrastructure boom has not been priced in yet because the market has no confidence that spending on the likes of roads is going to happen quickly. The Government's recent Budget Audit Review forecast a rise in debt to more than $600 billion in 2024 but this level was still less than 25 per cent of GDP. Further, it assumed that taxes would not be adjusted to meet required investment.
The result is that the investment market is confused and there is a growing reticence for capital markets to trust the outlook statements of politicians. The NBN fiasco from the previous government is a case in point. It is so far behind projections that it is now impossible to reasonably estimate revenue for the contractors or cash benefits to Telstra.
Other winners
Other winners from an increase in infrastructure spending are contractors and road builders, including Leighton, UGL, Seymour White and Macmahon. But they work on fine margins and the risk of error is high, so it will not be a windfall.
That said, infrastructure spending will help the overall economy by boosting growth and employment. It should stave off what is set to be a very low-growth period for Australia coming up.
But infrastructure spending will not be enough to offset the fall-off in mining capital spending: it's like three down (capital spending), two up (infrastructure).
The economy is still going to be driven by resource export volumes and revenue, which was the case in last quarter's trade account. Of the 3.5 per cent growth, 70 per cent of that was driven by export earnings from resources.
About the author
John Abernethy is the Chief Investment Officer of Clime Asset Management. The Clime Australian Value Fund is one of the best-performing Australian equity funds over one, three and five-year periods.
From ASX
ASX Listed Investment companies explains the features, benefits and risks of this type of listed managed fund.
<!IoRedDot_txt_disclaimer>The views, opinions or recommendations of the author in this article are solely those of the author and do not in any way reflect the views, opinions, recommendations, of ASX Limited ABN 98 008 624 691 and its related bodies corporate ("ASX"). ASX makes no representation or warranty with respect to the accuracy, completeness or currency of the content. The content is for educational purposes only and does not constitute financial advice. Independent advice should be obtained from an Australian financial services licensee before making investment decisions. To the extent permitted by law, ASX excludes all liability for any loss or damage arising in any way including by way of negligence.

© Copyright 2017 ASX Limited ABN 98 008 624 691. All rights reserved 2017.