You probably own these stocks - what's their outlook?
This article appeared in the August 2014 ASX Investor Update email newsletter. To subscribe to this newsletter please register with the MyASX section or visit the About MyASX page for past editions and more details.
What the share-price charts tell us about Commonwealth Bank of Australia, Telstra Corporation, AMP and Woolworths. 
By Michael Gable, Fairmont Equities
The Australian sharemarket has had a great run during the past two years and it has been well documented that a major part of this is attributable to the top end of the market.
More specifically, it has been the hunt for high dividend yield against a backdrop of interest rates at record lows. Not all stocks in the top 20 have equally shared the heavy lifting. Some have performed better than others up to now, and in 12 months, perhaps we will look back to find that other stocks have taken over to lift the sharemarket higher.
The first stage of a bull market involves the top 20 stocks leading the charge. It reaches a point where they become fully or over valued and then the smaller end of town comes to the party. Recognising this is crucial in outperforming the market, but for investors who still want to take things a bit more conservatively, there is still upside to be had in the top 20.
For the medium term at least, we can look at four stocks that are household names and get a sense of where they are heading. By looking at the charts and applying some technical analysis, we can graphically see how the prospects shape up.
Unfortunately, looking at valuation alone is not enough. If I had done just that, we would have deemed a lot of these stocks "too expensive" a long time ago and clients would have missed out on some of these profits in the past two years.
Let us turn to what the charts are indicating and see whether the market is happy to push these stocks higher or not.
(Editor's note: do not read the following ideas as stock recommendations. Do further research of your own or talk to a licensed financial adviser before acting on themes in this article. In the charts below, the black line signifies share price. The red line is the relative strength index, a type of indicator that attempts to quantify price momentum. The chart source is AmiBroker).
1. Commonwealth Bank of Australia (CBA)
Source: AmiBroker
CBA has been one of the better performers of the past two years. From under $50 in early 2012, steady buying has pushed it to record highs above $80. On the chart it has been forming "higher highs" and "higher lows" for most of this time, only occasionally taking a bit of a breather for the market to digest the recent move.
Over the next few months it appears as though CBA can continue to push higher. Recent events in the news have seen CBA take another breather, but you will notice on the chart that it is still sitting on top of the recent major high at $80. By building on top of this level, CBA has the potential to see its shares spike up again, so another record high for CBA is on the cards in 2014.
There is one worrying sign. Since the beginning of 2013 momentum in the stock has been trending lower. This is indicated at the bottom of the chart (orange line) using a Relative Strength Index (RSI). During this time, however, the share price has pushed higher. This divergence between the direction of the share price and the RSI is seen as a dangerous sign and if a sell-off is triggered, a large drop in the share price over several months could eventuate.
The likely trigger would be a rise in interest rates, thereby making the dividend yield less attractive.
A pullback could be great enough for hedging strategies to come to the fore. I would consider recommending Exchange-Traded Put Options as a potential way to cushion an eventual drop in the share price. (As the CBA share price falls, the put option price would rise).
2. AMP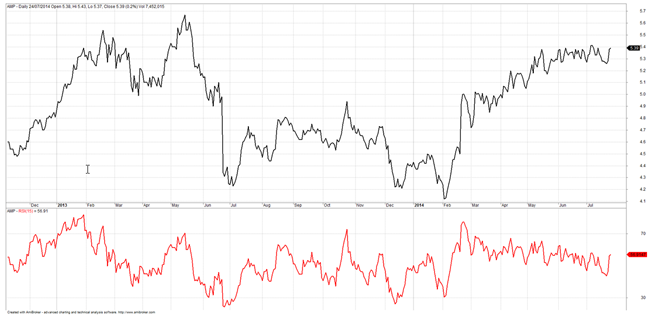 Source: AmiBroker
AMP has been one those top 20 stocks that has been left behind. It has gained value in the past two years but has clearly lagged behind some of its fellow financials such as the big four banks.
Just because AMP has lagged behind, it does not mean the shares could now play "catch-up" and outperform other stocks in the top 20, let alone the market. At some point, conditions could be such that AMP will outperform. However, in the short to medium term, the share price appears to be under pressure.
Over the past few months the trend has slowed and AMP has been struggling to move higher. This is distinct from a very impulsive rally followed by a slight cooling off, which would be a bullish sign. The recent rallies have not been very impulsive at all, which means the bulls are not in control of this stock. It appears vulnerable to me, and a dip under $5 is likely to occur well before any significant buying.
3. Telstra Corporation
Source: AmiBroker
For many years, Telstra was a disappointing stock from a share price perspective. Like CBA, however, it has recently seen a very large appreciation in its price as investors hunt for dividend yield.
Over the past year we can see on the chart that the share price has been moving up within a channel. Traders could look to sell at the top and buy back in at the bottom of that channel range (marked by the blue lines on chart). Alternatively, longer-term investors looking to add Telstra to their portfolio can try to time their entry point for when it hits the bottom of that channel.
With Telstra about to pay a dividend, the recent move to the bottom of that channel in June was the most recent buying opportunity. While Telstra continues to trade within this channel and respect the uptrend, it is still looking bullish. Because of the attractive dividend, any dips down will be bought up by the market. Like CBA, however, an increase in interest rates could see the stock come under pressure and investors should be wary if they see the uptrend start to break down.
4. Woolworths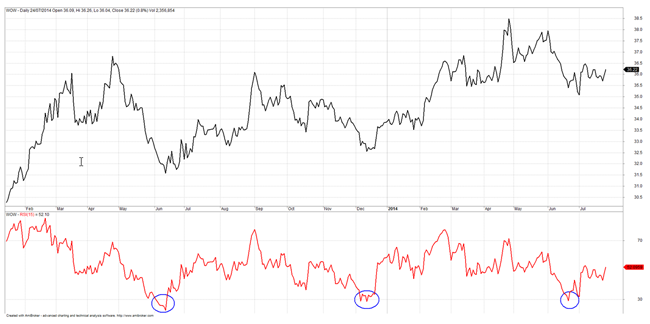 Source: AmiBroker
Woolworths has performed very well in the past two years and like CBA has recently traded at record highs. The overall trend in Woolworths is still looking strong and whenever it dips too far, the buying seems to come back in very strongly.
This is evident when we have a look at the RSI on a daily chart (the red line at bottom of chart). When it dips under the oversold line and comes back above it, it is telling us that the sellers got way ahead of themselves and this means we have a buy signal. I have circled this on the chart to indicate the buy signal. Looking back over the past year we can see that every time this has happened, Woolworths has gone on to trade higher. The most recent buy signal occurred in June this year, so again we have a situation where Woolworths has become oversold and is likely to head higher again.
For the medium term at least, we should see higher levels achieved for Woolworths, and while this longer-term trend is intact there is no reason yet for it to not make another record high before the year is out.
About the author
Michael Gable is managing director of Fairmont Equities, a share advisory firm. He is also a media commentator and board member of the Australian Technical Analysts Association. 
From ASX
ASX online courses cover shares, interest-rate securities, warrants and instalments, exchange-traded funds, options and futures. The shares course has 11 modules, each taking 10 to 15 minutes to complete. Topics covered include: What is a share? How to invest; Risk and benefits of shares; What to consider in an investment; and How to buy and sell shares. Simple summaries and quizzes in each module make learning fast, easy and enjoyable.
<!IoRedDot_txt_disclaimer>The views, opinions or recommendations of the author in this article are solely those of the author and do not in any way reflect the views, opinions, recommendations, of ASX Limited ABN 98 008 624 691 and its related bodies corporate ("ASX"). ASX makes no representation or warranty with respect to the accuracy, completeness or currency of the content. The content is for educational purposes only and does not constitute financial advice. Independent advice should be obtained from an Australian financial services licensee before making investment decisions. To the extent permitted by law, ASX excludes all liability for any loss or damage arising in any way including by way of negligence.

© Copyright 2017 ASX Limited ABN 98 008 624 691. All rights reserved 2017.