Stable returns from listed hybrids for income investors
This article appeared in the September 2014 ASX Investor Update email newsletter. To subscribe to this newsletter please register with the MyASX section or visit the About MyASX page for past editions and more details.
Stable returns from listed hybrids for income investors.

By Norman Derham, Elstree Investment Management
As the demand for yield intensifies, it is timely to revisit one of the potential sources of yield for retail investors - the ASX listed hybrid market.
For almost a decade and a half this market has provided retail investors with a source of capital-stable income. The market, being characterised by a plethora of securities with a wide range of risk and return outcomes, performed well in all but one of those 14 years. It may surprise you that the hybrid market has performed almost as well as Australian shares since 2000.
(Editor's note: 'Hybrid security' is a generic term used to describe a security that combines elements of debt securities and equity securities. Hybrid securities typically promise to pay a rate of return, fixed or floating, until a certain date, in the same way debt securities do. However, ASX-listed hybrids also have equity-like features that can mean they may provide a higher rate of return than regular debt securities. To learn about the features, benefits and risks of ASX-listed hybrids, take the free ASX Bonds and hybrids online course.)
The chart below details the performance of the hybrid market as denoted by the Elstree Hybrid Index and the All Ordinaries Accumulation Index (which includes dividends) from January 2000 to 30 June 2014. The data is based to 1000 at 30 June 2014.
At any point along either the hybrid or equity lines is the amount of units you would need to invest in to have 1000 units at 30 June 2014. Where the lines intersect, the number of units required is identical for each asset class. Where one line is below the other (highlighted in the chart) an investor would have been better off investing in that asset class over the other to 30 June 2014.
The unmistakable difference between hybrids and shares is, of course, the volatility. Clearly, hybrids have been significantly less volatile than shares.
Elstree Hybrid Index and the All Ordinaries Accumulation Index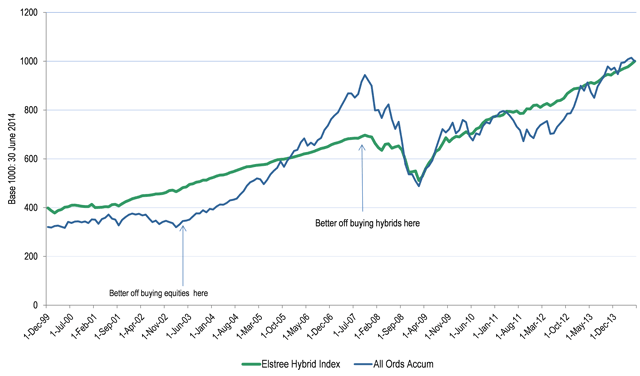 Sources: Elstree and ASX
Strong recent performance for hybrids
The hybrid market has performed exceptionally well over the past 12 months. The driver has been a major demand-supply imbalance. There has been insufficient supply of hybrids to satisfy self-managed superannuation fund (SMSF) retiree demand in the light of declining benchmark interest rates and shrinking term-deposit rates.
We see little change in the supply/demand imbalance over the next 12 months as issuer supply of hybrids falls from the high levels experienced in 2012 and 2013. This is expected to place ongoing downward pressure on margins (as margins contract, prices rise) in the listed market, particularly as SMSF retirees seek out yield and riskier alternative investments.
Measuring compensation
Although we think hybrids are an attractive investment, investors should be cognisant that they are not a risk-free alternative.
What investors have to ask themselves is, given their seniority or ranking in the capital structure, do hybrids provide sufficient compensation for the risks in terms of excess margin earned over the risk-free rate of return?
It is an interesting exercise to try to quantify the risks. The main risks we have identified include default risk, equity conversion risk, liquidity risk and fat-tail event risk, such as a global financial crisis.
Diversity is the key
Now to a comment about diversification. We want to demonstrate that investors are missing out despite their best intentions in both a risk and return sense, if they buy only a small number of hybrid securities.
The chart below shows the returns and risk (volatility) of all the hybrid securities (blue rectangles) during 2013/2014, and an undiversified concentrated portfolio of, say, the top 10 hybrid securities by market capitalisation (green triangle) against a diverse portfolio of securities, as denoted by the Elstree Hybrid Index (red square) over the 12 months to 30 June 2014. We have also included returns of our ASX-listed fund, the Australian Enhanced Income Fund (purple circle).
Returns include the benefit of franking and the return of our fund is net of all fees. We included the top 10 securities by market capitalisation because we think it would be representative of the typical SMSF retiree portfolio. While there is nothing inherently wrong with a portfolio containing the top 10 securities by market capitalisation, the biggest risk is concentration risk because the portfolio is populated entirely by financial company issuers of hybrids.
It is interesting to note that diversification not only reduces the volatility of return but also how it materially increases the return outcome.
By being diversified and investing in a broader range of issuer names, including hybrid issues by non-financial entities, the risk of the portfolio is significantly reduced. While "adequate" diversification is difficult to achieve for investors who invest directly, is it clearly worth it and is one of the major benefits of investing in a managed fund such as the Australian Enhanced Income Fund.
Returns and risk of all the hybrid securities during 2013/2014
Source: Elstree
About the author
Norman Derham is a principal of Elstree Investment Management Limited, an executive-owned boutique manager specialising in the management of portfolios containing ASX-listed hybrid securities. The executives of Elstree have more than 80 years' combined experience in debt capital markets and have been managing portfolios of hybrid securities exclusively since 2003.
From ASX
The free ASX guide, 'Understanding Hybrid Securities' has more detailed information on the features, benefits and risks of hybrids, and how they compare to other types of securities.
<!IoRedDot_txt_disclaimer>The views, opinions or recommendations of the author in this article are solely those of the author and do not in any way reflect the views, opinions, recommendations, of ASX Limited ABN 98 008 624 691 and its related bodies corporate ("ASX"). ASX makes no representation or warranty with respect to the accuracy, completeness or currency of the content. The content is for educational purposes only and does not constitute financial advice. Independent advice should be obtained from an Australian financial services licensee before making investment decisions. To the extent permitted by law, ASX excludes all liability for any loss or damage arising in any way including by way of negligence.

© Copyright 2017 ASX Limited ABN 98 008 624 691. All rights reserved 2017.