Energetic gains for oil and gas stocks
This article appeared in the October 2014 ASX Investor Update email newsletter. To subscribe to this newsletter please register with the MyASX section or visit the About MyASX page for past editions and more details.
What the charts say about Woodside Petroleum, Santos, Caltex and Oil Search.
By Michael Gable, Fairmont Equities
The Australian sharemarket is flush with energy companies and investors are spoilt for choice when it comes to adding energy as an exposure to their portfolio. However a look at four of the most popular names on ASX shows that each company is quite different in its own right, with it its own trading personality.
Whereas the big four banks generally seem to move together, the diversity between Woodside Petroleum, Caltex Australia, Santos and Oil Search provides different trading opportunities.
Here is an analysis of the market's four largest energy-related stocks:
(Editor's note: Do not read the following ideas as stock recommendations. Do further research of your own or talk to a licensed financial adviser before acting on themes in this article).
Woodside Petroleum
October 2012 to September 2014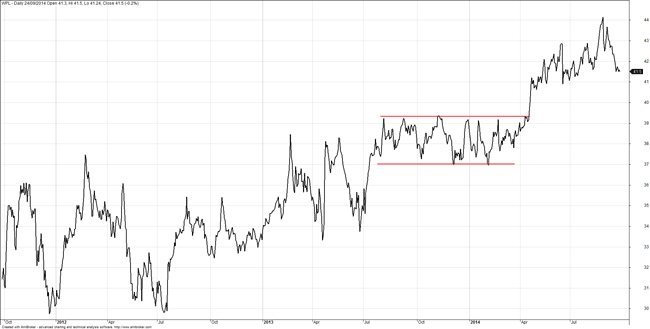 Source: AmiBroker
Woodside is the largest energy stock on the Australian sharemarket. Pre-GFC it traded in the high $60s before retreating. A couple of key events have been keeping Woodside in the news. First, a large shareholding by Shell is being wound down. It was a hangover from a previous takeover attempt and the removal will add more share liquidity to Woodside in the market.
The second topic of conversation is a perceived lack of growth opportunities, which has left the company bursting at the seams with cash. To placate yield-hungry investors, Woodside has started paying a very handsome dividend.
It makes Woodside almost more of a yield stock than a growth stock, and opinions are still divided over whether this is the best course of action for the company. The charts give a feel for how the market is treating Woodside.
Over the course of 2011 and 2012 Woodside established a strong low point around $30. From mid-2012 it started to trend higher, appreciating by more than 20 per cent before pausing. For several months across 2013 and 2014 Woodside traded in a band between $37 and $39.50.
The interesting thing about these "continuation patterns" is that the longer they go on, the more explosive the move is when they finally break free.
In April this year Woodside burst upwards and rallied towards $44. The share price is again easing back and those looking to buy Woodside would want to hope that it retests that breakout zone under $40.
However, with this resumption of the uptrend, I can see Woodside tracking higher over the course of 2014 and 2015. The next major level of resistance is up at $48.50.
Caltex Australia 
October 2009 to August 2014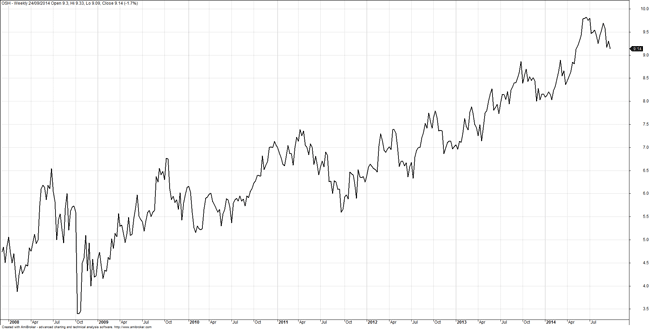 Source: AmiBroker 
Caltex is known for its refinery operations but with the closure of the Kurnell Refinery in New South Wales it is becoming much less an energy stock and more of a fuel distribution business. We have argued that its characteristics are more approaching that of a Woolworths or Coles and was therefore capable of commanding a higher multiple.
The market has finally caught on and the price of Caltex has rapidly appreciated over the past few months. The chart graphically shows the recent rush into Caltex but this can often be the sign of an exhaustion high. This is when a stock has been trending up for a time, only for the last of the doubters sitting on the sideline to finally rush in for fear of missing out.
Often this happens too late and they drive the price up almost vertically to a level that is beyond a fair valuation.
Looking at the chart, this now seems to be happening. It has been trending at a very sustainable rate since the GFC but recent price action has seen it move vertically, as well as becoming much overbought on the Relative Strength Index (A technical momentum indicator that compares the magnitude of recent gains to recent losses). This tells me the share price has got ahead of itself and a period of weakness is now likely.
Santos 
October 2012 to September 2014
Source: AmiBroker
Santos in some respects is similar to Woodside in that it started its recent uptrend in 2012 and is heading down the path of increasing dividends. It may not yield as much as Woodside, but at its recent results, the market was pleasantly surprised by an increase in dividends, which it did not anticipate until 2015.
The uptrend from the past two years saw the share price suddenly rush to a high of $15.80 in 2013. The rush was similar to what we have now seen with Caltex, although not as dramatic. That led Santos to spend the latter half of 2013 and early 2014 in a short-term downtrend.
The downtrend was broken about six months ago and we are now seeing a resumption of the uptrend that started back in 2012. I would expect Santos to take out last year's high and be trading above $16 in early 2015.
Oil Search
March 2008 to September 2014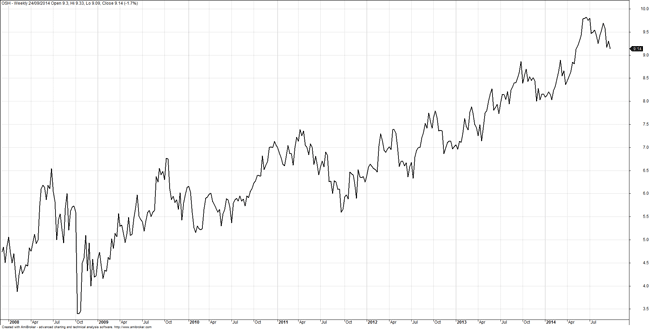 Source: AmiBroker
Oil Search, like Caltex, is trading at a higher level than before the GFC. While Caltex is only just managing to do so, Oil Search achieved that milestone back in 2009 and has continued to trend upwards since. It is the most exploration-focused of the companies mentioned here and has a joint venture with Santos in Papua New Guinea.
Viewed in the market as the more "risky" of these four stocks, Oil Search has provided shareholders with the greatest returns since the top of the market in 2008. In early 2014, Oil Search had the same sort of vertical move upwards as Caltex and is currently in the process of taking a breather.
There appears to be some good support around $9, otherwise levels as low as $8.50 could be achieved without threatening the uptrend. When this share price pullback is over, I would expect Oil Search to resume the uptrend and strive for record levels above $10.
About the author
Michael Gable is managing director of Fairmont Equities, a share advisory firm. He is also a media commentator and board member of the Australian Technical Analysts Association.
From ASX
ASX Charting library provides a wealth of free material for beginners through to advanced chartists.
<!IoRedDot_txt_disclaimer>The views, opinions or recommendations of the author in this article are solely those of the author and do not in any way reflect the views, opinions, recommendations, of ASX Limited ABN 98 008 624 691 and its related bodies corporate ("ASX"). ASX makes no representation or warranty with respect to the accuracy, completeness or currency of the content. The content is for educational purposes only and does not constitute financial advice. Independent advice should be obtained from an Australian financial services licensee before making investment decisions. To the extent permitted by law, ASX excludes all liability for any loss or damage arising in any way including by way of negligence.

© Copyright 2017 ASX Limited ABN 98 008 624 691. All rights reserved 2017.