Portfolio rebalancing a must for maximum gains
This article appeared in the October 2014 ASX Investor Update email newsletter. To subscribe to this newsletter please register with the MyASX section or visit the About MyASX page for past editions and more details.
Why a 'set and forget' strategy is too risky and ineffective.
By Rob da Silva
Investing money is a process, not a task. Once you decide to save money and invest it in a disciplined way, you have committed to a journey, rather than ticked a to-do list.
To develop and execute a long-term investment plan requires some initial steps:
Estimate your financial position: assets, liabilities, income and expenses now and into the future
Determine investment goals
Understand your tolerance for risk and the appropriate target return that will meet your goals
Establish an investment strategy (asset allocation, stock selection, etc.) that is consistent with all of the above.
It might seem that the job is now done and the strategy can be put on auto-pilot, but unfortunately, while "set and forget" sounds attractive in theory, it is risky and ineffective in practice.
Markets change
As prices of securities change constantly, asset classes often perform very differently to each other. These shifting tides will change the shape of your portfolio without you having made a single transaction. Your investment strategy is set specifically to address your goals and risk/return profile; if the markets cause a drift in portfolio construction, it makes sense to rebalance back to target.
In this context, portfolio rebalancing is a very important tool. Whether it is an institution investing a billion dollars or an individual investing a thousand, it is good practice to regularly review the portfolio to make sure it remains in line with the established strategy.
The changing price of securities and markets can significantly affect the shape of portfolios over time. Portfolio rebalancing simply involves selling the markets or securities that are overweight relative to strategy (a higher portfolio weighting than desired) and re-investing in those that are underweight.
Stock selection effect
Many individual investors often have relatively concentrated portfolios of 10 to 20 stocks and over time, price movements can dramatically change the portfolio weightings.
To illustrate this point, we randomly selected 18,000 different 10-stock portfolios from the ASX 300 Index. Starting in September 2013, each portfolio was equally weighted, 10 stocks with 10 per cent weight. The portfolios were examined a year later after no portfolio rebalancing and no transactions except to re-invest any dividends back into the same stock.
The weightings of the stocks were then compared to the original starting point, any differences being caused by stock price movements. The results were dramatic. The median portfolio had a change in stock weighting of around +/- 5 per cent; that is, a stock that started at 10 per cent weighting ended at 5 to 15 per cent.
Portfolios with smaller-cap, volatile stocks, had more extremes, with some stocks ending at 74 per cent of the portfolio. This turned the 10-stock portfolio into essentially a one-stock bet over the course of just 12 months. These result in very unbalanced and under-diversified portfolios. Regular review and rebalancing would prevent such outcomes.
Sector selection effect
Some wish to follow the sharemarket's fortunes closely, such as passive investors who buy index funds and others take more active positions but nevertheless base the extent of their activeness around the structure of the benchmark index. Both types of investors need to be aware that price movements in sectors, driven by investor sentiment and thematic macro trends, regularly change the weightings of sectors in the index.
An excellent illustration of this are thematic-driven movements of financial stocks versus resource-based materials stocks. The resources boom has peaked and falling commodity prices have driven a negative trend in the materials sector. The financials sector (mainly banks) enjoyed strong investor investor sentiment in the past two years (prior to the sell-off in September.
Comparing Charts 1 and 2 highlights the divergent trends since their starting points in the depths of the GFC (mid-2008). The weighting of materials stocks in the ASX 300 almost halved from around 31 per cent to 16 per cent.
Over the same period was a mirror-image trend for financials, which rose from 22 per cent to 34 per cent of the index. Regular portfolio rebalancing is essential to keep pace with these changing dynamics.
ASX 300 Index Weight - Financials
March 2005 to December 2013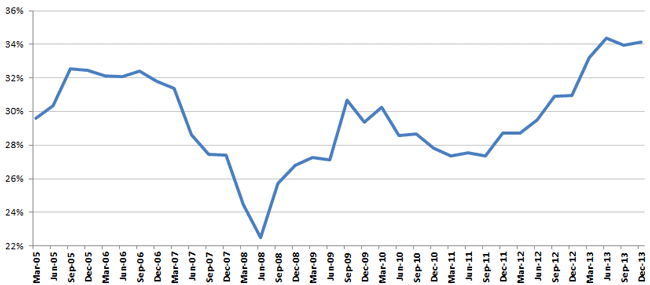 ASX 300 Index Weight - Materials
March 2005 to December 2013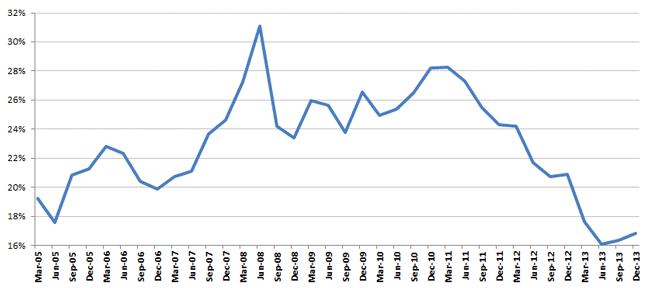 Asset allocation effect
As mentioned, asset allocations become skewed by differences in performance over time. This leads to being more overweight in risky sectors such as equities (through bull markets) than is desired or suitable to the investor's initial investment plan.
A study by Vanguard looked at a common portfolio structure of 60 per cent stock/40 per cent bonds on US markets from 1926 to 2009 and found the following:
| | Monthly rebalanced | Never rebalanced |
| --- | --- | --- |
| Maximum stockweighting | 68% | 99% |
| Minimum stock weighting | 52% | 36% |
| Final stock weighting | 61% | 98% |
| Average return (p.a.) | 8.5% | 9.1% |
| Standard deviation (p.a.)   | 12.1% | 14.4% |
Source: Vanguard
Not rebalancing created massive swings in stock weightings, which typically peaked just before major sharemarket collapses. Although long-term returns were slightly better (9.1 per cent) than the rebalanced portfolio (8.5 per cent), this 7 per cent increase in return came with a 19 per cent higher level of risk (14.4 per cent compared to 12.1 per cent).
Another study, by Forbes magazine in 2011, considered the same 60/40 stock/bond split over 25 years between 1985 and 2010. The conclusions were:
Better performance: starting with $10,000 each, the rebalanced portfolio ended with $97,000 while the never-rebalanced portfolio ended with $87,000.
The "ride" was smoother and more defensive in nature. Over the major bull/bear cycles, compared with the never-rebalanced portfolio, the rebalanced portfolio participated in only 74 per cent of the downside (on average) while capturing an average 87 per cent of the upside.
There are two other issues to consider when rebalancing:
Transaction costs. These cannot be avoided but can be managed. Use portfolio inflows (receipts of interest, dividends or new cash) to buy the underweighted segments, thus avoiding having to sell to buy. Consider using liquid, cheap ASX-listed Exchange Traded Funds as the tool to adjust asset allocations at the margin when necessary.
Tax consequences. Capital gains tax may apply to the sale of overweighted assets. Adjusting the timing of sales may help capture the time-based discounts on capital gains tax. But do not let tax considerations undermine the execution of your strategy.
Three key strategies can help investors take advantage of portfolio rebalancing:
Time-only. Triggers a rebalancing based on a set time schedule such as monthly, quarterly or annually.
Threshold-only. Ignores time and triggers rebalancing only when a portfolio deviates from its target asset allocation by a predetermined minimum percentage, such as 1 per cent, 5 per cent, 10 per cent. It requires daily monitoring to determine timing.
Time-and-Threshold. The portfolio is monitored on a set time schedule but is rebalanced only if the allocation deviates from the target by the predetermined minimum rebalancing threshold at that time.
Which method suits a particular investor is a function of many factors, including the number of trigger events, tax, transaction costs, time and effort in monitoring. Considering these trade-offs, it is likely that many individuals would find the time-and-threshold method on either a quarterly or annual schedule, a useful and worthwhile approach.
About the author
Rob da Silva is a portfolio construction and maintenance expert.
From ASX
ETFs and other ETPs provides information on exchange traded funds. These products can be used as simple, low-cost tools to rebalance portfolio asset weightings.
<!IoRedDot_txt_disclaimer>The views, opinions or recommendations of the author in this article are solely those of the author and do not in any way reflect the views, opinions, recommendations, of ASX Limited ABN 98 008 624 691 and its related bodies corporate ("ASX"). ASX makes no representation or warranty with respect to the accuracy, completeness or currency of the content. The content is for educational purposes only and does not constitute financial advice. Independent advice should be obtained from an Australian financial services licensee before making investment decisions. To the extent permitted by law, ASX excludes all liability for any loss or damage arising in any way including by way of negligence.

© Copyright 2018 ASX Limited ABN 98 008 624 691. All rights reserved 2018.