Secret to great returns
This article appeared in the October 2014 ASX Investor Update email newsletter. To subscribe to this newsletter please register with the MyASX section or visit the About MyASX page for past editions and more details.
Diversification, patience and buying when valuations are attractive, are key investment principles.

By Oliver Trusler, Schroder Investment Management
Many investors have done well by investing close to home and it's easy to see why. Australian shares, for example, have performed very competitively for many years, on average, and come with additional tax benefits for Australians.
Interestingly, the typical self-managed super fund (SMSF) allocates just 0.8 per cent of its portfolio to global shares, compared to large super funds, which typically allocate more than 20 per cent, according to the Australian Taxation Office in June 2013. Obviously, there is a prevalent home bias to large-cap shares and cash.
We agree that Australian shares, as well as Australian fixed interest and cash deserve ongoing consideration by investors, but we emphasise that investors should also look at the bigger picture.
Investing offshore can provide substantially more investment opportunities that can assist portfolio performance and, importantly, add significant diversification benefits.
(Editor's note: Schroders is a foundation member in the new ASX mFund Settlement Service. mFunds are unlisted managed funds you can invest in through the mFund Settlement Service. Learn more about diversifying your investment across other high-yielding strategies at the upcoming 'Unlocking the value of diversification' seminars, being held nationally by ASX in October. Register for the seminars now. Schroders is presenting.)
Chart 1 below highlights the size of the S&P/ASX 200 Index, which contains 200 stocks with a total market capitalisation of A$1.3 trillion. However, this represents just 2 per cent of global market capitalisation as measured by the MSCI World Index. With the appropriate systems and research capabilities, the total investable universe covers more than 15,000 stocks across 50 countries, with total market capitalisation of US$69 trillion.
The Australian sharemarket is dominated by financials and resources, with very limited exposure to technology and healthcare stocks in particular. Search beyond our domestic sharemarket and there is enormous opportunity for improving returns.
Chart 1: Comparative market size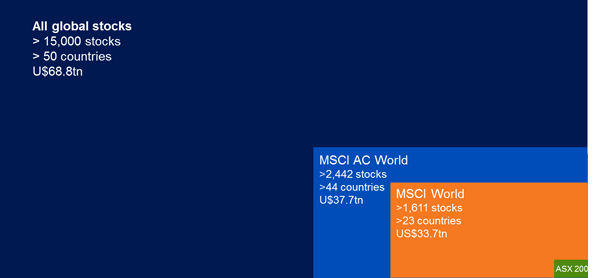 Source: Schroders. At 30 June 2014, S&P/ASX market capitalisation = US$1.2tn (A$1.3tn)
Diversification is key
Everyone knows there is a relationship between risk and reward. The more investment risk - commonly measured by how volatile an investment is - that investors are prepared to bear, the higher the corresponding potential investment return. Although this relationship has generally borne out over the long term, over shorter periods riskier investments generally produce much higher levels of volatility, including periods of negative returns.
Investing for the long term is not necessarily well served by avoiding risk and volatility. By staying invested in cash, the risk of negative returns is avoided, but so is the potential for higher returns. This can make the task of beating inflation more difficult over time.
A better strategy for maintaining the potential for strong and consistent investment returns while controlling risk is ensuring an appropriate level of diversification in an investment portfolio.
Chart 2 below shows the returns of major asset classes over the past 17 years. View an interactive version of this chart.
Chart 2: Annual asset class returns 1998 to 2014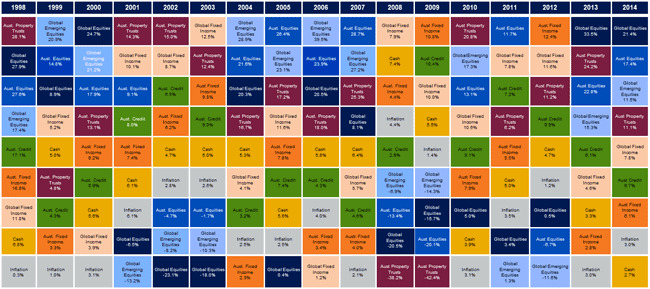 Source: Datastream, 12 months to 30 June.
Australian Equities - S&P/ASX 200; Global Equities - MSCI World A$ Unhedged; Global Emerging Market Equities - MSCI Emerging Markets A$ Unhedged; Australian Property Trusts - S&P/ASX 200 A- REIT; Australian Credit - UBS Australian Credit Index All Maturities; Australian Fixed Income - UBS AU Composite All Maturities; International Fixed Income - Barclays Global Aggregate A$ Hedged; Cash - UBS AU Bank Bill All Maturities; Inflation - RBA Consumer Price Index.
Diversification is easy in theory but much harder to achieve in practice. The key point this chart makes is that no single asset class generates the best annual return year in, year out.
It makes sense to invest across a range of investments to ensure an appropriate level of diversification and therefore smooth out the shorter-term highs and lows while still accessing opportunities capable of producing higher average returns over longer periods. Markets never move in straight lines and, as Chart 2 shows, last year's winners are very often displaced.
Buying at the right price matters
In any discussion about investing, it helps to ask why a particular security or asset class produces the particular return it does. There are always numerous influences, but one of the most important factors common to all investments is its valuation. That is, the price at which an investment is acquired will have a large bearing on its subsequent return.
There are many different ways of assessing appropriate value of an asset class or specific investment. The price-to-earnings ratio (PE), or the price per dollar of earnings, is often used when assessing the sharemarket. There are many different nuances of this measure, including using last year's earnings, forecast earnings or cyclically adjusted earnings.
However, using a simple measure of historic earnings, Chart 3 looks at the international sharemarket over the past 40 years. It shows the average three-year return for international developed-market stocks when they were considered "cheaply priced", "fairly priced" and "expensively priced".
Chart 3: Average annualised 3-year return - International Equity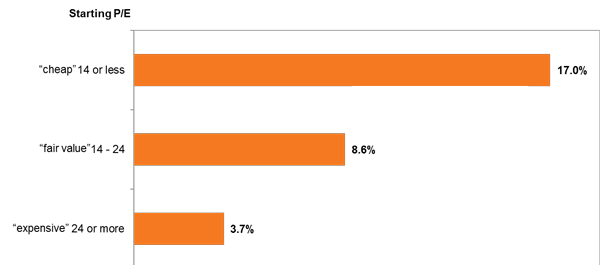 Source: GFD. 31 Jan 1970 to 31 August 2014 in US dollars
As the chart above shows, the average three-year return for stocks when market valuations were attractive produced a far better outcome compared to when they were expensive.
The insight here is that there is only potential for higher investment returns when buying stocks, or indeed any asset, when valuations make sense. Importantly, avoiding the purchase of overvalued investments can also increase the probability for better returns.
Be clear about your objectives and have a plan
As we have highlighted, there are many investment opportunities and considering a wide set of these can lead to better returns and diversification. Some asset classes, such as shares, provide the potential for higher returns but come at the expense of higher volatility.
However, the decision as to whether to invest in a particular asset class should always come down to whether it can assist with the particular objective you are trying to achieve.
For example, a patient investor seeking high returns over the long term and willing to accept disappointing (perhaps even negative) returns over shorter periods, is more likely to hold more "risky" assets such as shares in their portfolio compared to an investor whose objective emphasises short-run capital protection.
Being clear and realistic about what you are seeking from investment markets helps greatly in formulating an appropriate strategy.  In addition, we encourage the discipline of assessing the valuation of all investments over time, being sure each makes good sense in contributing to financial objectives.
Consistently achieving a solid return
Consider an investor looking to achieve a return above inflation of 5 per cent per annum on average over three-year periods. This objective is not unrealistic but achieving it with consistency over time can be challenging.
It requires an investor to take on risk because cash-based investments do not typically deliver high enough returns. Building a portfolio to meet a specific objective is about maximising the chance of achieving a specified real rate of return with a clear focus on the risk taken to achieve this, in a given timeframe. Asset allocation must be forward looking and flexible with regard to market valuations and likely future returns.
There should be no "strategic asset allocation", as this anchors you to past performance or requires an exceptionally long investment horizon. All positions in a portfolio should be absolute and only in the portfolio if they are contributing to meeting the objective - adding to return or reducing risk.
Depending on your objective and what you are trying to achieve, portfolios can, and should, look quite different.
To demonstrate this further, Chart 4 below highlights two portfolios managed by the same Schroders investment team. Each portfolio utilises the same investments but the approach is quite different, resulting in a different composition of portfolios.
The Traditional portfolio (Schroder Balanced Fund) aims to beat its strategic benchmark by making active decisions away from it, but will have the majority of the portfolio in growth assets. The Objective Based (Schroder Real Return CPI Plus 5% Fund) portfolio targets an outcome of inflation + 5 per cent over rolling three-year periods, with a clear focus on the risk taken to achieve this target.
Chart 4: Two objectives = two portfolios

Source: Schroders
*Traditional strategy refers to the Schroder Balanced Fund.
**Objective Based strategy refers to the Schroder Real Return CPI +5% Fund.
Note that these are indicative asset allocation only and may change, subject to market conditions and outlook, and may not add to 100 due to rounding. As at 31 August 2014.
Conclusion
Maximising the full range of investment opportunities, only purchasing when valuations are attractive and maintaining a well-diversified portfolio, are important investment principles.
Markets never move in a straight line and although cash is a good store of value in the short run, it will not meet most investors' long-term objectives. Investors need to be flexible and take advantage of opportunities when valuations become more attractive.
About the author
Oliver Trusler is an investment specialist at Schroder Investment Management.
Schroders' business is asset management and its goals are completely aligned with those of its clients - the creation of long-term value. It manages $491.8 billion of assets on behalf of institutional and retail investors, financial institutions and high-net-worth clients from around the world, invested in a broad range of asset classes across equities, fixed income and alternatives.
From ASX
Learn more about diversifying your investment across other high-yielding strategies at the upcoming 'Unlocking the value of diversification' seminars, being held nationally in October.
<!IoRedDot_txt_disclaimer>The views, opinions or recommendations of the author in this article are solely those of the author and do not in any way reflect the views, opinions, recommendations, of ASX Limited ABN 98 008 624 691 and its related bodies corporate ("ASX"). ASX makes no representation or warranty with respect to the accuracy, completeness or currency of the content. The content is for educational purposes only and does not constitute financial advice. Independent advice should be obtained from an Australian financial services licensee before making investment decisions. To the extent permitted by law, ASX excludes all liability for any loss or damage arising in any way including by way of negligence.

© Copyright 2018 ASX Limited ABN 98 008 624 691. All rights reserved 2018.